NAVIGATING BREXIT
Need practical advice on navigating Brexit?
Discover our practical steps for business leaders
Despite a fall in global business optimism in the first half of 2019, there are signs that UK companies are continuing to invest, particularly in R&D.
Investment decisions are always complex but, for UK business leaders mapping out a route to further growth, the current economic climate presents unprecedented challenges. In such an uncertain environment, staying ahead of economic trends is crucial.
UK economic indicators: house prices
One useful way to assess the latest economic trends is by monitoring changes in house prices. While buying a home is generally a personal rather than a business decision, the housing market paints a broad picture of the health of the wider economy.
The latest house price data shows that annual house price growth, while still positive, has slowed considerably. Growth of 1.3% in the year to August 2019 is down on growth of 5.2% at the same point five years ago and growth of 2.7% last year.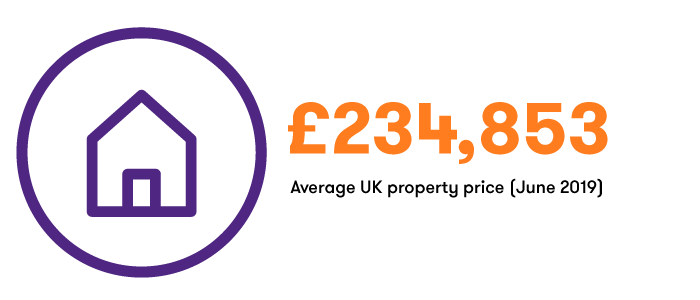 For London, the picture is even more stark. Prices have fallen by 1.4% over the past 12 months, the second consecutive annual fall for prices in the capital. While there are a variety of factors and geographical nuances that mark London as an outlier, including high levels of foreign ownership, this raises some important questions.
Is this a trend that might gradually filter out to the rest of the country? And what does this slowdown mean for other sectors and the prosperity of the UK economy as a whole? It's an indicator well worth watching closely.
Business optimism at three-year low
So how are firms reacting to this downward trend in terms of investment? Our latest International Business Report (IBR) finds that uncertainty around investment among UK businesses remains high, mirroring sentiment at the global level. In general, firms are holding back. Globally, business optimism in the first half of 2019 was at a three-year low, with a net expected increase of just 32% – down from the 39% recorded in the second half of 2018. Expectations around revenues, profitability and employment are all floundering at 2016 levels.
Businesses are scaling back on traditional capacity-related investments, such as manufacturing premises and machinery, with the lowest increase in capital expenditure since the global financial crisis. It's possible this is the result of rising concerns over a shortage in orders – itself a factor of increasing uncertainty.
In the UK, while economic optimism has picked up in the first half of 2019, it remains relatively low at net 13% and has continued to stagnate since the 2016 EU referendum. Meanwhile, levels of economic uncertainty remain high at 54%. Given recent political upheaval in the UK, levels of uncertainty are likely to have risen further in the months since this data was collected and are unlikely to decline in the foreseeable future.
As a result, investments in the first half of 2019 remained subdued. Export expectations are also down, as UK business leaders anticipate that a wider global upturn in trade – and a downturn for the pound – will provide few incentives to increase exporting in the months ahead.
Innovation is a bright spot
There is one bright side amid the latest investment trends. The IBR shows that businesses are increasing their R&D investment, suggesting many still see innovation as a way to gain competitive advantage. Globally, the IBR found a net expected increase in R&D investment of +36%, which is the highest level recorded since 2010.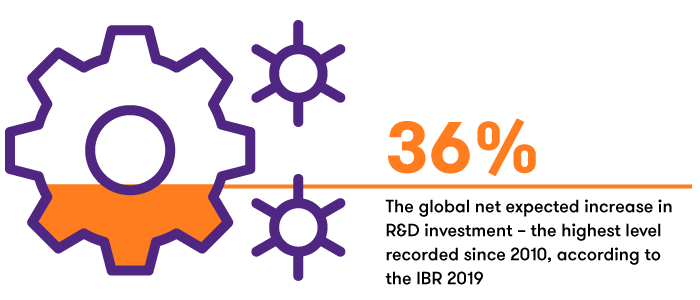 There are some sector variations within this. In the technology, media, and telecom (TMT) and consumer products sectors investment intentions fell, while they rose in financial and business services.
UK firms can take advantage of schemes such as R&D tax credits, with the government aspiring for the UK to become the world's most innovative country by 2027. While uncertain macro conditions require greater stress testing and sensitivity analysis, opportunities remain for those able to read trends, manage uncertainty and invest strategically.
CEO insights: tailored content for CEOs and business owners
Receive the latest insights to stay on top of the issues that matter to you. Let us help you set the agenda for the year ahead.