Grant Thornton uses cookies to monitor the performance of this website and improve user experience
To find out more about cookies, what they are and how we use them, please see our privacy notice, which also provides information on how to delete cookies from your hard drive.
India has seen unprecedented levels of M&A activity so far in 2018, with record cross-border deal values, while private equity activity has been muted.
The easing of India's regulatory ecosystem, in particular the evolution of the Insolvency and Bankruptcy Code (IBC), has led to intense corporate restructuring and M&A activity in the year to date.
The value of corporate transactions involving Indian companies in 2018 has surpassed previous years by 50% with a quarter of the year still left to go.
Cross-border deal values have been the highest recorded since 2011, with outbound values at an all time high.
The reformed IBC has created unheard of opportunities for deal-making in India. On the one hand, it provides for liquidation of companies under debt stress, while on the other, it allows financially sound companies to grow by acquiring competitors at attractive valuations.
Coupled with the government's continued regulatory reforms such as the Goods and Services Tax and Real Estate Regulatory Authority, changes to several aspects of the IBC have helped transactions involving Indian companies reach USD91 billion across 985 deals so far in 2018.
In addition to 13 deals in the billion-dollar category, there have been 76 deals with an estimated value above USD100 million each, together contributing 91% of total deal value.
Table 1. Deal summary YTD 2018
Deal summary

Volume

Value (USD million)

Year to September

2016

2017

2018

2016

2017

2018

Domestic

242

170

214

11,431

4,179

25,380

Cross-border

143

130

135

11,045

5,210

33,176

Merger and internal restructuring

11

16

15

580

23,694

17,479

Total M&A

396

316

364

23,056

33,083

76,035

Private equity

742

567

621

8,508

15,609

14,603

Grand total

1,138

883

985

31,564

48,692

90,638

Cross-border includes

Inbound

67

70

66

6,666

4,059

22,608

Outbound

76

60

69

4,379

1,151

10,568
Source: Grant Thornton India LLP, Grant Thornton Dealtracker, 2018
Domestic and cross-border deals drive M&A
Strong earnings, promising demographics and big ticket deals have driven M&A activity, which has clocked a value of USD76 billion from over 350 transactions.
This surge in activity has occurred across both domestic and cross-border verticals, with established domestic companies expanding their market presence locally and internationally, while capitalising on available synergies. On the other hand, Indian markets look promising for foreign players looking to establish their footprint.
A number of large deals, such as Walmart's purchase of Flipkart, the merger of Bharti Infratel and Indus Towers, ONGC's acquisition of HPCL, UPL's acquisition of Arysta Lifescience, and others in the stressed assets space, have resulted in a two-fold jump in deal activity over the same period in 2017.
Largely as a result of the new insolvency regime, we expect this renaissance in M&A and increased restructuring activity to continue.
Top 10 deals account for 78% of total M&A deal value in H1 2018
Table 2. Top M&A deals YTD 2018
Top M&A deals YTD 2018

Acquirer

Target

Sector

Disclosed values USD million

Deal type

Walmart Inc

Flipkart Online Services Pvt Ltd

E-commerce

16,000

Majority stake

Bharti Infratel Ltd

Indus Towers Ltd

Telecom

14,600

Merger

Oil and Natural Gas Corporation Ltd

Hindustan Petroleum Corporation Ltd

Energy & Natural Resources

5,780

Controlling stake

Tata Steel Limited

Bhushan Steel Limited

Manufacturing

5,515

Controlling stake

UPL Ltd – UPL Corp

Arysta Lifescience Inc

Agriculture & Forestry

4,200

Acquisition

Reliance Jio Infocomm Ltd

Reliance Communications Ltd

Telecom

3,750

Acquisition

Adani Transmission Ltd

Reliance Infrastructure Ltd – Mumbai power business

Energy & Natural Resources

2,938

Acquisition

Hindalco Industries Ltd – Novelis Inc

Aleris Corporation

Manufacturing

2,580

Acquisition

Schneider Electric SA

Larsen & Toubro Ltd – electrical and automation business

Manufacturing

2,121

Acquisition

ReNew Power Ventures Private Limited

Ostro Energy Pvt. Ltd

Energy & Natural Resources

1,662

Acquisition
Source: Grant Thornton India LLP, Grant Thornton Dealtracker, 2018
The telecom, e-commerce, manufacturing and energy sectors led deal activity on the back of marquee deals in each of these sectors, accounting for 80% of total M&A deal values.
Aurobindo Pharma's acquisition of the dermatology business and generic US oral solids portfolio of Sandoz Inc for USD 900mn turned out to be the largest outbound pharma deal by an Indian company. It was followed by Constellation Alpha Capital Corp's acquisition of Medall Healthcare for USD212 million, marking the largest investment in an Indian diagnostics company to date.
The start-up sector led deal volumes, capturing a 23% share as a result of revived domestic investors' interest in the fin-tech segment followed by travel and on-demand services platforms. The IT, manufacturing and banking sectors were also active, together attracting 31% of total deal volumes and 26% of deal values.
Technology acquisition was the foremost driver of M&A pursuits, ahead of expanding customer bases in existing markets, or adding to products or services. Additionally, talent acquisition continues to trend upward as a motivation for M&A strategies. Given the current M&A environment, digital strategy is likely to be the driving force behind M&A deals for the coming months.
Surge in cross-border activity with Europe
Cross-border deal activity surged 2.6x in YTD 2018 in terms of deal values compared to the same period last year, reaching USD3.1 billion across 34 transactions – a seven-year high.
Overseas corporate buyer activity picked up as India continued to attract foreign investment from emerging markets. This surge has been driven by a range of macro factors, including the pursuit of long-term and sustainable growth, increasing consumption by India's growing middle class and a favourable regulatory and financing environment.
Inbound deals totalled USD2.4 billion, a 3.3x increase over YTD 2017, across 15 transactions. This surge in deal value was primarily on account of Schneider Electric SA's acquisition of Larsen & Toubro Ltd's electrical and automation business for USD2.1 billion. This deal alone accounted for 89% of total inbound deal values and 68% of overall cross border deal value.
German and French companies showed great confidence in the Indian market, executing five deals (worth USD89 million) and three deals (worth USD2.1 billion) respectively. The manufacturing sector attracted the most attention from foreign investors, with four deals worth USD2.2 billion, while the potential of Indian start-ups was also showcased by three deals worth USD15 million.
Meanwhile Indian companies have been actively crossing borders through a number of successful greenfield investments and landmark acquisitions. Indian brands have proven their global competitiveness by expanding into new territories during YTD 2018, with 19 outbound transactions valued at USD708 million, a strong 1.5x increase on YTD 2017.
In contrast to last year, Indian acquirers showed renewed interest in the automotive, manufacturing and IT sectors, which together contributed 83% of outbound deal value.
Notable cross border deals included:
Motherson Sumi Systems Ltd's deal with French company Reydel Automotive Group for USD201 million
HIL Ltd's acquisition of Germany's Parador Holdings GmbH for USD100million
Energy Efficiency Services Ltd (EESL EnergyPro Assets Ltd) acquiring the UK's Edina Power Services for USD76 million.
Graph 1. Cross-border activity between India and Europe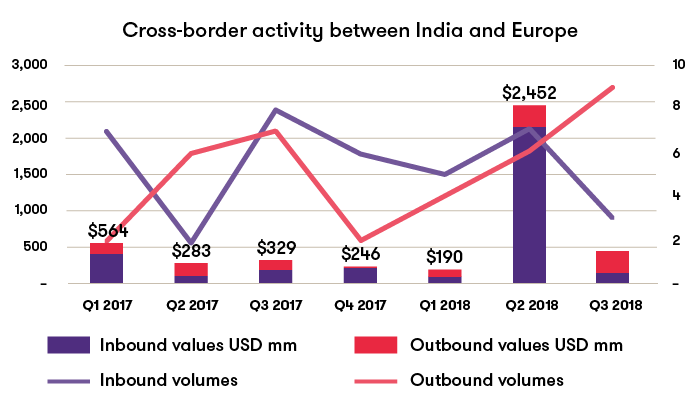 Source: Grant Thornton India LLP, Grant Thornton Dealtracker, 2018
Cautious private equity and venture capital activity
The Indian private equity market has been more sluggish due to lingering concerns over the economy, market volatility and valuations, among other things.
The year so far has seen USD14.6 billion worth of investments from over 621 transactions. This is still a 10% increase in deal volumes, but values have remained muted.
Interestingly, we have witnessed a large number of family offices and high net worth individuals actively making investments in businesses that are part of the ecosystem of their group companies, and which can add value to their businesses.
We expect to see a rise in the PE activity due to the government's focus on providing fertile ground for digitisation and tech investment through a number of policy initiatives and by incubating tech funds with traditional banks.
Top 10 PE investments account for 36% of total PE deal value in YTD 2018
Table 3. Top PE deals YTD 2018
Top PE deals YTD 2018

Investor

Investee

Sector

% Stake

USD million

Abu Dhabi Investment Authority and TPG Capital Asia

UPL Ltd – UPL Corp

Agriculture & Forestry

22%

1,200

Blackstone Group Lp

Indiabulls Properties Pvt. Ltd and Indiabulls Real Estate Company

Real Estate

50%

742

KKR

Ramky Enviro Engineers Ltd

Infrastructure Management

60%

530

GIC, Greenko Ventures and Abu Dhabi Investment Authority

Greenko Energy Holdings Pvt. Ltd

Energy & Natural Resources

N.A.

447

GIC

Exora Business Parks Limited

Real Estate

40%

406

SoftBank

Paytm E-commerce Private Limited – Paytm Mall

Start-up

N.A.

400

Lone Star Funds and RattanIndia Group

RattanIndia Finance Pvt. Ltd

Banking & Financial Services

50%

400

Caisse de dépôt et placement du Québec

CLP India Pvt. Ltd

Energy & Natural Resources

40%

368

Brookfield Asset Management Inc

Essar Group – Equinox Business Park

Real Estate

100%

360

Apax Partners LLP

Healthium MedTech Pvt. Ltd

Pharma, Healthcare & Biotech

N.A.

350
The real estate, energy and financial services sectors were the mainstays of PE activity, but the agriculture, e-commerce, infrastructure and pharma sectors also clocked sizable values.
In line with the trends seen over the last five years, 2018 has also been dominated by investments in start-ups, which contributed 59% of total investment volumes, garnering USD2.8 billion. Fin-tech attracted significant attention from investors, with 72 deals, followed by the retail and enterprise application segments.