The India Watch share price index rose marginally in H2 2017, a return to growth after the slowdown in the Indian economy had adversely effected performance earlier in the year.
The index was up 1.8%, largely due to the share price performance of Vedanta Resources PLC. Although this was well below the growth seen in the FTSE AIM of 8.7% and the more stable FTSE 100 of 5.1% for the same period, it reflects greater confidence in a slowly recovering Indian economy (see Graph 1).
However, the India Watch Small Cap index continued to fall, suffering a decline in H2 of 13.7%. This was mainly due to significant falls in several stocks, such as Koovs PLC, OPG Power Ventures PLC and Mortice Ltd. Despite this, the decline appears to be slowing amid signs of growth returning to India's economy.
Graph 1: Share price indices – year to date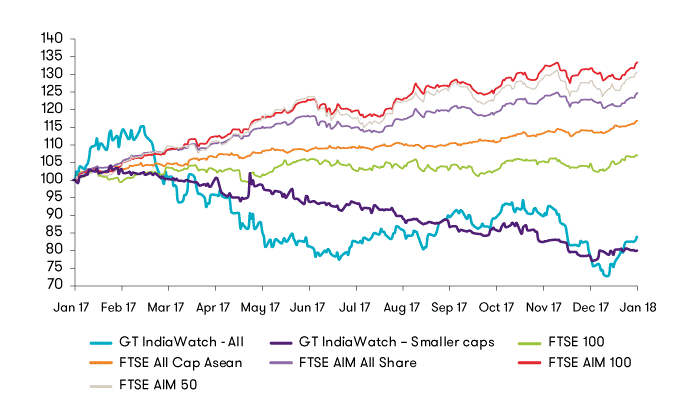 Source: Thompson Reuters
Winners and losers
Lionsgold Ltd was H2's biggest winner, boasting an impressive share price gain of 193%. Formerly known as Kolar Gold Limited, the company focuses on the exploration, production and retail application of gold, including the development of Goldbloc digital currency. Its H2 share price increase continues the recent strong performance in the market, with year-to-date growth at 332%. This follows positive results in Lionsgold's final feasibility test at the Jonnagiri gold project in India and strategic board changes.
Mercantile Ports & Logistics Ltd, which develops, owns and operates port and logistics facilities in India, was H2's second biggest winner, with a share price gain of 80%. This recent performance is underpinned by MPL's first contract win at the Karanja facility and marks a potential turnaround in performance after a challenging period of unforeseen disruptions. This contract win is a strong endorsement of the commercial viability of the port and additional contracts are anticipated in the future.
The third largest winner of H2 was Vedanta Resources PLC, which saw a 25% increase in share price over the six months. The diversified global natural resources company is engaged in exploring, extracting and processing minerals, oil and gas and commercial energy. Despite an overall decline in share price of 8.5% for the year, 2017 was an important year for Vedanta Resources, witnessing the completion of the Cairn India merger and the announcement of accelerated development for its flagship Konkola deep mine and new refinery.
On a more negative note, Koovs PLC, the online fashion retailer often described as the 'ASOS of India', was H2's biggest loser, with a share price fall of 64%. This continued a disappointing trend, with the share price down 67% for the year 2017. Koovs has issued warnings of subdued sales and subsequently a reduced forecast marketing spend. The company is currently waiting to complete a funding round which it hopes will leave it better positioned for the future.
OPG Power Ventures PLC, which operates and develops power generation assets in India, was the second biggest loser of H2, having suffered a share price fall of 60.5%. This resulted from financial losses, despite strong operational performance. OPG is suffering from adverse interest costs and higher coal pricing but remains confident and believes that its prospects will be brightened by diversifying its portfolio, a forecast reduction in coal prices and anticipated tariff increases.
With a fall in share price of 54%, Mortice Ltd, the security and facilities management company incorporated in Singapore and based in India, was H2's third largest loser. Following a strong performance in FY 17 and a rise in revenue, interim pre-tax profit results for the first half of fiscal 2018 fell due to rising staffing costs. Since then, Mortice has completed a £2.3 million share buy-back and believes it is on track to meet full-year expectations.
Outlook
Following a disappointing FY 16, the outlook for the Indian economy in 2017 became gradually more optimistic and solid economic growth was expected as consumer confidence grew. However, a sluggish start to the fiscal year saw continued decline in GDP growth, slipping to 5.7% from a high of 9.1% in the first three months of 20161
Since then, strong performance by India's manufacturing sector has been easing the pressure and reversing the decline as the impact of demonetisation lessens. The economy grew at a faster rate of 6.3% year-on-year in July to September as the effects of the new Goods and Sales Tax regime, rolled out in July 2017, subsided2. In addition, India's Purchasing Managers' Index rose to a 13-month high in November 2017, indicating a stronger economy2.
Looking ahead, the economic outlook is more positive and growth is expected to strengthen above 7% as recent reforms gradually pay off3. This growth trend is a very encouraging sign that the economy is bouncing back. It is, however, reliant on a continued constructive transition to the new structural reforms, which remain very much a work in progress4.
References