NAVIGATING BREXIT
Need practical advice on navigating Brexit?
Discover our practical steps for business leaders
The latest trends from the Grant Thornton India Tracker 2017 and Indian investment in the UK.
The fourth edition of the Grant Thornton, India Tracker report, developed in collaboration with the Confederation of Indian Industry, identifies the fastest-growing Indian companies in the UK, as well as the top Indian employers. It aims to provide insight into the evolving scale, business activities, locations and performance of the Indian-owned companies making the biggest impact in the UK.
This year we identified the 55 fastest growing Indian companies in the UK which achieved an average annual growth of 31%. Success stories include Datamatics Infotech, a new entry to the list and the only company this year to grow by over 100%. A mention is also due to KSK Power Ventur plc, the biggest company in the list by turnover and reporting a growth rate of 90%, and to Secure Meters, the second largest company by turnover, with a growth rate of 69%. Secure Meters deserves special recognition as one of five companies to appear in the India Tracker for last four years.
Indian employers are also making a mark in the UK. Indian companies employ around 110,000 people with the nine largest employers accounting for 85,000 jobs. This year, Tata continues to be the biggest Indian employer providing employment to 73,000 people in the UK.
Below are the key investment trends for the fastest growing Indian companies in the UK.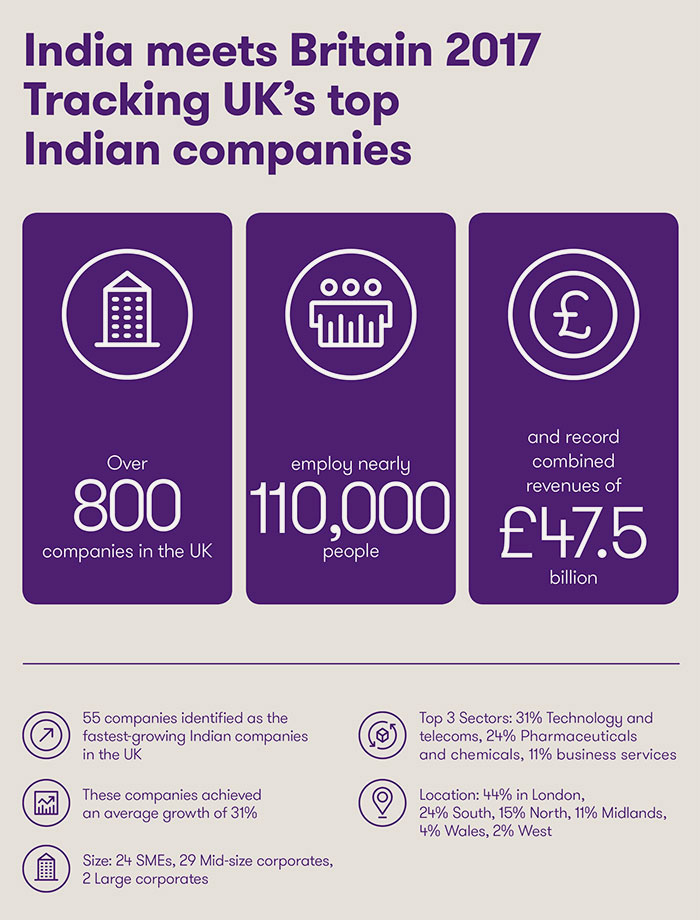 Get the latest insights, events and guidance about Indian markets and businesses, straight to your inbox.