The Grant Thornton India Watch Index* fell for the second consecutive quarter in Q2 2017. The numbers reflect the state of the Indian economy with growth decelerating to 6.1% in Q1 2017. Which London listed Indian companies performed well and not so well this quarter?
The Index* was down 13.6%, compared to a stable FTSE 100 and growth in the FTSE AIM 100 of 6.3% (see Graph 1). While some economists have expressed surprise at the slowdown, the numbers reflect the state of the Indian economy as a whole, with growth decelerating to 6.1% in Q1, down from 7% in Q4 2016 (see economic outlook article here).
The Grant Thornton India Watch Small Cap Index also suffered a decline in Q2, falling by 7% and continuing a downward trend this year to date. This was due to several poorly performing stocks such as Mercantile Ports & Logistics Ltd and Hardy Oil and Gas PLC, with the majority of firms also reporting a decrease in share price over Q2.
Graph 1. Share price indices – year to date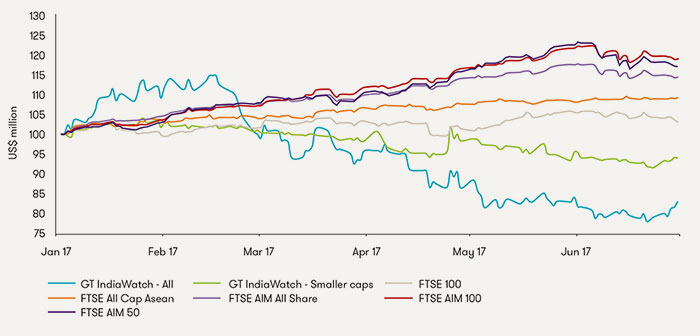 Source: Thomson Reuters

Winners and losers IndexGold and Market
Mytrah Energy Ltd was Q2's biggest winner, boasting a share price increase of 17.0%. The renewable energy developer and producer with around ten wind farms spanning eight states, including Telangana and Punjab saw increased income from power generation, as well recognising construction revenues in its financial statements. Mytrah's recent performance signals a potential turnaround in fortunes after a challenging period, reflecting increased commitment to renewable energies in the Indian market.
Alpha Real Trust Ltd, a real estate investment, development and financing company, was the quarter's second largest winner, with a share price gain of 10.7%. This marks the continuation of Alpha's strong performance in the market, with year to date growth equalling 24.6%. This reflects the growth of the Indian real estate market as a whole. Expectations are that Alpha will continue to deliver attractive returns in the medium to long term.
The third largest winner of Q2 was Lionsgold Ltd, which saw an increase in share price of 5.7% over the quarter. Lionsgold, formerly known as Kolar Gold, is a gold-focused exploration company with assets in India and Finland, and a physical and online gold and silver vaulting and trading platforms. The company's recent performance follows a deal raising £550,000 to fund mine expansion in India, as well as its online trading platform IndexGold. Market trends indicate that Lionsgold will continue to experience stable growth going forward.
Conversely, Mercantile Ports & Logistics Ltd, which develops, owns and operates port and logistics facilities in Guernsey and India, was Q2's biggest loser, with a share price fall of 46.2%. This continues a long-term decline in its share price, stretching back to 2009, attributed to the cumulative impact of minor and unforeseen disruptions, such as the deterioration of local road networks, hindering progress on major projects.
Having suffered a share price fall of 29.8%, Hardy Oil and Gas PLC, an international oil and gas exploration and production company focused on India, was the second biggest loser of Q2. Hardy is involved in a dispute with the Indian government over an offshore field (CY-OS/2), which covers over 850 square kilometres, hindering much of its exploratory efforts. However, the company hopes to improve its performance in the future by developing production at the nearby PY-3 field.
With a share price reduction of 28.1%, Oilex Ltd, an oil and gas exploration and production company focused on onshore, unconventional opportunities around the Indian Ocean Rim, was the quarter's third biggest loser. This follows the dramatic fall in global oil prices since late 2014, forcing the company to divert much of its attention away from the core business of developing value from its assets.
Mixed outlooks for the Indian economy
At the beginning of the year, the outlook for the Indian economy in 2017 was optimistic. Market trends indicated that solid economic growth could follow. When making these projections, foreign investment in the country was strong and was expected to continue. Similarly, consumer confidence was high, which in theory should have driven further consumption, and stable economic growth of around 7.8%. However, early data for the 2017 fiscal year to date points to the contrary, with industrial production growth having lost steam in April, and India's Purchasing Managers Index painting a mixed picture in May.
Looking ahead, predictions for Q3 and Q4 are mixed. While household consumption is on the mend as the impact of demonetisation subsides, and a healthy monsoon season might support rural spending, there are some concerns on the political front. Although the sweeping taxation reforms under the new Goods and Services Tax regime, rolled out from 1 July, are expected to have net benefits, it is unclear whether firms up and down the country are prepared for the transition. The major challenge now facing the Indian economy is how rapidly businesses can adapt to these new measures going forward. (See article on 'India's new Goods and Services Tax').
*What is the Grant Thornton India Watch Index?
The Grant Thornton India Watch Index follows 19 Indian companies listed on the FTSE Main Market and AIM (excluding global depositary receipts). Companies are deemed Indian if they are domiciled in India and/or are foreign companies that hold Indian assets or are investment companies with Indian promoters. Every quarter Grant Thornton analyses the performance of these companies in its India Watch All Share and Small Cap indices. To avoid any distortion of index trends, the largest market cap entity, Vedanta Resources, is excluded from the India Watch Small Cap Index.
For further information, please contact Anuj Chande, Head of the South Asia Group.