NAVIGATING BREXIT
Need practical advice on navigating Brexit?
Discover our practical steps for business leaders
In 20 years, the AIM Market has become the growth market for young, dynamic, innovative companies. Here we highlight how much the AIM market contributes to the UK economy.
Since its launch in 1995 as a platform for dynamic growth companies seeking to raise equity capital, AIM has grown to become the most successful growth market in the world. It is now an established part of the funding ecosystem in the UK, supporting innovation, driving productivity and creating employment.
Our report, commissioned by the London Stock Exchange, quantifies the scale and nature of AIM's contribution to the UK economy. Download the full report or review the headline figures in our summary below (click on the graphic to view a larger version – opens in a new window).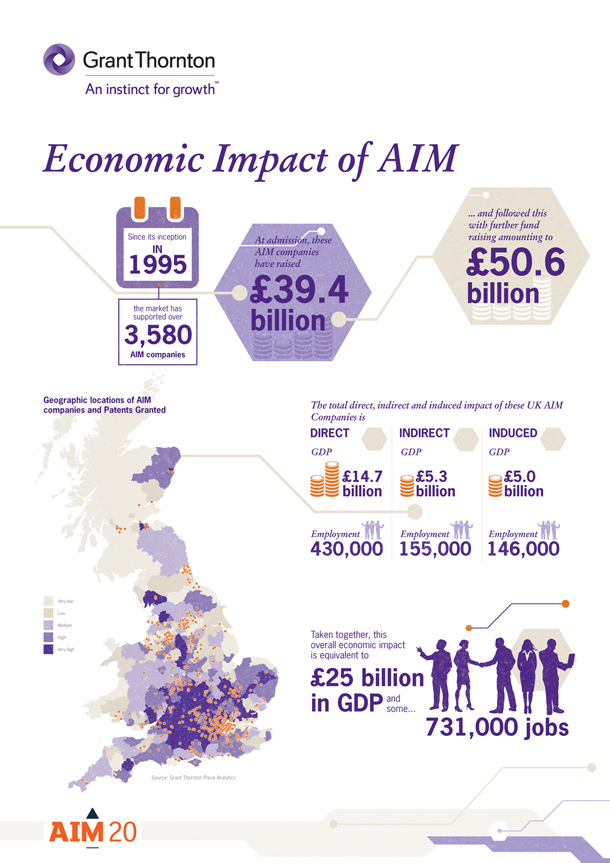 How AIM market contributes
AIM has supported more than 3,580 companies, some of which have moved onto the Main Market.
£39.5 billion raised at admission, followed by further fundraising amounting to £51 billion.
430,000 individuals directly employed; 731,000 jobs overall.
Nearly £15 billion* in GDP contributed to UK economy; £2.3 billion in tax.
Wider impact amounting to £25 billion in GDP.
Of the 1,088 or so companies now trading on AIM, around 80% are UK-domiciled, with almost half based outside London.
* Analysis uses the latest set of publically available accounts, which cover the 2013 trading year.
Further growth ahead
As London Stock Exchange's international market for smaller growing companies, AIM has a vital role to play in supporting business growth.
"The economic contribution AIM makes to UK plc is clear," says Philip Secrett, head of Public Company Advisory at Grant Thornton. "The ongoing government support of AIM as a market for young, dynamic companies has been critical with recent measures, such as the removal of stamp duty on AIM shares and the inclusion of AIM shares in ISAs, further supporting the development of the market and in turn, generating a material contribution to the UK economy."
Marcus Stuttard, head of AIM, added: "As we celebrate AIM's 20th anniversary, this report demonstrates that the market's value extends far beyond the support it provides to ambitious, entrepreneurial companies across the UK. The figures present a picture of a market that serves not just its quoted companies and their advisers, but the country as a whole."
Read the report
The full report is available to download: Economic impact of AIM [ 3689 kb ].
Read the report
Download PDF [3689 kb]