NAVIGATING BREXIT
Need practical advice on navigating Brexit?
Discover our practical steps for business leaders
In a period of continued austerity, fire and rescue authorities need to adapt in order to combat funding challenges. One response has been the creation of fire trading companies (FTCs), with their wider commercial freedoms.
FTCs first appeared in 2004, but many fire and rescue authorities (FRAs) were unable to trade until a change in legislation under the 2011 Localism Act. Despite the revised legislation, numbers remain low with just 15 FTCs in operation today. Of the 48 FRAs in England and Wales, only 31% therefore have an FTC. In comparison, 60% of local authorities have at least one trading company. This could be attributed to several factors, such as a lack of willingness to trade; the restricted, specialist and competitive market in which FTCs operate; and the fact that some FTCs have ceased trading. Yet when FTCs are successful, they are not just financially viable. They provide social value and wider benefit to their communities through investment in local projects and charities.
Setting up a fire trading company
FTCs can provide opportunities to generate additional income, utilise spare capacity within the fire and rescue service (FRS), offer a social return and improve fire safety. For example, through bidding for work to provide services outside of their own authority. But while some FTCs are competing successfully and are on a growth trajectory, others are less successful with uncertain futures.
Successful FTCs tend to be larger companies (with a typical turnover of £2 – 4 million) that understand the commercial market in which they operate. They are able to capitalise on their specialist skills and look for ways to expand their activities within the legal constraints placed upon them. And their boards of directors have a sufficiently broad mix of commercial skills and sector knowledge to support the FTC's objectives, enabling the business to compete effectively within this specialised commercial marketplace.
Getting the legal structure right is also key – in instances where companies are not operating through the most appropriate legal structure, the ability of a company to achieve its intended outcomes can be hampered.
Each FRA will have its own rationale for setting up a company. But, whatever the reason, FRAs should always undertake a detailed options appraisal and business case before setting up an FTC. This will ensure that the most appropriate approach is taken. Whether that's deciding if it is worthwhile setting up a company, which company structure would best meet its objectives, or if its objectives could be achieved without transferring the services into a separate legal entity.
Maintaining success
As with any successful commercial organisation, an FTC must be dynamic, flexible and adapt to changing market forces. It needs to review and develop its commercial acumen and culture on an ongoing basis. And this need to be commercial and sustainable must be recognised by both leadership and staff. Whether directly employed or seconded. For example, it is crucial to regularly evaluate governance arrangements to ensure they remain effective and fit for purpose. Return on investment for the FRA must also be regularly reviewed and the necessary changes implemented if that return is no longer meeting desired levels.
In our latest study we have researched a range of FTCs, from those reported as being successful to lessons learned from those that have encountered challenges and ceased to trade. To find out more, download our latest report creating and operating a successful fire trading company. [ 1964 kb ]
Download the report
Download PDF [1964 kb]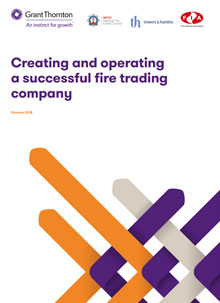 Get the latest insights, events and guidance about the public healthcare sector, straight to your inbox.