NAVIGATING BREXIT
Need practical advice on navigating Brexit?
Discover our practical steps for business leaders
UK facilities management has seen tremendous activity in the past seven years, as our latest deals infographic shows.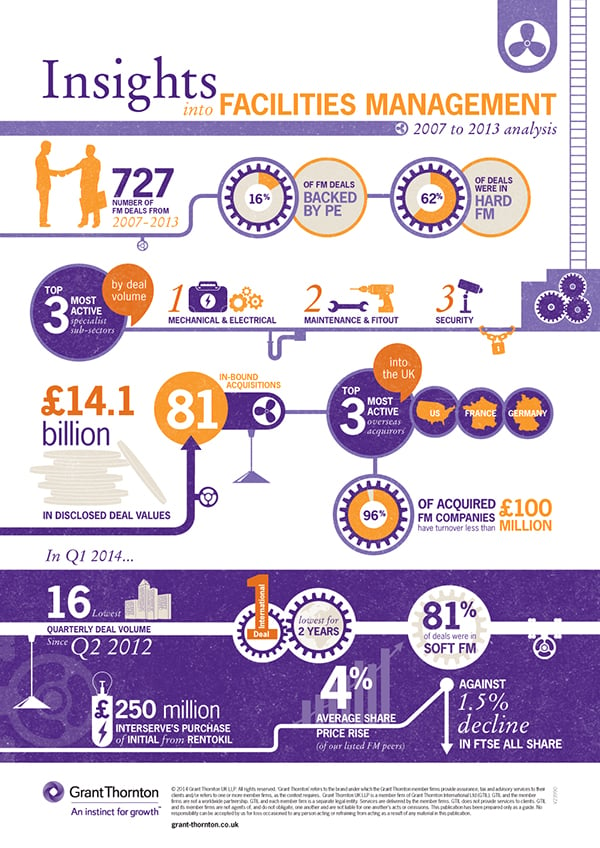 Our analysis shows that between 2007 and 2013 a total of 727 FM deals completed reaching disclosed deal values of more than £14 billion.
Key sub-sectors of interest have been mechanical and electrical, maintenance and fit-out, and security with Hard FM (hard facilities management – generally, maintenance of mechanical, electrical, fabric and landscape assets) being the most active category overall.
Despite a recent slowdown in market activity – just 16 deals were recorded in the first quarter of 2014 versus 19 the quarter before – significant deals continue to emerge in facility management, such as Interserve's £250 million acquisition of IFS (Initial Facilities) from Rentokil.
Download the report
Read more about 2014 M&A trends in the sector in our Facilities management M&A market update [ 762 kb ] or visit our Business Support Services page for contacts and further information.
For those considering their strategic options, for example, becoming part of a larger group to aid growth, accessing funding for expansion plans or deciding to exit, please visit our Corporate Finance page for further help and information.
Read the report
Download PDF [762 kb]