NAVIGATING BREXIT
Need practical advice on navigating Brexit?
Discover our practical steps for business leaders
By 4 April 2018 all employers with 250 employees or more must publish a gender pay gap report on their website. Here's what you need to know to make sure you meet the deadline.
The obligations are set out in detail in the Equality Act 2010 (Gender Pay Gap Information) Regulations 2017, which will shortly receive parliamentary approval. Separate rules will apply for public authorities from 31 March 2017, with the first report to be published by 30 March 2018.
Who must comply
All employers with 250 employees or more must publish the required gender pay gap information on their website (or their group website) and will also need to upload information onto a designated government database.
The requirement will apply to all companies (whether private or listed), LLPs, partnerships, limited partnerships and any other employing entity except for public sector employers.
The requirement applies to each individual entity employing 250 or more employees on 5 April in any year starting with 5 April 2017, and regardless of the total number of employees in the overall business group.
What employers need to disclose
Employers will be required to calculate and publish the following information each year and retain the information on their website for at least three years:
Annual snap shot of gender pay differentials based on mean and median differentials (annual snapshot)
12 month look-back of bonus and long-term incentive plan (LTIP) awards based on mean and median differentials (12 month bonus look-back)
Employee pay quartiles gender composition differentials (quartile differentials)
Percentage of men and women receiving bonus
The annual snapshot and quartile differentials require employers to calculate an hourly pay rate for all employees, including any bonus or long-term incentive rewards paid out during the snapshot period, but adjusted to reflect an hourly rate.
The 12-month bonus look-back relates only to bonus and LTIP paid during the tax year, and the calculation is based on taxable amounts arising in the relevant period regardless of the period over which bonus and LTIP awards have vested.
The challenges of gender pay gap reporting
The requirement to produce a gender pay gap report for pay and reward data presents a number of challenges for businesses, from collating the right data to preparing the calculations. But the real challenge lies in presenting the information with meaningful insight and communicating an effective long-term strategy for addressing diversity issues.
Recent research shows that the gender pay gap differential for graduate and junior employees has significantly decreased, but still exists at more senior levels. Many businesses acknowledge that encouraging women to return to work and senior career development present significant challenges and that pay differentials are a barrier to recruiting and retaining talented women.
For some businesses simply collecting the relevant data can present difficulties, since it is likely to come from several sources and not necessarily all from internal payroll and financial systems.
Our recommended approach
When we work with clients our data analysis and diagnostic specialists help them identify what data is required, and how to extract it from their internal and external sources.
Our recommended approach to gender pay gap reporting involves three phases:
Phase One: Data collection
Phase Two: Analysis and insight
Phase Three: Strategy and communication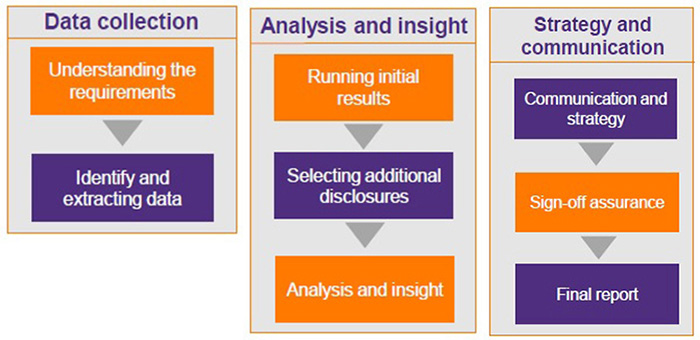 More information
If you would like to know more about how we can work with your business at each phase of gender pay gap reporting to ensure you make best use of your own internal systems and resources, please contact Monique Beaulieu.