NAVIGATING BREXIT
Need practical advice on navigating Brexit?
Discover our practical steps for business leaders
The results from our annual global survey of senior women in business are in – from country rankings and types of roles held to the male/female disparity on what makes a good leader.
Over the past 12 years, Grant Thornton's International Business Report has been documenting the proportion of senior female executives in boardrooms around the world (see Women in the boardroom 2004-2014).
For this International Women's Day 2016, we surveyed 5,520 businesses in 36 economies to find that the number of senior business roles held by women has increased in 2016 – but only slightly, from 22% to 24%. A third of businesses globally also still have no women in leadership positions.
The UK is, unfortunately, one of the poor performers on gender diversity in the boardroom. The number of senior leadership roles held by women has actually dropped from 22% in 2015 to 21% this year, while 36% of UK businesses still have no women in leadership roles.
For the full insight and analysis, download our report: Women in business: Turning promise into practice [ 4411 kb ]. The five charts below give a headline summary.
1. Proportion of women in senior management globally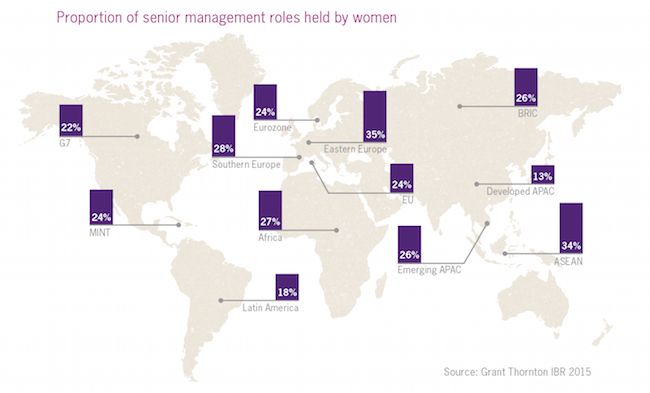 Click image to view larger graphic (opens in a new window).
The proportion of senior roles held by women has increased in the last 12 months, returning to the previous high of 24%.
One in three businesses worldwide (33%) has no women in leadership positions.
G7 economies trail emerging peers in Eastern Europe and ASEAN.
2. Top (and bottom) 10 countries on gender diversity

Click image to view larger graphic (opens in a new window).
Countries with highest proportions of senior roles held by women are Russia (45%), Philippines (39%) and Lithuania (39%); lowest proportions in Japan (7%), Germany (15%) and India (16%)
Eastern Europe owes some of its continued high rankings
 to the legacy of communist principles on equality and women commonly accessing higher education in subjects such as engineering and maths.
Investment in education is also a major catalyst for women's success in emerging markets in ASEAN.
Despite the recommendations of the Davies Report and campaigns to increase boardroom diversity, UK figures on women in the boardroom marginally declined and remain stagnant, with a highest recorded proportion of businesses with no women in senior management
 (36%).
3. Types of business leadership roles held by women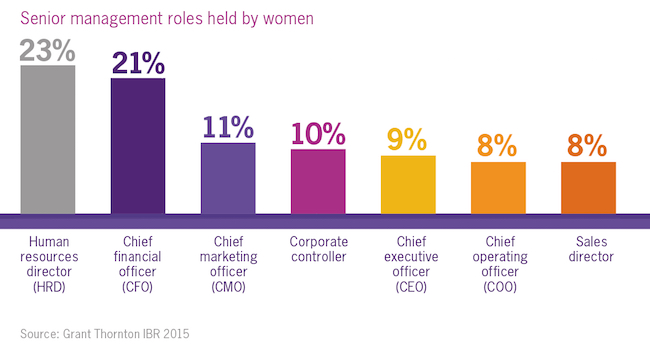 Click image to view larger graphic (opens in a new window).
Despite overall progress, women tend to be in senior supporting roles and not leading executive teams.
The majority of women in senior management are human resources directors (23%), chief financial officers (21%) or, in third place, chief marketing officers (11%).
Just 9% are CEOs or managing directors.
In the UK, the figures are: 20% HR director, 11% CFO or finance director, and 8% CEO or MD.
4. What makes a good leader?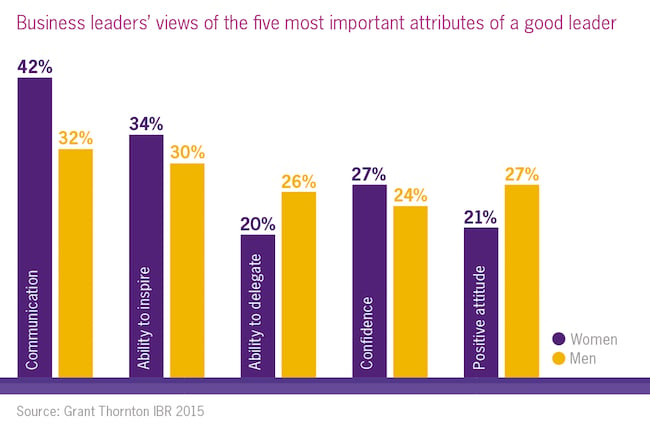 Click image to view larger graphic (opens in a new window).
Communication was rated as the most important leadership attribute (by 35% of respondents) followed by the ability to inspire (31%).
Disparities exist in how men and women rate good leadership, eg, 42% of women said communication was an important attribute compared with only 32% of men.
Similarly, 26% of male respondents thought the ability to delegate was important whereas only 20% of women did, favouring more collaborative leadership.
Men and women also value the attributes of leadership differently, for example, men viewed communication as telling people about decisions that have been made, while women valued conversations and bringing others into the decision-making process.
5. What drives women in business to take leadership roles?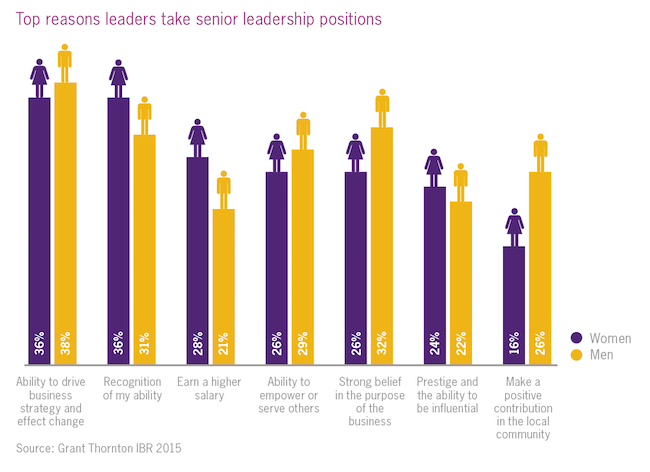 Click image to view larger graphic (opens in a new window).
The ability to drive business strategy and effect change is the biggest driver to take up a leadership role for both male and female respondents (37%).
Recognition of ability is the second strongest driver but more so for women (36% v 31% of men).
Earning a higher salary is also a bigger driver for women (28%) than men (21%).
Women's higher rating of recognition and reward is most likely explained by the fact that women have had to fight to achieve recognition and equality in the business world; men may be more likely to take this for granted.
Our research listed the barriers to taking up senior roles as: unconscious biases against women, lack of adequate support structures to help them lead long-term, and potential impact on family life and work-life balance.
How can we increase gender diversity?
The pace of change around increasing the number of women in the boardroom is slow.
The International Women's Day campaign notes that the World Economic Forum predicted in 2014 that it would take until 2095 to achieve global gender parity. Then one year later in 2015, it estimated that a slowdown in the already glacial pace of progress meant the gender gap wouldn't close entirely until 2133. (Hence this year's #IWD2016 campaign theme of #pledgeforparity – to take a concrete step to help achieve gender parity more quickly. )
As Francesca Lagerberg, Global leader for tax services
and sponsor on women in leadership at Grant Thornton, says in our survey foreword: "The gender diversity issue has been on the business agenda for many years now, yet a third of businesses still have no women at a senior management level. Something is not working."
In a follow-up post tomorrow, we'll be focusing on the actions recommended in our 2016 report that women, businesses and governments can take in order to help close the gap.
Further information
Read the report
Download PDF [4411 kb]