NAVIGATING BREXIT
Need practical advice on navigating Brexit?
Discover our practical steps for business leaders
As the financial position of the NHS has worsened, hospitals are focusing on managing financial pressures through cost improvement and efficiency programmes.
But the inaccuracy of activity data and resulting income continues to be an issue at many NHS trusts. It has resulted in not only lost revenue but clinical data that does not accurately reflect the patient care that is being delivered.
Over the last year, we have worked alongside NHS Improvement and a number of NHS trusts on financial special measures to deliver detailed and comprehensive reviews of patient level information. We have assessed the accuracy of their clinical and contracting data. Through our work, we have identified five key issues that result in poor data recording.
1 Admitted patient care
In many instances, the source documentation is often unfit in terms of access, completeness or accuracy. Clinicians fail to identify and record definitive diagnoses, patient comorbidities and intra-operative procedures in the source documentation. This means that coded data fails to reflect the complexity of patients treated. For example, if a patient having a knee replacement had obesity comorbidity missed, it reduces income by £1,416 a patient.
2 Outpatients
Poor processes in outpatient data capture lead to outcome forms with incorrect options. In one instance we looked at not including the code to describe which breast was operated on. This reduced income by £140 per patient.
3 A&E
Within A&E there are a range of issues that include poor systems implementation and lack of training. But under-recording A&E treatments and tests means that the impact of errors can be considerable due to high throughput. For example, missing out the recording of an x-ray can reduce payment by £70 per attendance.
4 Maternity
In maternity cases we found there was either limited or no clinical ownership, engagement and validation of data. Staff are unaware that key information such as previous medical history and current comorbidities need to be recorded. For example, not capturing that the mother has cardiac disease reduces payment by £1,758 per patient.
5 Local tariffs
Often, when commissioners face challenging relationships with hospitals this can lead to negative cost implications. All local tariffs should be set at a level that covers the costs of the services they describe. For example we found that local tariffs for critical care in one instance were under-funded by £4.4 million when comparing income to cost base.
Getting the data right first time [ 1316 kb ] explores consistent issues and lessons from our reviews of coding and contracting income at NHS trusts. The briefing summarises key findings and recommendations for trusts, to ensure their contract baseline is correct.
For further information please contact Peter Saunders.
Download the report
Download PDF [1316 kb]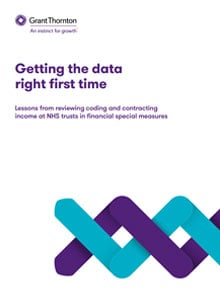 Get the latest insights, events and guidance about the public healthcare sector, straight to your inbox.