NAVIGATING BREXIT
Need practical advice on navigating Brexit?
Discover our practical steps for business leaders
To succeed shared services need to keep pace with technological disruption and the changing way that we work. Stepping away from their low-cost and transactional roots the most successful are now growing into centres of innovation and talent, operating as partners to the business, contributing to productivity and creating capacity for growth.
Technology is disrupting traditional business models, changing how customers engage and forcing businesses to re-evaluate how they operate.
Our preliminary findings and evidence from discussions with over 100 leaders of UK shared service centres show that leading shared service organisations are adopting new technology to make their business more agile, drive operational efficiency and innovate to put the customer at the centre of their organisation.
We identified three areas for shared service leaders to focus on over the next three years:
Figure 1. Three priority areas for leaders of shared services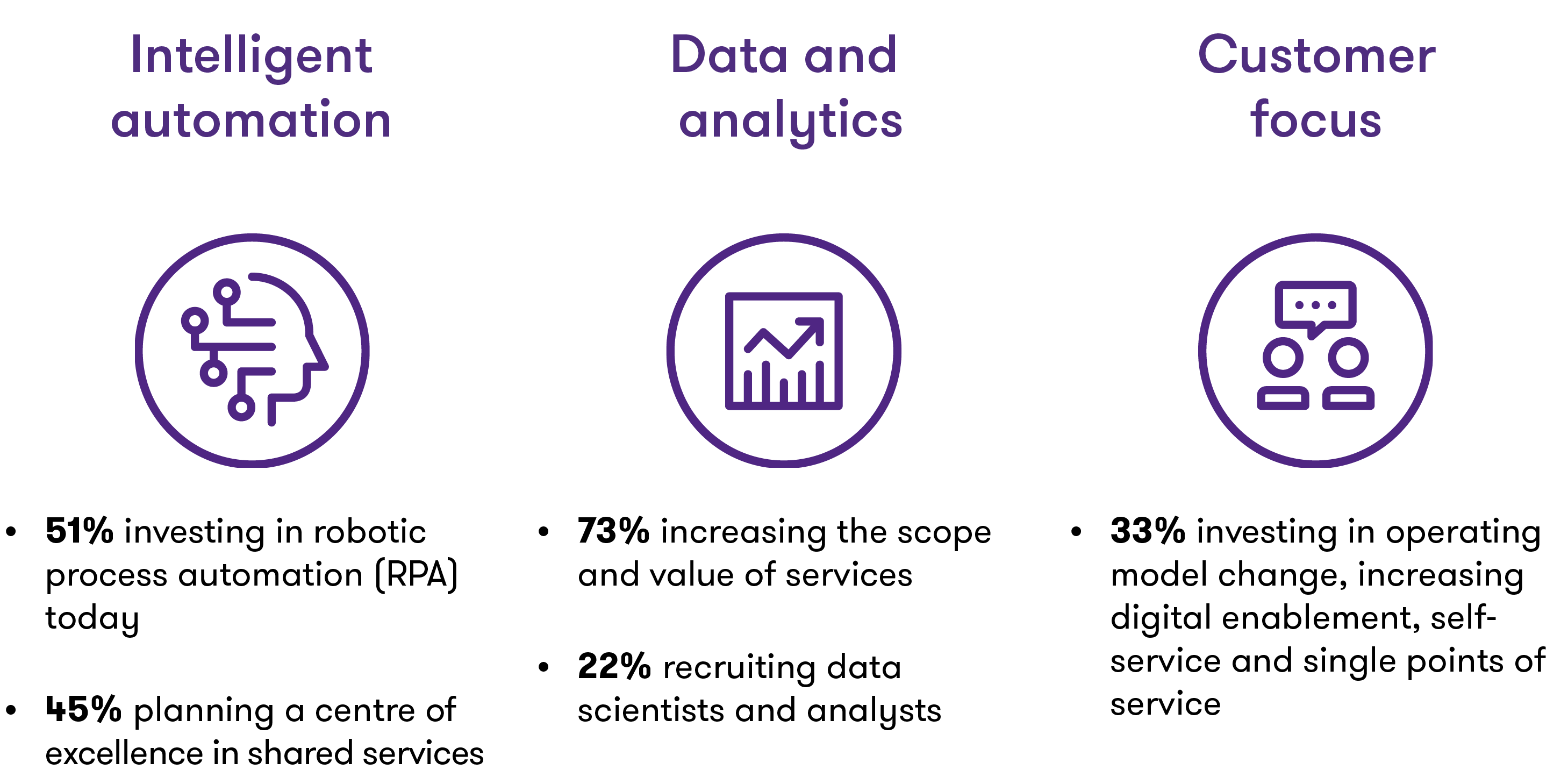 1 Embracing intelligent automation
In truth, we are still at the early stages of what intelligent automation will offer. These rapidly emerging technologies are already challenging the old wisdom about single enterprise resource planning solutions. This raises questions about the business case for offshoring and outsourcing.
In our experience, most shared services are exploring basic robotic process automation (RPA), with our recent study showing that 51% are investing in RPA today.
RPA allows these shared services to automate well-defined tasks, such as validation of employee expenses, within an end-to-end business process. But we still haven't realised the full potential of RPA. While there are many quick wins in using RPA, it is not just a quick fix. The organisations achieving the most from RPA see it as one of many tools used in their wider transformation or within their continuous improvement strategy.
Ownership of IT is moving closer to the business, creating a key opportunity for shared services teams to take a lead in the development of automation capabilities, exploiting their position as business processes experts.
2 Growing into data and analytics
Shared services are key in the governance and delivery of many business processes and own a lot of the data that exists around transactional activity. Leaders in the sector see this as a major business opportunity.
As organisations focus on commercial value, shared services are primed to move from processing transactions to managing and interpreting data. Our recent study shows that over the next three years, data scientists and analysts are among the most sought after skill sets, as shared services seek to grow into a provider of business insight, with 22% of those surveyed already recruiting for these roles.
3 Focussing on the customer
In today's digital economy customers expect quick and simple interactions, sourcing information or initiating transactions at any time of day. Shared services leaders are seeking to create the same easy, seamless experience for the internal and external customer, with 33% of those surveyed in our recent study already investing in operating model change, increasing digital enablement, self-service and single points of service.
Technology plays a major part but the challenge comes in integrating processes to deliver that seamless customer experience. Irrespective of functional or geographic boundaries, good process management is key. Shared services must engage with the business to truly understand customer needs, and influence meaningful process change.
Ensuring growth for shared service centres
We believe the pace of technology-led change represents an inflection point for many shared service organisations. It is time to become a leaner, more dynamic part of the organisation, enabling the business strategy and operating as a centre of expertise for innovation and change.
If you would like to find out more about our work with shared services, contact Neal Dempsey