NAVIGATING BREXIT
Need practical advice on navigating Brexit?
Discover our practical steps for business leaders
The first quarter of 2018 commenced with 36 deals1 in the food and beverage sector. Given 2017 concluded with a yearly total of 210 deals and 50 transactions in Q4, this represents a 28% fall in deal volume compared to the previous quarter.
There were just 15 deals with deal values in the public domain in Q1, producing a total disclosed deal value of £710 million2. With the absence of any mega-deals over £1 billion, the first quarter marks the lowest disclosed deal value in comparison to the past six quarters.
The two largest deals were the £200 million sale of 2 Sisters' frozen pizza business to Nomad Foods, and Irish fresh produce group Total Produce's acquisition of a 45% stake in US-based Dole Food Company for £211 million.
The acquisition by Nomad marks a return to acquisitive growth, following a two-year period in turnaround mode and signifies a move into a complementary category in the frozen space. The transaction includes brands such as Goodfella's and San Marco, as well as the supply of private label frozen pizza to UK and Irish retailers. For Ranjit Boparan, owner of 2 Sisters, the divestment allows the loss-making group to use sale proceeds to repay debt and invest in the group's core businesses.
With the acquisition of a stake in US-based Dole Food Company, Total Produce is now the world's leading fruit and vegetable group. It now has complementary market positions in various product segments and geographies with good synergistic potential. The cash consideration of $300 million for an initial 45% stake gives Dole a total enterprise value of circa $2 billion. It is anticipated that Total Produce will exercise its right to purchase the remaining shares in Dole within five years.
Domestic deals took the lion's share of transactions in Q1 (58%), representing a softening of cross-border activity compared to 2017 (52:48 overall). Overseas buyers for UK/Irish assets in the quarter mostly originated from Europe and the USA.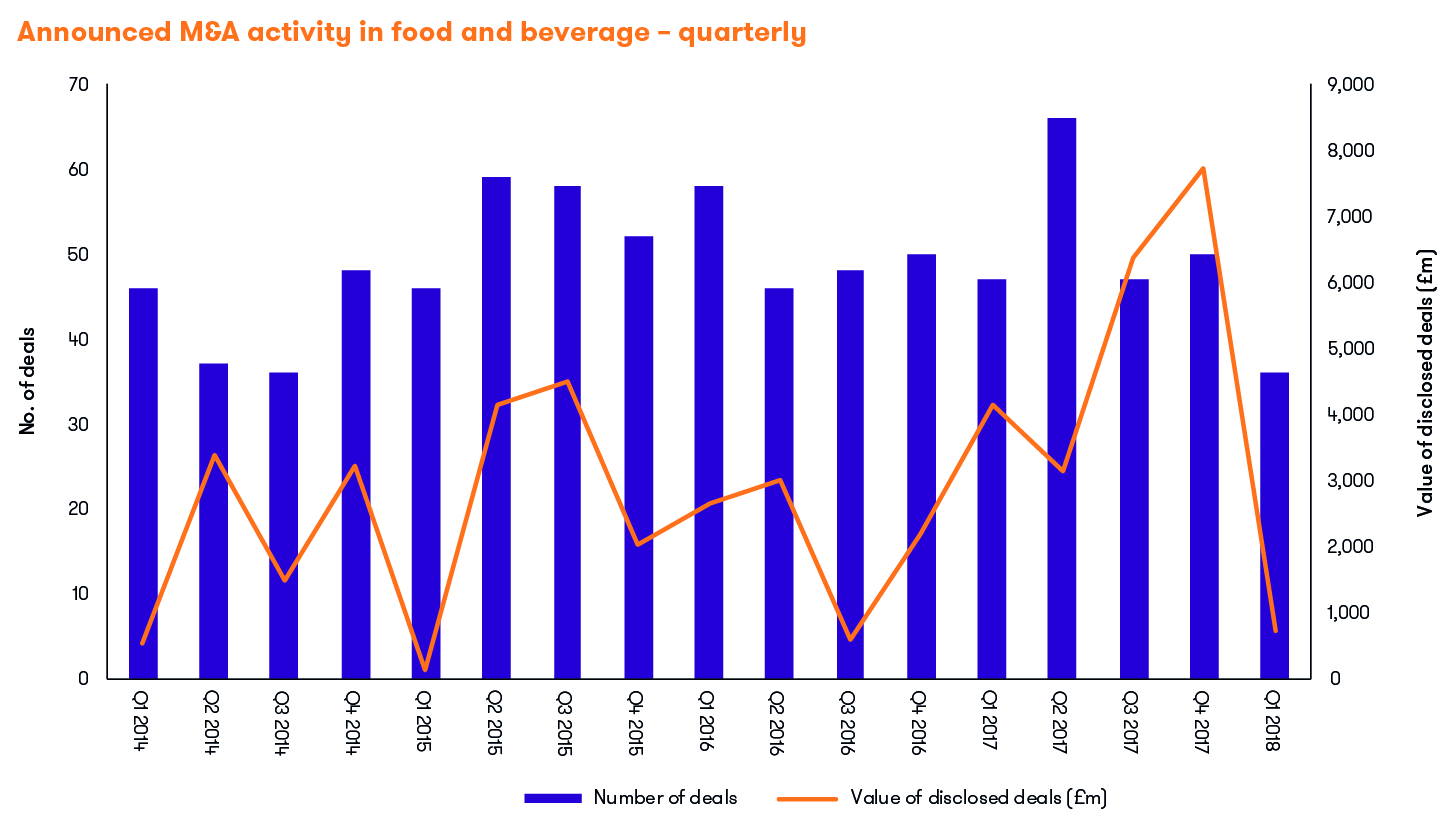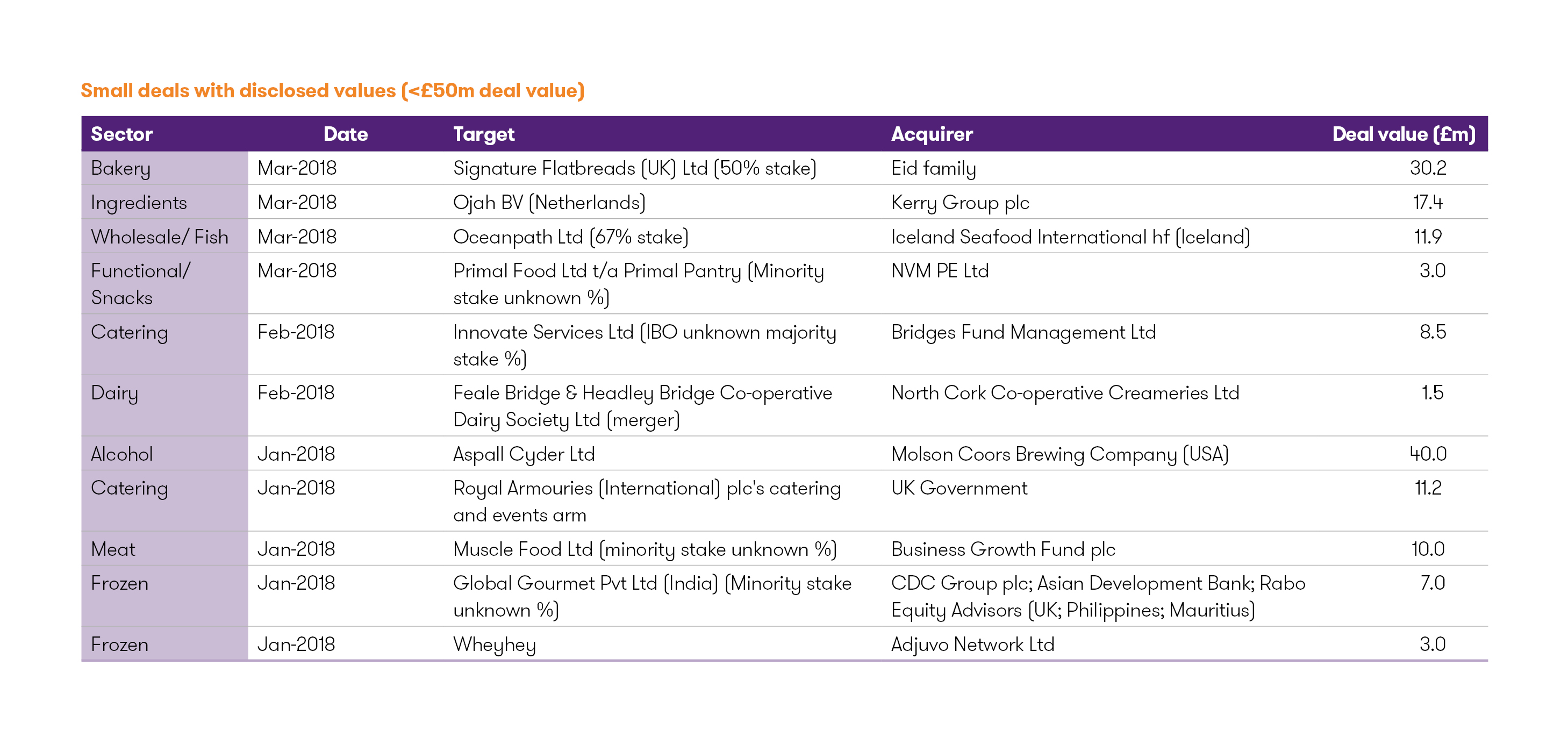 PE pick-up
Ten transactions (27.8%) had a private equity angle in Q1 2018 – up from the 22% seen in 2017 in the sector.
Transactions included Inflexion Private Equity's acquisition of a 48% stake in Lintbells, a producer of nutritional supplements for pets. The premium/natural pet food market has attracted private equity's interest for several years. The UK market for pet supplements is currently a more immature and fragmented market, with robust prospects. The UK pet supplements market is reportedly worth circa £100 million and growing at 7% per annum as pet owners become more aware of the existence and effectiveness of such products.
Other transactions included Bridges Fund Management's acquisition of an undisclosed majority stake in Innovate Services, a UK-based provider of school catering services for £8.5 million. Currently in over 120 primary schools, secondary schools and sixth forms, Innovate focuses on promoting healthy eating for schoolchildren.
BGF provided £10 million investment to Muscle Food, which sells premium lean meats, high-protein food and sports supplements. The funding is set to expand Muscle Food's international platform, establishing a second base in Europe and developing its online platform to drive further growth.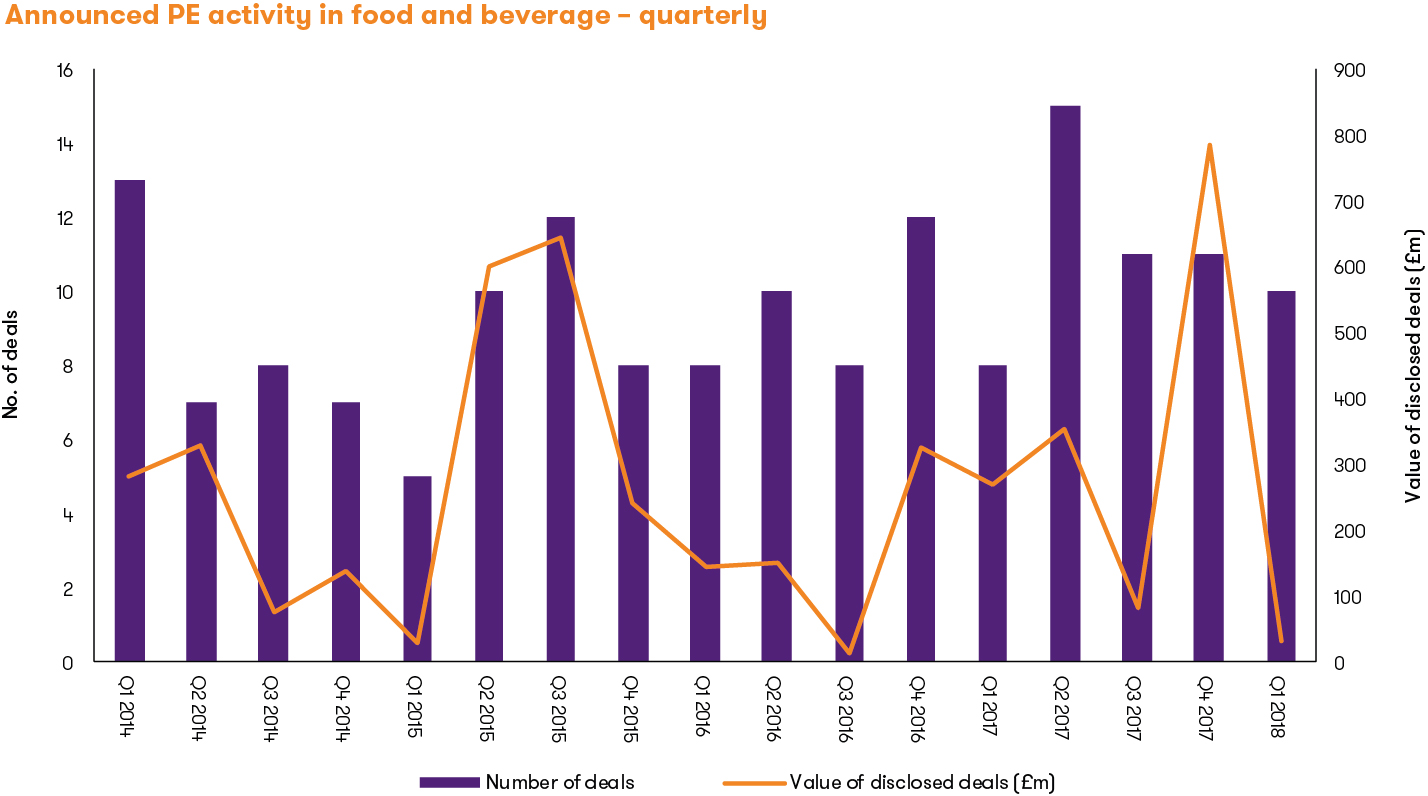 Demand for strong consumer brands
Consumer demand and M&A activity continue to grow in the healthy and premium snacking sectors.
Devon-based artisan crisp company Burts Chips acquired popcorn maker Savoury & Sweet, broadening its range of healthy snacks and popcorn, and crisps brand Fairfields Farm purchased Ten Acre snacks. Fairfields and Ten Acre plan to take advantage of Ten Acre's strong export capabilities, currently exporting to more than 45 countries. The combined entity plan to focus on their strengths in creativity, quality and provenance.
The Primal Pantry, a producer of healthy snack bars, received £3 million of growth capital from NVM Private Equity, to help further expand its UK retail presence and international growth. Wheyhey, the low-sugar, high-protein ice cream brand, secured £3 million in funding from British investment syndicate Adjuvo to drive forward their innovation plans for 2018.
In the growing nut butter sector, Northern-Ireland based SHS Group acquired 3V Group, the owner of Meridian Foods, one of the UK's leading nut butter producers as well as nut-based snack bars. The acquisition of Meridian diversifies SHS's portfolio, representing its entrance into the nut butter and healthy protein sector. The acquisition also included the soft drink brand Rocks, which is complementary to SHS's existing soft drinks portfolio (including Shloer and Bottlegreen).
Other active sectors in Q1 2018
Consolidation has also continued apace in the ingredients and foodservice sectors.
US-headquartered Sysco announced its acquisition of Kent Frozen Foods, which distributes chilled, frozen, and ambient food products to the catering industry. The business will continue to operate as an independent entity, alongside Sysco's other UK businesses, including Brakes, Fresh Direct and M&J Seafood.
Perwyn LLP supported the MBO of Freshcut Foods, which supplies added-value vegetables, fruits and carbohydrates to foodservice operators and food manufacturers in the UK. Also in the foodservice sector, Reynolds acquired the business and assets of Solstice, a supplier of speciality fruit and vegetables, dairy and ambient products to the hospitality industry, in a pre-packaged administration sale.
In the ingredients space, Kerry has continued to expand its global footprint. It announced acquisitions in China of SIAS Food Co, a supplier of culinary and fruit ingredients and systems to China's foodservice and food manufacturing industries. It also acquired South Africa-based Season to Season, a supplier of taste ingredients and systems to the African snack and food sectors. Also in Q1, Kerry established a foothold in the substitute meat market acquiring Ojah BV, an innovative Dutch producer of textured meat alternatives which currently exports to 21 countries.
In the dairy ingredients sector, Meadow Foods acquired dairy oils producer Roil Foods, its second acquisition as part of a buy-and-build plan, supported by US PE house Paine & Partners LLC.
Drinks sector
The alcoholic drinks sector continues to be a prolific area of M&A activity in the UK, with five transactions recorded in the quarter.
The auction of British family-run cider company Aspall Cyder concluded with US group Molson Coors securing the acquisition for £40 million. London-based brewer Fuller's strengthened its position in the craft beer market by acquiring Dark Star Brewing Company. The acquisition will create opportunities for Dark Star to brew more one-off small batch beers hand-in-hand with exploring the export market and expanded bottle and can formats.
Meanwhile, there were three deals in the spirits sector. Diageo acquired Belsazar GmbH, a premium aperitif from Germany's Black Forest. The acquisition marks the first company to be acquired by Diageo through Distill Ventures. Distill Ventures is the drinks industry's first accelerator for new and growing spirits brands to which Diageo provides funding. The acquisition of Belsazar bolsters Diageo's presence in the aperitif sector, which is deemed an area of future growth as demand for lower ABV cocktails and long drinks are on the rise.
Other spirits deals consisted of Halewood's acquisition of spiced rum brand Dead Man's Fingers, and Spanish group Diego Zamora which acquired a 45% stake in Reformed Spirits Company Ltd, owner of Martin Miller's Gin. The acquisition of Martin Miller's Gin strengthens the Zamora Group's portfolio, enhancing its presence in the booming super-premium gin category.
If you would like any further information, please get in touch with Trefor Griffith.
References
All deal activity is based on announced date of the deal and includes deals where there has been any UK or Ireland involvement (target and/or acquirer). Administrations, liquidations and receiverships are collated but not counted as M&A unless they have subsequently been acquired.
Deal values are primarily sourced from corporate websites, however if no press release is available they are sourced from deal databases including BvD Zephyr and mergermarket or from press commentary released at the time of the deal. Deal values may subsequently be amended pending earn outs or other finance arrangements and/ or as further detail is released by the acquirer.