NAVIGATING BREXIT
Need practical advice on navigating Brexit?
Discover our practical steps for business leaders
To promote transparency and fuel growth for small to medium size businesses, companies with turnover in excess of £36 million will soon need to report on their payment practices and performance.
According to our recent annual Working Capital Study, 35% of companies have a Days Payable Outstanding (DPO) exceeding 60 days, meaning that over £80 billion of payments are currently being made beyond the UK's payment term guidelines.
Over the years, the UK government has introduced a series of initiatives aimed at promoting the fair treatment of small to medium-sized organisations and, as a result, improve the cash position of the entire supply chain. The recent introduction of regulations in April of this year aims to create transparency of payment practices.
Regulations timeline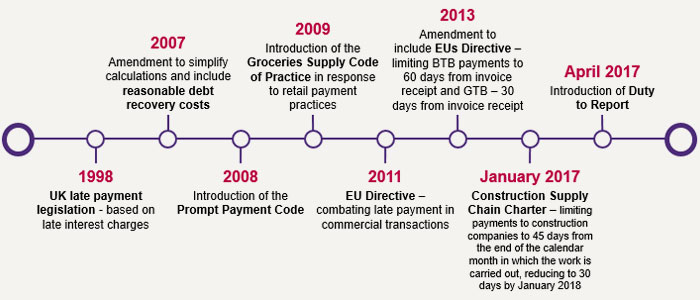 In short, the government has provided the following direction:
For business-to-business transactions, suppliers should be paid in a maximum of 60 days from the receipt of a non-disputed invoice
For government-to-business transactions, suppliers should be paid in a maximum of 30 days from the receipt of a non-disputed invoice.
Introduction of the Payment Practices and Performance reporting regulations introduce three key considerations:
How does your payment term model and payment performance compare to best practice, your peers and where necessary UK legislation?
Are your internal processes set up to facilitate on-time payment?
What are the implications of the new regulations on your organisation, from reputation, to your day-to-day operations and on cash flow requirements?
Our latest Working Capital Study highlights that there was approximately £80 billion of payments made after 60 days in the business to business space alone, 79% of which was driven by companies generating revenues in excess of £1 billion (see Graph 1).
The new regulations may therefore result in companies seeking to improve their payment practices to pay their suppliers in shorter time periods to avoid reputational damage.
Graph 1 – Value of cash payments made after 60 days per size of business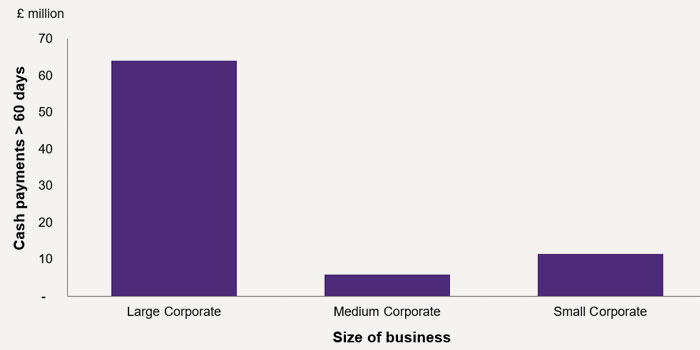 Source: FAME database
Who will this regulation apply to?
The new regulations will affect many businesses across the UK. This includes listed companies, private companies and Limited Liability Partnerships (LLPs) which meet two or more of the following criteria:
Annual turnover in excess of £36 million
Balance sheet total of £18 million
Over 250 employees.
Organisations in their first year of trading will not be required to report until the following financial year. If the company is a group with multiple subsidiaries, each individual member company will need to submit a report.
When will this impact your organisation?
Publication of your organisations' first report will depend on your financial calendar (see Table 1). Many will not be required to report until July 2018 which is when awareness of these new regulations is expected to increase. We would however recommend planning to start immediately.
Table 1 – Key dates
| | | |
| --- | --- | --- |
| Financial year commencing | First reporting period (6 months) | First report published on (30 days after period close) |
| 06 April 2017 | 6 April to 5 October 2017 | 04 November 2017 |
| 01 May 2017 | 1 May 2017 to 31 October 2017 | 30 November 2017 |
| 01 June 2017 | 1 June 2017 to 30 November 2017 | 30 December 2017 |
| 01 July 2017 | 1 July 2017 to 31 December 2017 | January 2018 |
| 01 January 2018 | 1 January 2018 to 30 June 2018 | 30 July 2018 |
| 01 April 2018 | 1 April 2018 to 30 September 2018 | 30 October 2018 |
| 05 April 2018 | 5 April 2018 to 4 October 2018 | 03 November 2018 |
Reports will be bi-annual and submitted via a government managed web-portal. The report will be based on a six months of data and will need to be submitted within 30 days of the period close.
What will you have to report on?
There are three elements to the reporting; narrative descriptions, statement of policies and practices and statistics on payment performance. This will be completed on an aggregated level for all suppliers with which a contract exists.
A company director must approve the report, or in the case of an LLP a designated member of the partnership.
What will happen if you do not report
Reporting is mandatory for companies meeting the defined thresholds. The government may apply fines if you fail to comply.
What can your organisation do to plan for the new regulations?
Even if reporting for you is not imminent, there are things you can be doing to plan for the reporting and to ready yourselves for the process:
Payment term model - review your current payment term model and ensure it complies with UK legislation. Consider if it is appropriate to differentiate your payment terms on a supplier size or category basis
Accounts Payable - review your Accounts Payable processes and assess the ability to pay suppliers on-time according to contractual obligations, e.g. optimised invoice approval and dispute management process
Stakeholder management - identify your key stakeholders and determine an appropriate governance structure
Integrity of supplier data - consider the integrity of your supplier master data and whether negotiated supplier payment terms are accurately reflected to facilitate on-time payment
Structure - define your reporting structure and which subsidiaries will be required to report
Financial systems - determine which of your financial systems will be required to extract the data from
Reporting dates - understand the date on which you will need to submit your first report and build a reporting calendar thereafter
KPIs and control systems - consider additional KPIs which may support overall Procure-to-Pay ('PTP') effectiveness and determine specific control systems to optimise internal processes
Working capital management - determine whether a review of your payment term model will have a negative impact on cash outflows and if so, consider what measures are available to you to counterbalance this
Whilst by no means exhaustive, this list is a good starting point in the planning process. From experience, a variety of issues may arise such as the inability to capture accurate invoice receipt dates in your financial systems, lack of process definition to accurately reflect contracted payment terms in the supplier master file down to poor dispute management processes to ensure invoices are approved to facilitate on-time payment.
The first cohort of companies are due to file reports at the end 31st October 2017, and more questions on the reporting will undoubtedly arise.
For further information on how this links into the wider Cash Conversion Cycle trends, please check out our latest Working Capital Study. For specific questions relating to the Duty to Report regulation please contact a member of our team: Mark O'Sullivan, Head of Finance Consulting or Jenny Shutt, Associate Director.