NAVIGATING BREXIT
Need practical advice on navigating Brexit?
Discover our practical steps for business leaders
In the health and fitness sector, the middle is a painful place to be. Low-cost operators and upmarket niche players are squeezing the previously dominant mid-tier gyms from both sides.
Membership and revenues at mid-tier gyms are plummeting, but there's still plenty of room for growth in the overall market. While the mid-tier struggles to manage its downward spiral, the value and premium ends of the market are looking to fund rapid expansion.
The UK gym market is valued at more than £3 billion and experts expect this to treble over the next few years (Mintel Report, 2016). The sector, which previously was dominated by well-established household names such as Fitness First and Virgin Active, has fundamentally changed in recent years. Low cost operators including PureGym, the Gym Group and Easy Gym, alongside more boutique operators such as CrossFit, Equinox, Gymbox and others have diluted the market share of what we refer to as the 'mid-tier operators'.
These industry stalwarts ran unopposed for years; banking on a reliable monthly income stream of c. £60 per membership across the UK, consistently healthy membership levels and members who, typically, were locked into contracts for 12 month periods. In recent years, the layout of these mid-tier gyms has been almost identical, regardless of brand, and has provided consumers with numerous treadmills, cardio machines, machine weights and free weights, as well as pools, steam rooms and saunas at the more 'exclusive' clubs. However, the entrance of low cost gyms from around 2008 and the more recent arrival of boutique disrupters have seemingly caught the mid-tier operators unaware.
Current gym landscape
| | | | |
| --- | --- | --- | --- |
| Tier | 1 | 2 | 3 |
| Category | Low-Cost | Mid-Tier | Boutique |
| Cost | < £30pm | £30-£80pm | > £80pm |
| Market Share 2011 | 1.80% | 98.20% | N/A |
| Market Share 2016 | 12.20% | 87.80% | N/A |
| Key Operators | PureGym, the Gym Group, easygym | FitnessFirst, Virgin Active | CrossFit, Equinox, Gymbox, 1Rebel |
Source: Mintel Health and Fitness Report 2016
Fitness First, once a leading industry figure, has experienced a major performance decline over the past five years. Membership figures have plummeted from 309,000 to 152,000; annual revenue from £150 million to £80 million and the total number of clubs has decreased significantly from 150 to 66. In August 2016, Dave Whelan Sports Ltd acquired Fitness First and it will be interesting to see how this impacts performance, given the strains on the mid-tier.
Five years ago there were just 58 low cost gyms in the UK…
Today, that number has risen to more than 450. Offering big spaces and an excellent array of kit, the likes of PureGym and the Gym Group deliver a similar offering to the mid-tier operators at around one third of the cost. They may not provide saunas, steam rooms or pools, but the equipment in these gyms is generally first class.
Figure 1. Number of fitness clubs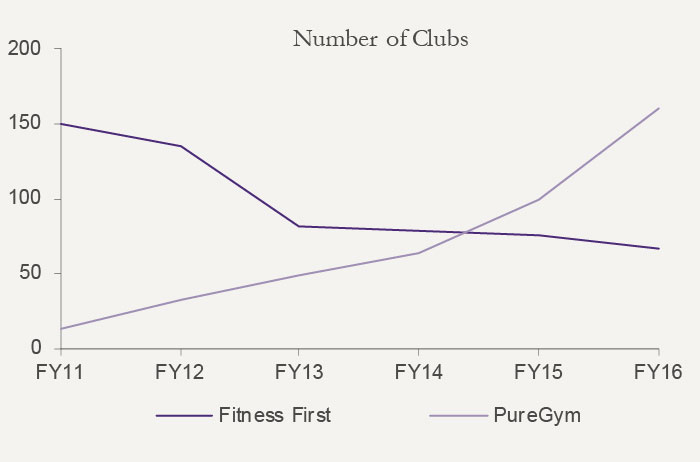 In the past three years, PureGym has consistently outperformed Fitness First in terms of EBITDA generation [see Figure 2] and has operated with significantly lower debt gearing. The relative healthy debt capacity position of PureGym indicates that there is scope for further expansion in the future, contrasting to mid-tier operators that are facing the challenge of de-leveraging their balance sheets [See Figure 3].
Figure 2. EBITDA across FY11 – FY15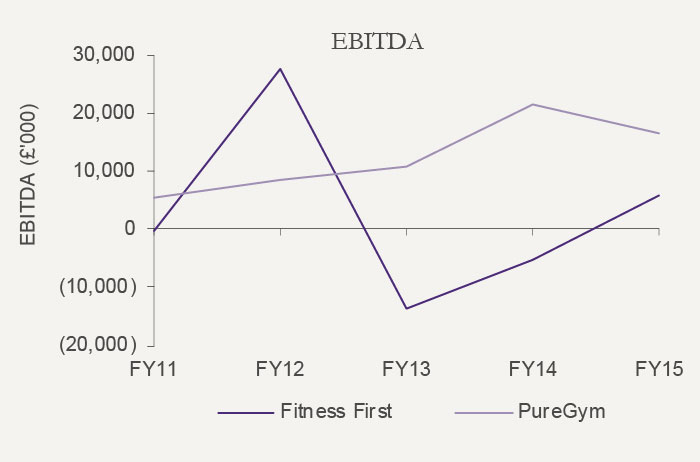 Figure 3. Long term debt carried across FY11-FY15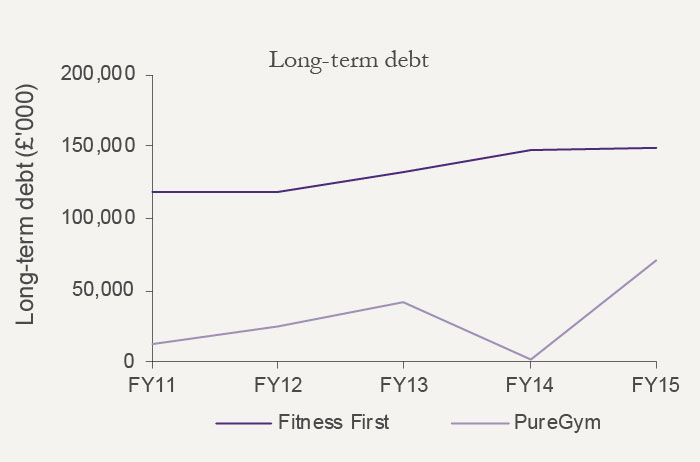 Typically located in more suburban areas (previously home to the higher margin branches of the mid-tier gyms), the success of the low cost gyms has in part been achieved through identifying and solving the two underlying issues that deterred millions of people from joining a gym:
High prices
Inflexible, long-term contracts
PureGym, a low cost fitness club chain established in 2009, is now the market leader by membership figures as well as by the number of clubs it runs across the UK. Its expansion has been driven by the combination of an aggressive growth strategy (including the acquisition of LA fitness for £60 million -£80 million) and a shift in consumer attitudes.
The low cost operators are growing aggressively, and are increasing their market share each year. This is placing increasing pressure on the mid-tier operators. Furthermore, high-end gyms are also likely to remain popular. Convenience is one of the key factors driving their popularity; consumers who are short on time and with high incomes are expected to be willing to pay for a greater range of services and the highest quality facilities. Consumers are moving towards the two ends of the spectrum, meaning mid-tier operators will be forced to reposition themselves.
With rising competition and narrowing margins at the lower end of the market, mid-tier gyms will be forced to target more affluent consumers. Virgin Active, for example, has closed some unprofitable clubs and is investing in upgrading facilities that make better use of technology and retraining staff to provide better customer service. The company is focusing on its facilities in prime locations. Other mid-tier gyms are expected to follow a similar path and target upmarket clients.
Boutique gyms are growing rapidly by providing an elite level of fitness instruction to everyday people
Being fit has now become a status symbol. The concept of going to a gym and running on the treadmill for 30 minutes or using traditional weight based machines like the pec-deck is becoming a thing of the past.
As industry-leading personal trainer and owner of Reach Fitness, a boutique gym in South London, Rich Tidmarsh explains: "These days people want to train functionally and in groups; less time on the steady state cardio machines and more time participating in hybrid group training sessions, slamming medicine balls and using kit that you just don't see at the bigger gym chains, like an AirDyne, or a SkiERG."
These disruptive 'boutique' gyms offer alternative ways for consumers to train with more emphasis on efficient and functional group training.
"Most of our members have joined Reach after coming from one of the bigger gyms and each time it's for the same reasons: flexible memberships, industry leading group training and a truly unique fitness experience!" says Mr Tidmarsh.
Put simply, boutique gyms provide a consumer offering that the low-cost, mid-tier nor upmarket gyms can match by delivering an elite level of fitness to the general public (Reach even boasts Matt Lovell, England Rugby's sports nutritionist, as part of their team). However, with membership prices of more than £80 per month, it is unlikely these gyms will attract the more casual gym-goer. This might include people who are unable to exercise at high intensity and people who are less concerned about having an elite level of fitness.
Finger on the pulse marketing campaigns within the gym sector are evolving too, led by the boutique gyms:
Social media is becoming an increasingly important tool for boutique gyms as they aim to capture new customers and keep up to date with the latest trends
Mid-tier and low cost gyms are under-utilising social media sites such as Instagram [see Figure 4] which has become the go to site for the latest fitness tips and news – 1Rebel has more followers than all mid-tier/low cost gyms
Boutique gyms are using celebrities for promotion on Instagram to focus on their target audience by portraying themselves as being current and trendy
Figure 4. Number of Instagram followers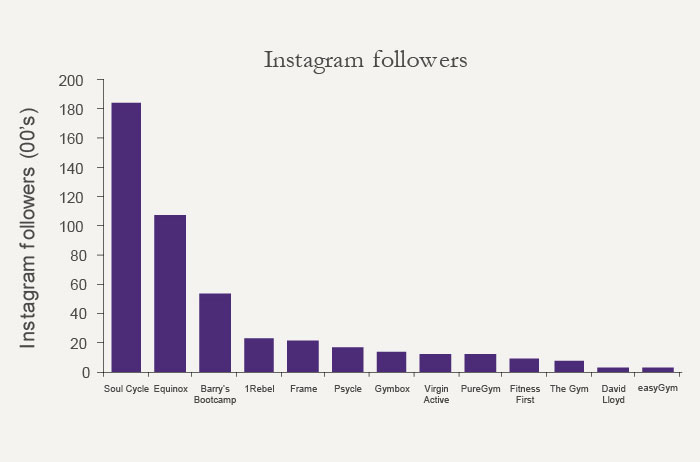 This emphasises the need to differentiate the services you offer and/or go to market approach to stand out in a competitive space.
Overall, the sector is at an interesting crossroads
The challenges facing the gym sector are similar to those being faced by the broader consumer sector. In recent years, there has been rapid expansion by budget operators in many consumer sectors, with low cost businesses in the supermarket, airline and hotel industries experiencing significant periods of growth.
Lenders in the health and fitness sector are now faced with an interesting proposition: the number of active gym members has grown by 25% over the past five years and now stands at c. 9.2 million. However, there is still considerable room for growth, as only an estimated 13% of UK consumers had gym memberships in 2014, in comparison with 20% of Americans and 25% of Germans and Swedes (IBIS World).
With rising health consciousness and an increasing consumer interest in fitness, the low cost and boutique operators will want to expand aggressively, hoping to increase leverage, exploit economies of scale benefits and minimise any equity dilution in the process.
However, in many ways, rapid expansion is a double-edged sword. Rent-free periods are a common incentive provided to new gyms to allow the operators to build a membership base before being faced with increased operational expenditure. Lenders need to be wary: overtrading/overexpansion is a genuine risk amongst these operators (particularly the boutiques who may have less experienced management teams).
Conversely, the mid-tier operators are almost in a downward spiral, with membership falling significantly and increased margin pressure. The foundations on which mid-tier operators built their businesses are now becoming outdated, forcing them to reinvent themselves within the market. To achieve this, it is likely that they are going to require additional funding against a backdrop of poor performance. Lenders must be wary of the vulnerable situation these midtier operators are now facing and opportunities now exist to support the expansion of low cost operation
For more information please contact Amaechi Nsofor or Daniel Demir.