Grant Thornton uses cookies to monitor the performance of this website and improve user experience
To find out more about cookies, what they are and how we use them, please see our privacy notice, which also provides information on how to delete cookies from your hard drive.
Deal volumes have picked up in Q2 2018 in the food and beverage sector, following a quieter start to the year. There were 50 deals1 recorded in Q2, a 28% increase on the 39 deals in the first quarter.
There were just 13 deals with publicly-disclosed deal values, equating to a total disclosed deal value of £1,049 million2, a 47% increase on the previous quarter. While there were again no mega-deals in the quarter3 to inflate the total disclosed deal value, there were a handful of deals at the £200 million level.
Three of the largest reported deals in the quarter were accounted for by the acquisition of overseas food businesses by private equity houses. CVC Capital Partners acquired snacks and biscuits businesses in Indonesia (GarudaFood) and Malaysia (Munchy Food Industries), whilst BC Partners invested in Italian bakery group Forno d'Asolo SpA. The largest reported trade acquisitions saw Archer Daniels Midland of the US acquire healthcare and probiotic supplements manufacturer Probiotics International for £185 million and Nomad Foods acquire Aunt Bessie's for £210 million. Nomad's deal in Q2 followed its Q1 acquisition of 2 Sisters' frozen pizza business for £200 million, firmly cementing its return to acquisitive growth.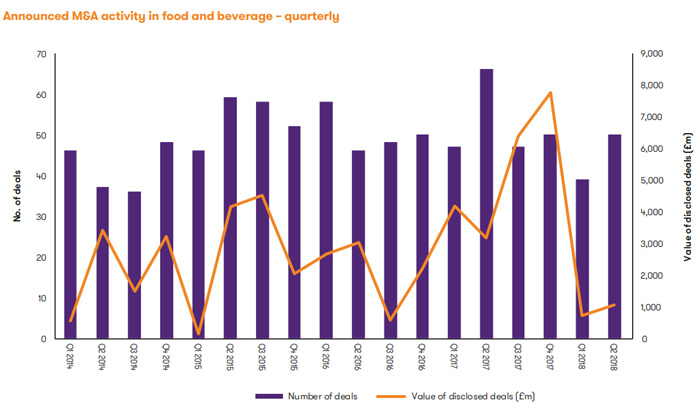 Domestic deals continue to account for the majority of transactions (56%). However Q2 did record a further rise in overseas appetite for UK assets – 12 of the 40 deals with UK/ Irish targets had overseas acquirers, representing 30% of transactions, and again a slight increase on the level in Q1 (28%). Overseas buyers for UK/ Irish assets in the quarter once more mostly originated from Europe and the USA. While Asian appetite for consumer businesses remains well publicised, for now we are not seeing that interest translate into completed transactions.
Private equity spotlight
Private equity activity in the sector has increased further in Q2 2018. Private equity was involved in 30% of transactions in the quarter , either new standalone investments or bolt-on acquisitions to existing portfolio businesses. This compares to a level of 22% in 2017 overall.
The food and beverage sector remains highly attractive to PE investors given its resilient, defensive and fragmented nature. However, the limited pool of sizeable assets available in the UK means that UK-headquartered PE houses are increasingly seeking to deploy their funds overseas.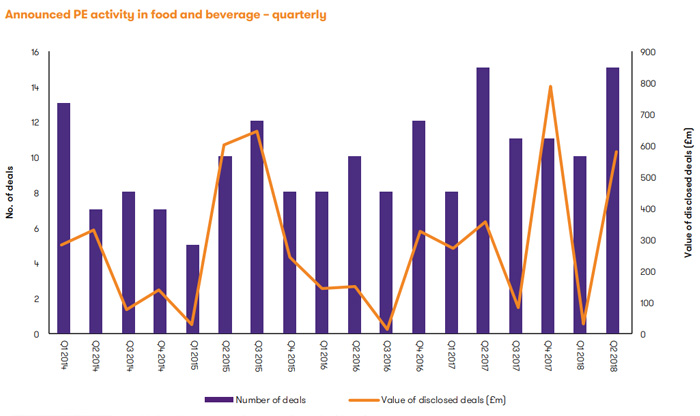 A third of the 15 deals involving PE in Q2 2018 saw UK-based PE houses make significant investments overseas. CVC Capital Partners invested in two businesses in the quarter: Munchy Food Industries in Malaysia and GarudaFood in Indonesia, both active in the snacks, biscuits and confectionery sectors.
In May 2018, IK Investment Partners announced that it had entered into exclusive negotiations to buy a majority stake in Mademoiselle Desserts, a France-based producer of frozen desserts, with a manufacturing footprint in France, the UK and the Netherlands. IK has stated its intention to support Mademoiselle Desserts in a buy-and-build strategy, as undertaken by former investor Equistone. Also in the frozen bakery space, the auction for Italian group Forno d'Asolo SpA concluded with BC Partners acquiring the company in a management buyout transaction, for an estimated consideration of €300 million. Finally, Cinven announced in April that it is to acquire Hungary-based pet food manufacturer Partner in Pet Food, to capitalise on the growth opportunities in the booming pet care market.
At the smaller end of the scale, France-based Biscuit International, supported by PE investor Qualium Investissement, added Northumbrian Fine Foods (NFF) to its portfolio. NFF is a leading gluten and milk-free biscuit manufacturer, owning brands such as Prewett's and Geobar, as well being a key own-label supplier to the retail sector. French ingredients producer Solina acquired Essential Cuisine, which specialises in the supply of stocks, jus and gravies to the foodservice sector. Ardian-backed Solina is pursuing a buy-and-build strategy in Europe as part of its goal to reach revenues of €700 million by 2020.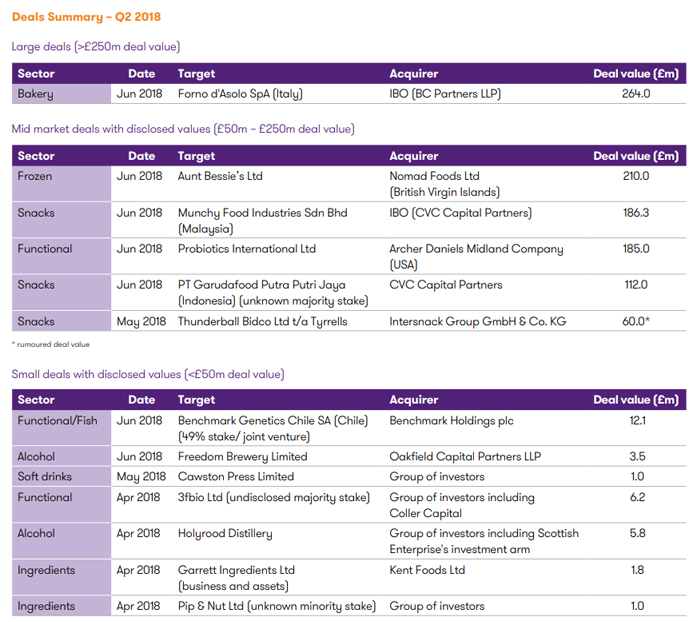 Key sector spotlight: nutrition
In line with the growing health and wellness agenda, M&A in human and animal nutrition continues to increase.
In April 2018, Nestlé, through its Purina PetCare business, acquired a majority share in direct-to-consumer, personalised pet nutrition business Tails.com. Using a proprietary nutritional algorithm developed by vets, nutritionists and software engineers, Tails.com's pet food is tailored to the unique characteristics of each dog, such as age, breed, size and level of activity. The bespoke food is supplied on a subscription service via home delivery. For Nestlé, the acquisition addresses two key changing consumer trends: the growing demand for personalised pet nutrition, and a direct-to-consumer delivery model. As also recognised by Cinven through its investment in Hungary-based Partner in Pet Food, pet food and nutrition is a growing and resilient market, with growth underpinned by long-term trends such as the rise in pet ownership and the shift towards specialist and premium pet food. The €23 billion European pet food market is forecast to continue growing at a sustained pace over the coming years.
In line with the increasing demand for both human and animal nutritional supplements, US group Archer Daniels Midland announced the £185 million acquisition of UK-based Probiotics International Limited (PIL), to boost its portfolio of products that promote health and wellness. PIL – also known under its umbrella brand Protexin - is a producer of probiotic supplements for human wellness and animal markets, including the Bio-Kult brand of probiotic supplements along with contract-manufactured products.
Other active sub-sectors
Once more, deals in the alcoholic drinks arena dominate the quarter. In the craft beer sector, Beavertown Brewery sold a minority stake to Heineken, which will provide Beavertown with funding of £40 million to build a new facility in London to increase the current brewing capacity by ten times. Also in the craft beer sector, Brewdog, supported by US PE investor TSG Consumer Partners, invested in urban cider maker Hawkes. In spirits, Diageo continued its acquisition programme with the purchase of Mexican Pierde Almas, a producer of mezcal, and US spirits company Luxco acquired a controlling interest in Northern Ireland's Niche Drinks.
In the wholesale/ supply sector, Latvian alcohol producer and distributor Amber Beverage Group increased its stake in Cellar Trends to 70%, and ZX Ventures, the growth and innovation unit of AB InBev, acquired UK-based spirits company Atom Group.
But the most significant deal in the sector in Q2 was the rescue of the wholesale arm of alcoholic drinks retailer and supplier Conviviality. Drinks producer and distributor C&C Group, which owns Bulmers, Magners and Tennent's, stepped in to acquire Conviviality's wholesale business, with the financial backing of AB InBev.C&C Group now owns Matthew Clark Bibendum, the largest independent distributor to the UK on-trade drinks sector, supplying more than 23,000 hotels, pubs and restaurants across the UK. The potential demise of Conviviality would have had serious consequences for the wider hospitality sector. The rescue deal has allowed C&C and AB InBev to secure and protect a vital route to market for themselves, but also for other producers, in particular smaller operators, who would have been under immense financial pressure had such a significant sector player collapsed.
The crisps and snacks sector has once more been very active in the past quarter, with six transactions. The quarter saw Tyrrells crisps acquired by KP Snacks, part of Intersnack Group of Germany. The transaction will broaden KP Snacks' savoury snacking category portfolio, as well as enhance its expertise in the sharing category. The deal represents the fourth change of ownership for Tyrrells in 10 years. It moved to PE ownership in 2008 when Langholm Capital acquired the business from William Chase for £40 million. Five years later, Bahrain-based investment group Investcorp acquired Tyrrells for £100 million. In 2016, Amplify Snack Brands of the US took ownership of the crisp group for a hefty £300 million. It appears that the latest deal, for a rumoured £60 million, was triggered by Hershey's acquisition of Amplify at the start of 2018, rendering the UK-based crisp group non-core to the US chocolate conglomerate.
There were also deals at the smaller end of the spectrum, such as organic and vegan snack start-up BEPPS, which draws its name from its key ingredient, black-eyed pea puff. BEPPS received investment from Giles Brook, CEO of Vita Coco and a serial sector entrepreneur and investor. And Tayto Group concluded two bolt-on acquisitions in the quarter: acquiring the assets of Pop Notch popcorn and The Real Pork Crackling Company.
Whilst deal volume for the first half of 2018 trails the level achieved at the half-way point in 2017 by 21%, deal activity in Q2 2018 has clearly rebounded. Whilst some groups may have put M&A plans on hold due to the ongoing instability caused by Brexit, for many, it is business as usual.
Some M&A activity is being driven by companies keen to make acquisitions before the UK leaves the EU, especially those who are seeking to establish a UK footprint. Whilst the pound is currently showing some recovery versus the Dollar and Euro, it remains at a level that continues to inflate inbound M&A activity.
On top of all of this, broader sector trends continue to shape and drive M&A in the sector, and overall, the sector remains hugely attractive and ripe for further consolidation.
If you would like any further information, please get in touch with Trefor Griffith.
Footnotes
1 All deal activity is based on announced date of the deal and includes deals where there has been any UK or Ireland involvement (target and/or acquirer). Administrations, liquidations and receiverships are collated but not counted as M&A unless they have subsequently been acquired.
2 Deal values are primarily sourced from corporate websites, however if no press release is available they are sourced from deal databases including BvD Zephyr and mergermarket or from press commentary released at the time of the deal. Deal values may subsequently be amended pending earn outs or other finance arrangements and/ or as further detail is released by the acquirer.
3 The £7.3 billion acquisition of ASDA by J Sainsbury plc has been excluded from our data due to its focus on retail.
Related insights:
Report on unlocking working capital and unclaimed R&D tax relief in food and beverage businesses
Find out more
The latest food and beverage insights