NAVIGATING BREXIT
Need practical advice on navigating Brexit?
Discover our practical steps for business leaders
Our latest report offers insight into how the financial services industry is performing from a care, loyalty, reputation and trust perspective.
Whilst last year was a tumultuous year for the financial services industry, with external factors such as Brexit and the US election result affecting market confidence and focus, banks, insurers and investment managers must not lose sight of the need to serve their customers effectively.
Indeed, current levels of digital disruption in the financial services industry are unprecedented, with all sub-sectors feeling the effects on both revenue and costs.
Key findings
The latest insights from our Customer Loyalty and Experience Index (CLIX) have shown a number of key financial services providers marching ahead on all aspects of customer engagement.
Remarkably, their brand perception is comparable with leading retail brands, despite the complexity that exists in their products. On the other hand, the poor performers, and that includes the majority of the life and pensions sector, continue to provide a disengaging service to their customers, leaving them with a below par experience.
Graph 1: Relationship between customer loyalty and experience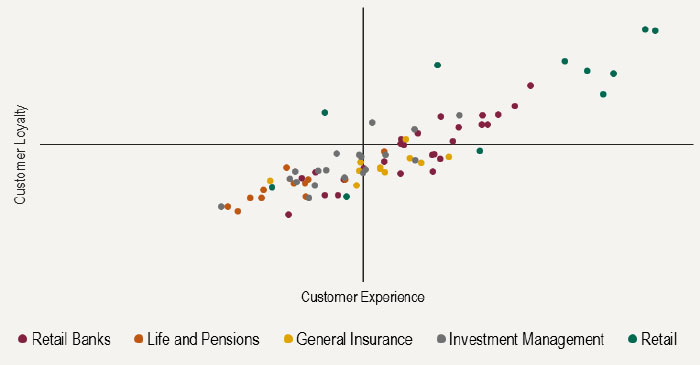 Source: Customer Loyalty and Experience Index, Grant Thornton 2017
Our methodology shows that continued positive customer experience drives loyalty, and this explains why retailers have been so successful at engendering loyalty. (See Graph 1)
However, financial services firms are starting from a different place. The industry as a whole has been marred by the financial crisis, leaving providers' reputations for trust and integrity tarnished. Indeed, our index shows that there is a perceived care deficit of -11 – and this is some 10 years after the crisis.
But all is not lost, with some financial services firms differentiating themselves from the pack. They have done this by developing effective strategies and allocating resources to places to provide a superior customer experience and drive levels of loyalty.
Other developments
The FCA agenda and increased scrutiny mean that financial services firms need to ensure they provide evidence that they are considering customer feedback in the development and delivery of their service offering.
Leading providers are 'setting the bar' high by leveraging new agile methods of working to test and learn new initiatives. Doing this improves customer experience whilst utilising new and existing data sets to personalise engagement with customers.
Being proactive towards increasing customer engagement and experience meets both competitive and regulatory pressures head on. In this report, we provide insights into how the financial services industry is performing from a care, loyalty, reputation and trust perspective.
We also demonstrate ways to understand and use customer experience data to improve methods of engagement and comply with regulatory standards, as well as exploring new techniques to facilitate the personalisation of each customer engagement.
For more information or to discuss the CLIX report, please contact Samuel Church.
Read the report
Download PDF [368 kb]