NAVIGATING BREXIT
Need practical advice on navigating Brexit?
Discover our practical steps for business leaders
Our towns, counties and cities have distinct and varied cultures.
There are shared and sometimes contested values, local traditions, behaviours and drivers for change. Culture evokes memory and identity. It affects how we feel about where we live and work and what's possible.
It can be a set of stories describing how we do things, bringing out the best – like history and heritage – but sometimes preventing us from moving forward.
With local authorities having a place-shaper role, we're exploring how culture impacts on the sector's ability to facilitate and support a vibrant economy. Please view our short video below.
Although the term culture of place is subjective our initial conversations suggest there are some common themes occurring:
The place leader is the storyteller – leaders need to be more deliberate in their storytelling, helping communities make sense of a complex world, the past, present and possible futures
Being clear about what they want to see – there is a strong need to create an environment that gives people permission to care, to be innovative, to take action themselves, to adapt and experiment
Socio-economic situations often drive the culture – the uniqueness of socio-economic factors leads to a recognition that one place will never be like another – and, in fact, should not aspire to be so – instead tailoring their approach to the areas specific strengths
It's all about context – areas within the UK can be local, national and international all at the same time, learning to live with, and get the best advantage from, what's on our doorstep is key
"What stand out cultural strength in your region helps to make your local economy vibrant?"
See answers in our videos below:
Read the report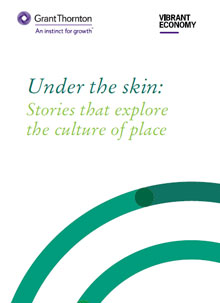 Read the two-page summary
Under the skin: Stories that explore the culture of place
Hear from the writer
Dawn Reeves, Author