NAVIGATING BREXIT
Need practical advice on navigating Brexit?
Discover our practical steps for business leaders
Catch up: watch webinars on demand
What does Budget 2021 mean for tax?
On 28 April our tax experts shared an in-depth analysis of the tax measures in Budget 2021: explaining how the Chancellor's commitment to increase support for business during the pandemic and reduce record public spending may impact you.
UK Investment Firm Prudential Regime (IFPR)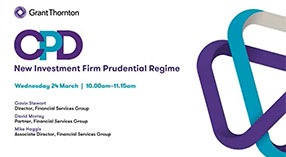 On 24 March our experts shared a deep dive into the Financial Conduct Authority (FCA) Consultation Paper on the new regime, explaining the impact of the near-final rules and what firms should be doing in response.
Impairment assessments for non-financial assets under UK GAAP and IFRS
On 10 March our experts explained how to avoid some of the common pitfalls when testing non-financial assets for impairments: from identifying a cash-generating unit (CGU) to determining the recoverable amount and disclosures.
Please bear in mind that regulations and best practice guidelines may have changed since a webinar was recorded.
Webinar
Trading internationally in a post-Brexit world
Financial services
UK regulatory handbook 2021
Webinar series
CPD technical update programme