NAVIGATING BREXIT
Need practical advice on navigating Brexit?
Discover our practical steps for business leaders
As we look to almost every business sector, specifically transportation, retail and financial services we can see the impact that cost management has on our everyday lives.
Today, we take for granted the term 'low cost airlines' and their benefits. The likes of EasyJet and Ryanair took existing business models apart and recreated their own based upon the careful management of their cost base. Established players had to rethink their own business model as the market embraced the new entrants.
In retail, the impact of online and the cost effective distribution to the front door of customers has changed the established retail landscape. Retailers such as John Lewis have had to adapt to meet the online demand, to the point that online shopping now accounts for 40 percent of all their sales[1].
In financial services, it is reported that fourteen new UK banks have received licences since 2013, with six more part-way through the application process and a further fourteen having held pre-application talks with the PRA[2]. New entrants are leveraging their understanding of the existing banking models to recreate more cost effective models with emphasis on IT infrastructure and person to person distribution.
Regardless of business sector, all new market entrants have the benefit of hindsight, unlike the incumbents who must adapt and consider additional challenges (see Graph 1)
Graph 1: Cost optimisation business challenges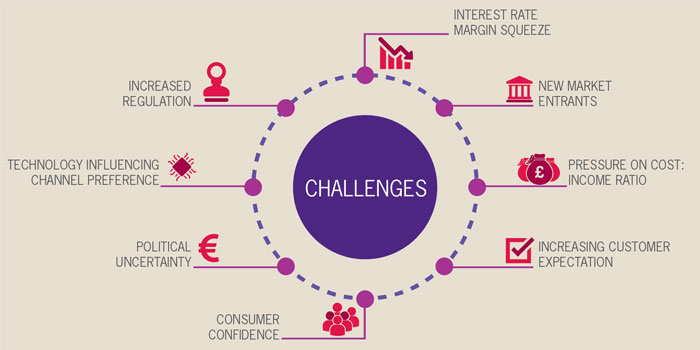 Financial services institutions can compete by taking control of their costs.
Our experience tells us that taking control of costs does not simply mean reducing costs. Traditional tactical cost reduction activities that will no longer support the new competitive environment, and above all else will not help support the ever increasing expectations of tomorrow's customers.
Financial services institutions have to think about how to optimise their cost base. Starting with establishing a deep understanding of which activities are adding value for customers. They also must develop strategies to optimise activities that do not add value, together with reducing associated costs. Typical strategies include:
eliminating duplicate or obsolete activity
optimising activity - through redesign or automation
outsourcing activity – where economies and value cannot be realised internally.
There has always been a requirement to think about cost efficiencies, but additionally Financial Institutions need to be cognitive of the additional challenges that come as part of the today's competitive environment.
Sources: