NAVIGATING BREXIT
Need practical advice on navigating Brexit?
Discover our practical steps for business leaders
Our infographic charts UK corporate governance in the FTSE 350 – from average report length to compliance levels with the the Code to the quality of explanations of underlying practices among the UK's largest listed companies.
Click to view the image larger, or scroll down for more information and where you can download the full report.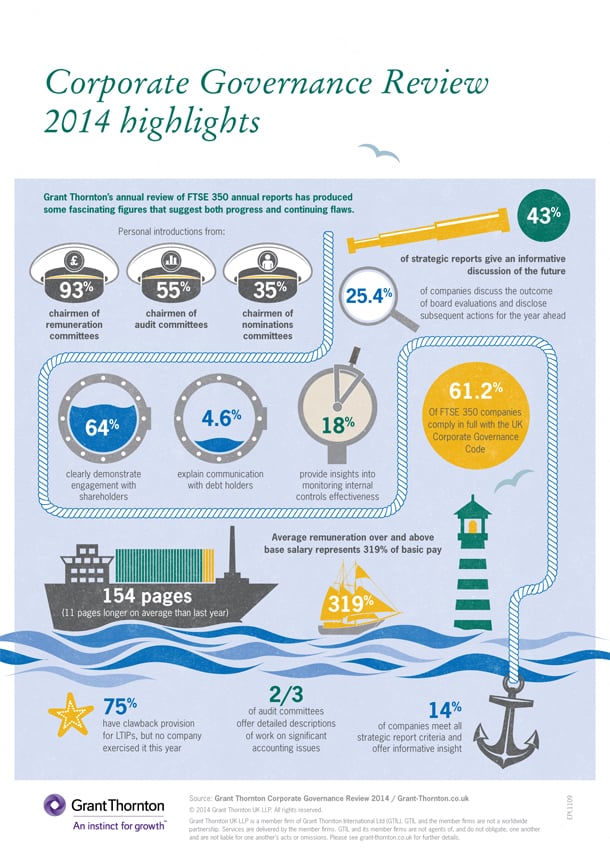 Corporate Governance Review 2014 highlights
It's been a year of change in the governance landscape – from EU legislation capping banker bonuses to high-profile shareholder revolts; mandatory rotation of audit firms to the new Strategic Report and Directors' Report Regulations. Our findings – which cover the annual reports of 307 FTSE 350 companies with years ending between June 2013 and June 2014 – show that:
61.2% (2013: 57%) of FTSE 350 companies comply in full with the UK Corporate Governance Code.
Accountability and transparency is gathering pace, with chairmen from 93% (2013: 70%) of remuneration committees and 55% (2013: 44%) of audit committees now delivering a personal introduction to their report, as recommended by the Code; nomination committees are way off the pace with only 35% of chairmen holding themselves out to be accountable
Despite the new Strategic Report asking for clearer, more understandable information, annual reports grew by 11 pages on average this year to 154 pages – a rise of 20% over the past four years.
When it comes to looking to the future, less than half (43%) gave any real insight and only 14% of companies met all the Companies Act requirements.
Only 25% gave helpful information about how they will address the findings of board evaluations.
While basic salaries remained much the same, average executive take home, over and above base pay, has increased dramatically and now represents 319% of base salary (2013:184%). The majority of this increase relates to performance-related pay – the greater part of that being options.
For a more in-depth overview of this year's FTSE 350 Corporate Governance Review, and why increasing compliance may threaten the very principles of UK governance, read Simon Lowe's analysis. Simon is both chair of the Grant Thornton Governance Institute and the firm's Large Corporate practice leader. Alternatively, download the report below.
Download the 2014 Corporate Governance Review
The full 60-page report is available to download here: Corporate Governance Review 2014 – Plotting a new course to improved governance [ 4002 kb ] (PDF).