NAVIGATING BREXIT
Need practical advice on navigating Brexit?
Discover our practical steps for business leaders
A new partnership between the Post Office and UK retail banks will enable 99% of UK personal banking customers and 75% of all business banking customers to do their day-to-day banking at one of over 11,000 Post Office branches in the UK. This will be the biggest expansion of face-to-face banking in recent years, whilst at the same time enabling retail banks to undertake more branch closures.
Our Customer Loyalty and Experience Index (CLIX), using data from over 17,000 customers, shows this change will have significant impacts within the UK retail banking industry.
Customer experience
The research suggests customer experience measures will be the most affected. Banks could feel both positive and/or negative impacts and the bank's branch channel performance will determine which.
The main driver will be the extent to which customers transition their use of their current bank's branches to those of the Post Office. Grant Thornton has modelled the potential impact of the changes on customer experience and loyalty based on the assumption that the branch channel experience is similar to that of the Post Office.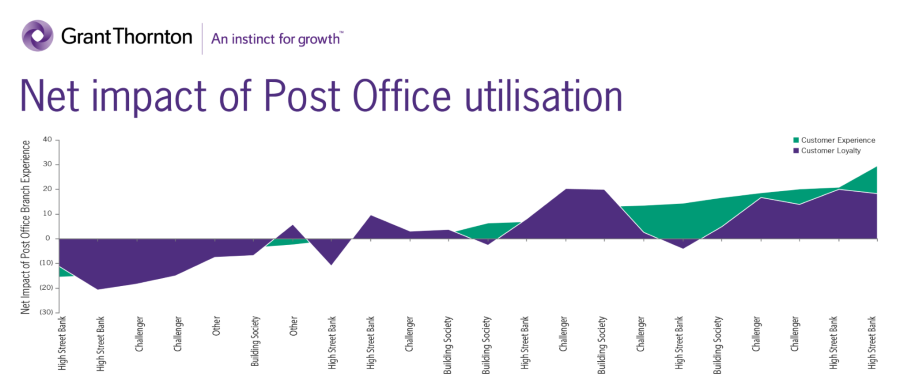 Source: Grant Thornton CLIX
According to CLIX, the net impact on customer experience will be positive overall, pointing to Post Office branch's customer experience performance as slightly above average for the retail banking sector. For the model, we have assumed a complete replacement of branch transactions from existing networks to the Post Office.
Though, the reality will be somewhere in between. It will largely depend on how banks communicate the availability of the Post Office as an alternative option, in addition to, or instead of, their own local branch. However, this does not consider the implications of increased congestion and queuing times within Post Office branches that will inevitably affect customer experience.
Customer loyalty
Customer loyalty will be more negatively affected than customer experience. This is due to the decline in brand affinity resulting from a reduction in direct interaction with consumers through the branch channel. This will present additional risk to banks, particularly given the relative ease with which customers can now switch banks. It is essential for banks to maintain a seamless cross channel service to minimise this potential risk.
Key considerations for banks
The banks currently partnering with the Post Office to utilise branches fall into three categories, with unique risks/areas for consideration.
It was announced at the 2015 Access to Banking: Annual Retail Banking Conference that the use of branches to process financial transactions is forecast to decline by 37%, to represent 8% of transactions by 2020. However, Grant Thornton CLIX research indicates that branches will remain an extremely important interaction channel to reinforce and enhance customers' perception of the brand.
Banks that may be considering the closure of some outlets due to the declining utilisation of branches, should have an established cross-channel journey. This may need to be enhanced to compensate for branch closures, particularly for target customer groupings or segments. The Grant Thornton CLIX research clearly shows that an integrated cross-channel approach is critical for delivering end-to-end customer service - shown to generate high scores for customer experience and loyalty when delivered effectively.
Small branch network:
The partnership with the Post Office gives greater face-to-face distribution, although the experience may be very different to what banks intended. Each bank should plan how they counteract this to ensure consistent customer experience is delivered - critical for building customer loyalty.
No branch network:
Access to everyday banking within the Post Office for all UK personal banking customers will also present a clear opportunity for challenger / online banks, providing an instant nationwide network of branches. This will remove the expensive capital investments required to establish a high street presence, with sufficient geographical coverage to allow them to grow market share. This will result in increased competition in the retail banking landscape.
Banks need to build and demonstrate they recognise, the face-to-face services that their potential customers value, whilst maintaining the level of service currently delivered through other channels. The use of Post Office branches by UK banks is going to marginally improve the customer experience overall for those customers who utilise this channel. It is likely to have a more negative impact on customer loyalty, due to a reduction in direct interaction with customers.
Taking all of this into account, it is clear that the sector must provide an integrated, cross-channel service to drive customer experience and loyalty. This will translate into enhanced customer retention and product sales.
Banks should consider using new technologies, such as artificial intelligence to deliver personalised interactions and communications with their customers. Timely communication with relevant messages and offers will ensure customers feel well connected to their banks, enhancing customer experience and therefore customer loyalty.
CLIX analytics can assist firms with the assessment of their customer experience and loyalty, helping them to understand the key drivers of their performance. It can also identify areas for improvement and enable benchmarking against peers. Grant Thornton will be performing CLIX 2017 research in Spring this year.