NAVIGATING BREXIT
Need practical advice on navigating Brexit?
Discover our practical steps for business leaders
A healthcheck report on local government commercial investment activities and governance requirements to create vibrant economies
Long periods of austerity and Brexit uncertainty has left local government challenged with protecting vital public services with shrinking budgets. This tipping point has led to a change in risk appetite at many councils, encouraging them to become more commercial.
However, many councils face a dilemma – often criticised for not being business-like enough on the one hand, and for being overly-commercial on the other. This increased scrutiny and the need to ensure a balanced approach have culminated in revised rules being released in January 2018 on the way local government is able to trade, borrow and invest – the CIPFA Prudential Code for Capital Finance in local authorities and the DCLG consultation on proposed changes to the Local Authorities Investment Code and Minimum Revenue Provision (MRP) Guide.
Governance of commercial commitments is key to building confidence in the path to financial sustainability. The CIPFA code is the sector's primary rule book for treasury management and is expected to place a stronger emphasis on how councils will balance security, liquidity and return.
Our latest healthcheck report is part of our 'The Income Spectrum' series, giving leaders of local government and public services insights into why and how local authorities are changing their approach to commercialisation, some of the related governance and risk management issues, and the latest innovation trends with case studies ranging from Angus and Luton to Oldham and Stirling.
The research shows that councils need to do more than simply adhere to the drafted rules to ensure an approach to commercialisation that balances outcomes and risks. The report therefore also includes a healthcheck diagnostic tool designed to give local government leaders extra comfort and confidence that they are pursuing a suitably balanced approach.
Download our Commercial healthcheck report [ 705 kb ] for more insights into the latest commercialisation developments and the latest innovation trends.
Read our report
Download PDF [705 kb]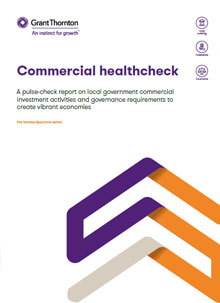 Get the latest insights, events and guidance about the public sector and local government, straight to your inbox.
Subscribe here