NAVIGATING BREXIT
Need practical advice on navigating Brexit?
Discover our practical steps for business leaders
Local government in the UK is facing the most acute financial and funding challenge in a generation. Decisions on the funding of services have critical impacts on people's lives and the strength of local economies, yet the extent and quality of insight and data analytics available to councils has traditionally been weak, inconsistent and difficult to access.
Our Insight and Analytics team has collaborated with CIPFA to develop a new online data platform to provide rich and actionable insights to finance professionals and policy leads, as they chart a course for the future of local government in a radically different financial environment.
Deliverables and value add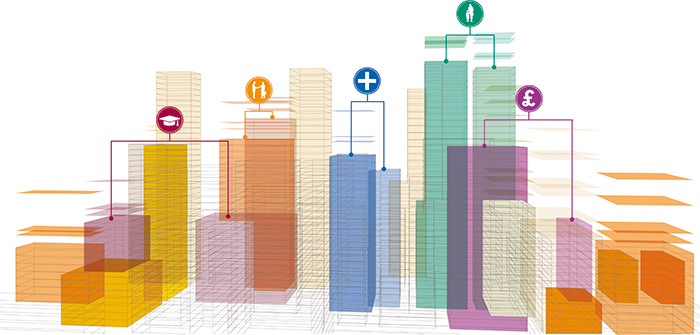 CFO Insights (CFOi) was built by specialist developers and analysts from the Place Analytics team, working closely with our Local Government Advisory Team and was launched in January of 2016.
The purpose of the collaboration was to bring together CIPFA's financial benchmarking data and Place Analytics' expertise in socio-economics and data visualisation in order to contextualise local government spend in a way that has never been previously achieved. Through comparison and benchmarking across the whole sector, the tool aims to answer critical questions for CFOs such as:
Are the outcomes achieved, given the spend on a service, providing value for money?
Is spend on services reasonable given the socio-economic characteristics of my place?
Where can I find cases of best practice and high levels of efficiency?
CFOi is a unique product due to its three dimensional view (financial, socioeconomic characteristics, outcomes), speed of data updates, dynamism and flexibility.
The direct dialogue between licence holders and the CFOi team means that licence holders are having a direct impact on the development of the product and are building a dynamic community of insights that can drive innovation across local government.
How it supports our purpose
Local government is one of the key agents in driving local economic growth, and impacts people's lives on a daily basis. CFOi is fully aligned with each of the three pillars of our purpose:
Supporting local government through the provision of transparent and robust data to support decision making
Supporting the strategic development of local government services to drive economic growth
Create environments where people and businesses flourish. We're pursuing a clearly developed roadmap to take the product further; plans include more insights around supply chains, future focused projections and more financial planning modules.
In order to provide similarly strategic and operational insights to finance professionals in dynamic organisations, we will be launching a range of analytics products and collaborations in 2016/17 targeted at the private sector.
Phillip Woolley – Partner, Head of Insight and Analytics, Grant Thornton: "Given our leading position in the local government market and CIPFA's unique standing as the professional body for finance professionals in the sector, it made sense for us to come together to deliver this much needed solution to the market. CFOi gives us a perspective about a place and a Council that our competitors just don't have. Alongside Place Analytics, councils really value it as a key part of the Grant Thornton relationship".
Measures of success
Since launching in January 2016, over 50 councils have taken a CFOi licence, with more in the pipeline for demonstrations. CFOi license holders include: Essex County Council; Warwickshire County Council; London Borough of Westminster; London Borough of Southwark and Coventry City Council. It's not just councils, private sector suppliers are also signing up to access valuable insights for their own businesses.