NAVIGATING BREXIT
Need practical advice on navigating Brexit?
Discover our practical steps for business leaders
What are the latest trends of Chinese business investment in the UK?
Our Tou Ying Tracker shows Chinese companies continue to make an important contribution to the UK economy. In 2017 the top 30 fastest-growing companies employed more than 5,000 people, had an average growth rate of 129% and recorded a combined turnover of over £11 billion.
Since we published the first tracker five years ago, Chinese investment has driven growth and created jobs in many sectors, helping to shape a vibrant economy across the UK.
The tracker, developed in collaboration with China Daily, analyses Chinese investment in the UK in two separate categories: state-owned enterprises (SOE) and private companies, with 15 of each category making it into this year's report.
The private companies reflect the ever-changing nature of Chinese overseas investment and the growth of China's thriving private sector. The private Chinese-owned companies in this year's tracker grew by a remarkable 71% on average but SOEs outperformed even that achieving an average growth rate of 174%.
This year's tracker finds that the fastest-growing SOEs continue to concentrate in the financial services and energy and utilities sectors; allowing them to generate long-term sustainable returns and gain valuable experience in operating infrastructure projects.
Private companies however are investing more broadly. Six out of the 15 included in this year's report operate in the technology, media and telecoms sector. Travel and hospitality and manufacturing are the next most popular sectors.
Below are the key investment trends for the top 30 Chinese companies.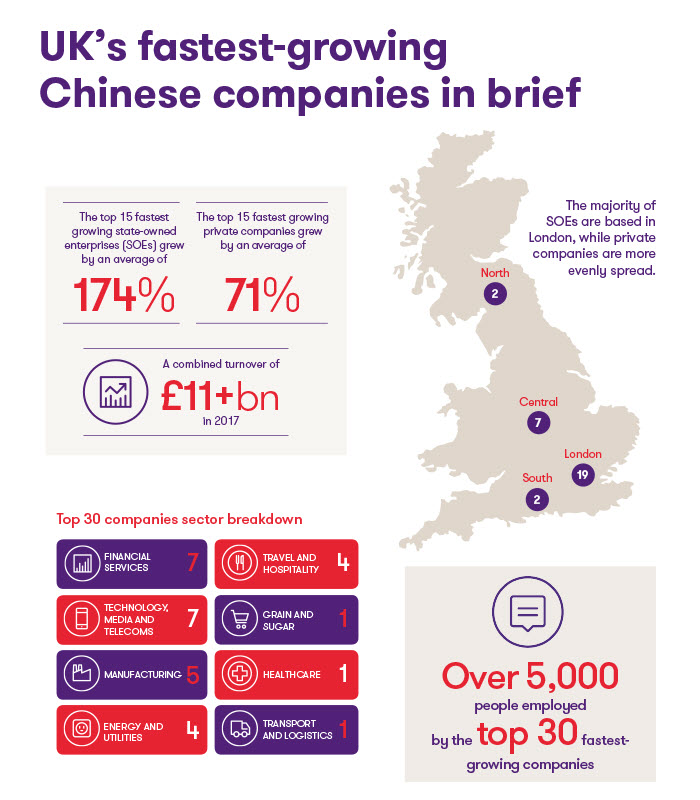 Download the Tou Ying Tracker for 2017. [ 801 kb ]
If you would like to discuss any matters arising in this publication or to find out more about our work with Chinese companies investing in the UK please contact our China Britain Services Group
Read the report
Download PDF [801 kb]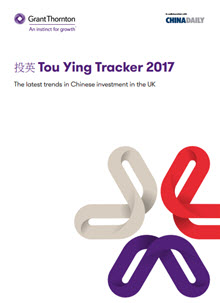 Get the latest insights, events and guidance for Chinese businesses in the UK, straight to your inbox.