NAVIGATING BREXIT
Need practical advice on navigating Brexit?
Discover our practical steps for business leaders
Now in its eighth year, our Tou Ying Tracker research confirms the growing contribution of Chinese companies to the UK economy.
This year, our annual survey of the latest trends in Chinese investment in the UK identifies almost 840 Chinese companies that qualify for inclusion in our Tou Ying Tracker1. Together, these companies have combined revenues of £92 billion (up from £91 billion for the 795 companies identified in 2019). They report overall revenue growth of 12% (down from 17% in 2019). Between them, these companies employ almost 75,239 people in the UK (up from 71,097 in 2019).
This group represents only a fraction of the 15,000 Chinese companies operating in the UK; either as part of a China-owned corporate group or majority-held by a Chinese national.
TMT companies report strong growth
This year's Tou Ying research shows Chinese companies in the technology, media and telecoms (TMT) sector reporting the strongest annual revenue growth (28.9%). Between them, the 131 TMT companies in the Tracker employ over 15,782 people. Of these, 12,100 are employed in mid-market companies with revenues between £50 million–£1 billion.
Other sectors where revenues are growing strongly include: business support services (7.6%), private healthcare (6.8%), and manufacturing and industrial (5.2%).
M&A deal value increased by 31% in 2020
M&A activity is an important component of Chinese investment into the UK. In 2020, the pandemic and associated restrictions on travel had a clear impact on the volume of deals. There were 25 deals (excluding real estate) last year, down 46% from 2019. Nevertheless, the total value of deals increased by 31% on 2019, to £4.7 billion.
The deals that did take place in 2020 saw Chinese investors buying up or buying into the UK's leading capabilities in technology and biotechnology. Chinese investment in the UK also targeted British brands, including more traditional industrial assets.
Chinese economic growth to drive international recovery
The year ahead holds much hope for ongoing trade and collaboration between the UK and China. As 2021 starts, China's 14th Five-Year Plan gets underway at the same time as the UK begins to trade independently of the EU for the first time in almost 50 years.
Simon Bevan, Head of the China Britain Business Group at Grant Thornton UK LLP, commented:
"China and the UK have much to offer each other as they pursue their economic ambitions. The UK's strengths in research and innovation, and the country's open economy, will continue to attract Chinese capital looking to drive the development of modern industries in China".
Download the report [ 1720 kb ]
For further information or advice, contact Simon Bevan or Ian Zhu.
Footnotes
1 See full report for qualifying criteria
Download the report
Download PDF [1720 kb]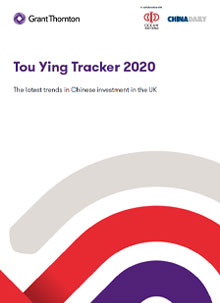 International
Globalisation brings a world of opportunities for your business to explore overseas markets.
Get the latest insights, events and guidance for Chinese businesses in the UK, straight to your inbox.