NAVIGATING BREXIT
Need practical advice on navigating Brexit?
Discover our practical steps for business leaders
Chinese investors in the UK are continuing to invest heavily in a number of key sectors, despite the economic uncertainty created by Brexit and wider international tensions.
In fact, Chinese companies in the UK are thriving, with the largest 750 of them having an average growth rate of 11.6% and a combined turnover of £68 billion in 2018.
Top performing companies
Our 2018 Tou Ying Tracker identifies the 30 most successful of these companies, as they make a growing impact on the UK economy.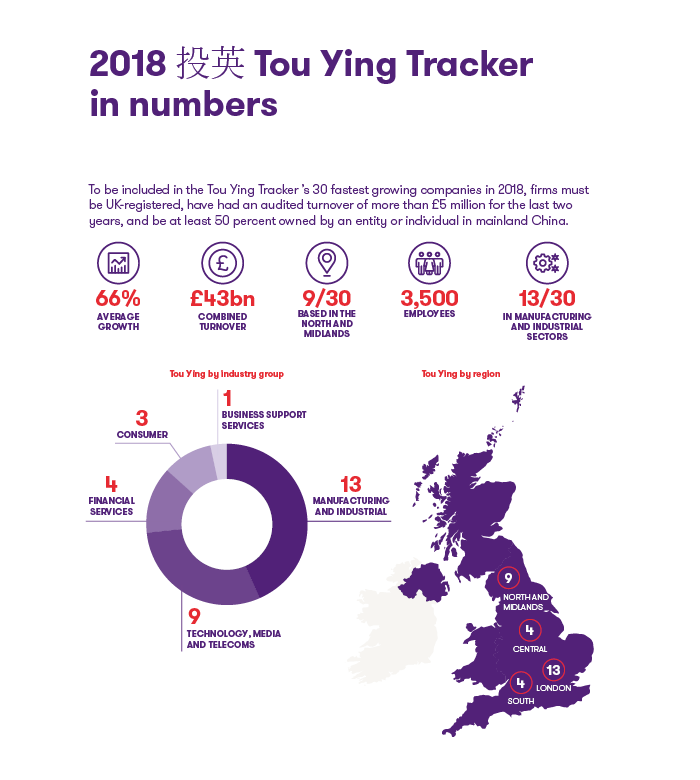 With a combined turnover of £43 billion, the 30 fastest-growing companies employ more than 3,500 people. Across the 750 companies analysed for the Tou Ying Tracker, nearly 80,000 workers are employed in the UK.
Strong performance from the manufacturing and industrial sector saw 13 of the top 30 companies representing this sector, nine of which are based in the North and Midlands.
The technology, media and telecoms (TMT) industry was also well represented, with nine of the 30 companies coming from this sector, up from seven last year.
This aligns with China's outbound foreign direct investment (OFDI) regime, which is encouraging Chinese companies to invest in the Belt and Road Initiative and those industries that fit with the country's five year plan.
Chinese-UK investment
London's world-leading financial centre, first-class professional services and the opportunity to do business in English mean Chinese investors are keen to make the most of the opportunities available in the UK.
Growing tensions between China and the US are also benefiting Europe, with the weak pound helping to make investments in the UK particularly attractive.
Having reached record highs in 2017, trade between the two countries is strong with imports from China to the UK worth £45.2 billion, almost double what they were 10 years ago. Meanwhile, exports from the UK to China were £22.3 billion, approaching three times what they were in 2008.
Direct investment into the UK also rose between 2016–17, to reach £88.4 billion and UK investment into China surged to £103.1 billion.
Meeting the challenge of a European culture
To succeed in the UK, Chinese businesses must operate in the context of a culture and compliance regime that is very different from China's own.
Identifying the best deals, navigating regulations and tax requirements, as well as adjusting to different working practices, can all be a challenge.
Understanding these differences can help Chinese investors operate more successfully in the UK market.
Our China Britain Services Group offers both the business expertise and cultural understanding to add value for our clients, and provides a full range of services for Chinese corporates and real estate investors looking to invest in the UK.
Download the Tou Ying Tracker 2018 [ 1229 kb ]
For more information, please contact the China Britain services group or get in touch with Simon Bevan.

Download the Tou Ying Tracker 2018
Download PDF [1229 kb]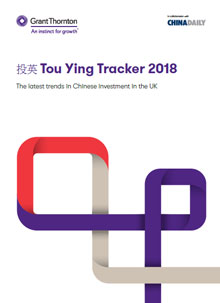 International
Globalisation brings a world of opportunities for your business to explore overseas markets.
Get the latest insights, events and guidance for Chinese businesses in the UK, straight to your inbox.