Our Tou Ying Tracker infographic shows Chinese investment in the UK – past, present and future.
The Grant Thornton 投英 Tou Ying 25 tracks high-growth Chinese companies in the UK. Our latest 2015 tracker shows that the top 25 fastest-growing Chinese companies in the UK contributed more than £35 billion to the UK economy in 2014 – up from £25 billion in 2013 – and employed more than 2,500 UK workers.
You can download our full report or view the infographic below, which summarises how Chinese business investment in the UK is changing. Click on the graphic to view at a larger size (opens in a new window) or read on for further analysis.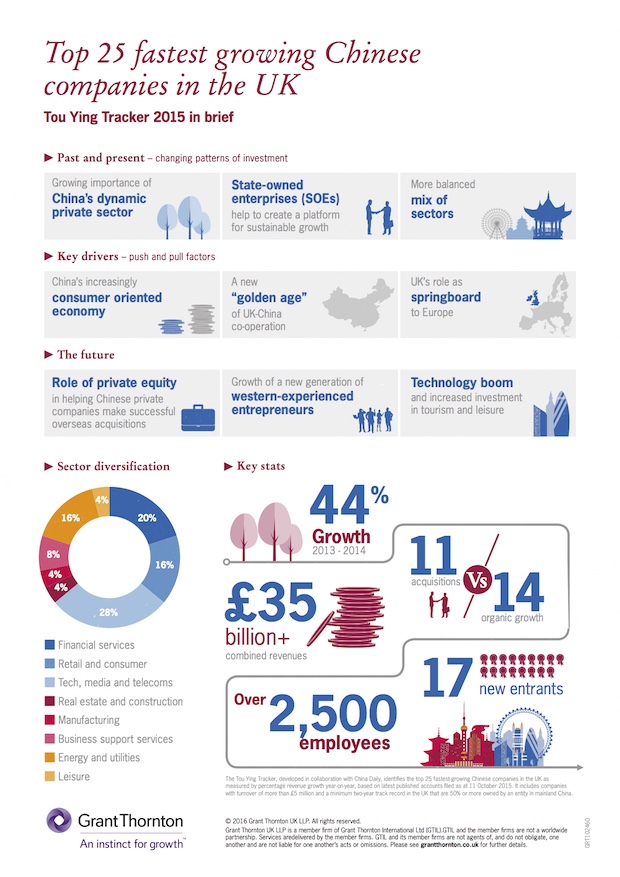 Past and present investment
In last year's 投英 Tou Ying Tracker report, the top 25 list was dominated by state-owned energy, financial services and communications companies.
"The latest results reflect the changing pattern of Chinese overseas investment. While state-owned enterprises continue to make a major contribution, and help to create a platform for sustainable growth, the tracker demonstrates the growing importance of China's dynamic private sector," says Simon Bevan, Head of the China Britain Services Group.
There is a clear push towards investment in UK companies that can help meet the consumer needs of China's growing middle class and more consumer-oriented economy. Other investment drivers include a new era of bilateral national co-operation and the UK's role as a gateway into Europe.
Future investment
A new generation of Chinese entrepreneurs is becoming more familiar with Western culture, adapting to our business practices and breaking down the barriers to going global. The role of private equity is likely to grow in helping to ensure that Chinese private companies make successful overseas acquisitions, and to address management and deal expertise that can be lacking in Chinese investors.
As for sector trends, China's technology companies are developing sophisticated products and services of their own for a global market. With around 120 million Chinese people now travelling overseas each year, this is fuelling growing overseas investment in tourism and leisure, and particularly hotel investment. Finally the UK green tech sector may benefit from China in the future, in line with China's commitment to strive to improve the environment, promote clean industrial production, low-carbon development and energy conservation in its five-year plan.
"It appears that China's thriving private sector is following the lead of the state-owned enterprises and looking to the UK as an attractive place to invest," says Jon Wallis, Head of China Outbound, China Britain Services Group. "As part of a new 'golden age' of UK-China co-operation, demonstrated by President Xi's recent state visit, the UK provides an environment where Chinese businesses and people can flourish".
Further information
For more information on Chinese investment patterns, download the Grant Thornton 投英 Tou Ying Tracker 2015 on this page. Alternatively, visit our China Britain services group page for services and contacts in this area.
Download the tracker