Pricecheck has ambitious growth targets that will take it far from its roots as a small family business. The company aims to grow their turnover to £200m by 2025 and to achieve this will need to significantly expand exports.
Our Growth 365 service is providing access to vital market analysis and practical business insights to help accelerate their growth journey.
"Our relationship with Grant Thornton and Growth 365 is building our confidence as we move into international markets. We've got access to fantastic resources and networks which we're using to expand growth worldwide."
Mark Lythe, Joint Managing Director, Pricecheck
The challenge
Pricecheck is trusted by international FMCG brands to distribute their goods to secondary markets worldwide, including discount retailers. When Mark Lythe and Debbie Harrison took over the family business as second-generation owners in 2007, they had ambitions to grow the business. In early 2017, the brother and sister team turned to Growth 365, Grant Thornton's membership service for ambitious mid-sized business leaders, to help them achieve their goals. They wanted to increase revenue to £100m by 2020. And after reaching £73m in 2018 they are now focusing on their next target, to achieve £200m by 2025, with 50% of revenue coming from exports.
Growth 365 connects Mark and Debbie with Grant Thornton's international network of experienced business advisers, technical specialists and analysts. The service also links the pair to a community of like-minded business leaders – an invaluable forum for sharing experiences, sounding out ideas and making new connections.
Unlocking sustainable growth
Over the past year, the Growth 365 business advisers have challenged Pricecheck to take a fresh look at the business's position in the market. As a result, Mark and Debbie have developed a new and stronger identity for the business to boost its image on the international stage. Growth 365 has also provided expert country market analysis so the pair have the right insight to target potential suppliers and customers in new markets more efficiently. Currently, we are providing insight into the competitor landscape, to enable Pricecheck to pinpoint the best opportunities in new product categories more accurately.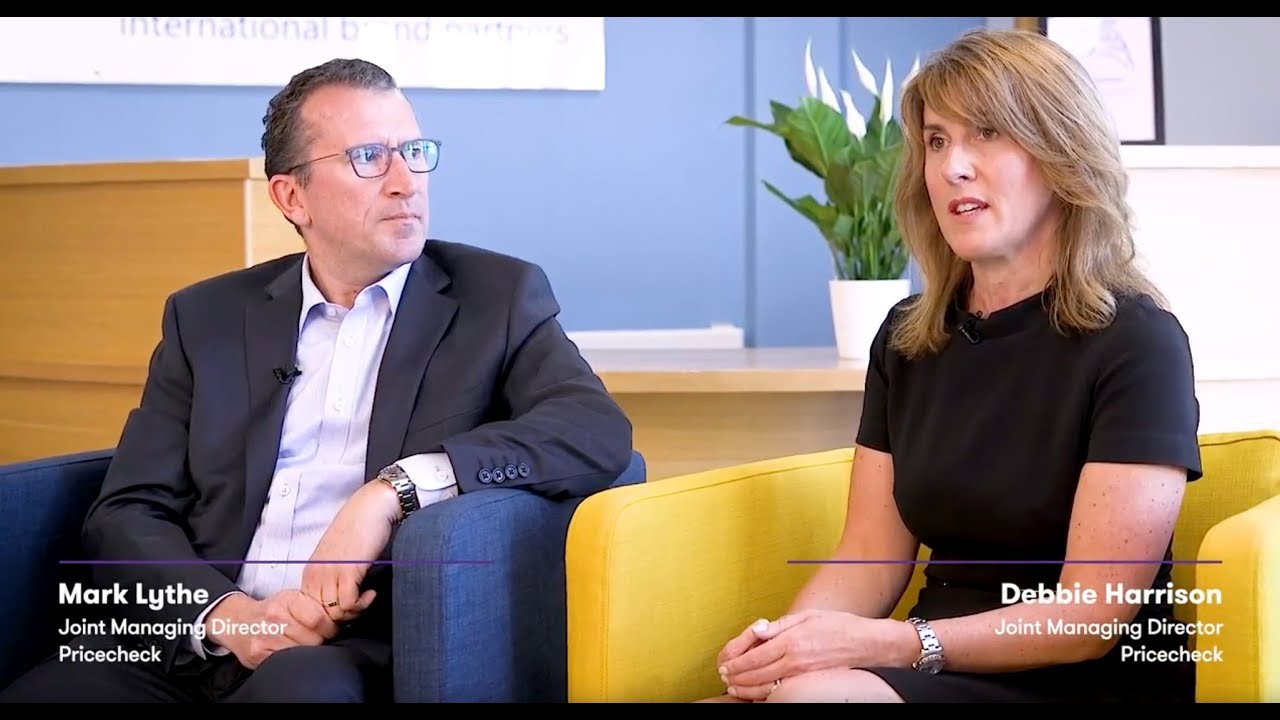 Shaping a vibrant economy in Sheffield
With growth accelerating, the business achieved £73m in annual turnover in 2018, with £32.4m from exports, up 45% from the previous year. Mark and Debbie's ambition is to create a thriving environment where the people they employ can flourish. Staff numbers have grown from 80 to 150 in just two years, and Pricecheck has been named '2017 High Growth Business of the Year' at the Sheffield Business Awards. The business is becoming something of a beacon for regional businesses with international growth aspirations aiming for £200m turnover by 2025.
"Pricecheck's growth means the business is taking on an increasingly important profile within the local community. People are proud of what Pricecheck has achieved as an international exporter."
Richelle Schuster, Growth 365 Service Manager
About our team
Growth 365 is our tailored membership service for ambitious CEOs and leaders of mid-sized businesses. We focus on key business activities agreed with you and aligned to the needs of your business – all provided by an experienced team of growth advisers, technical specialists and analysts. Your growth is at the heart of everything we do. We enable and deliver a bespoke service for your growth vision, providing focused advice and valuable insights to put your plans into action.
Get in touch