With the practical implications of the UK's vote to leave the European Union (EU) undetermined, we surveyed senior business leaders across the country to get their views.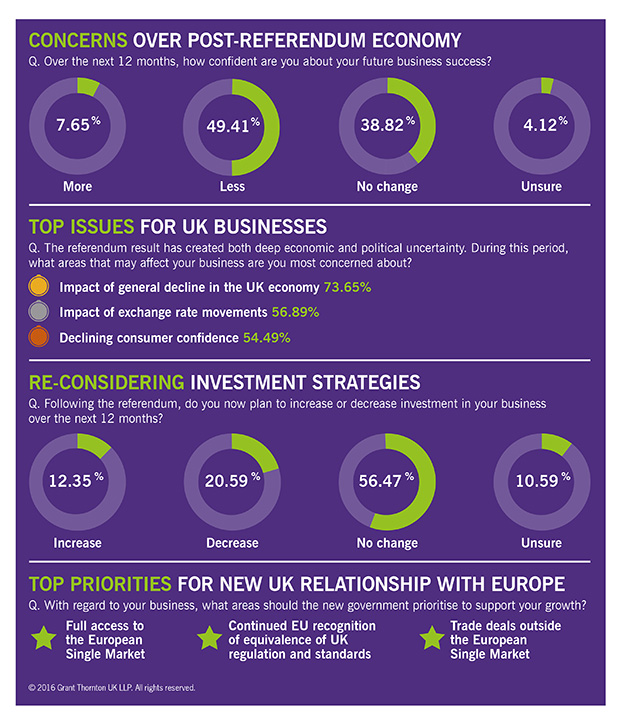 Concerns over post-Brexit economy
UK businesses are less confident about their businesses' success in the year ahead than they were before the referendum. Nearly half (49%) of respondents were less confident, whereas only 8% felt more confident following the vote.
Respondents largely pointed to the impact of a general decline in the UK economy as a concern (74%), along with the impact of exchange rate movements (57%) and declining consumer confidence (55%) as areas which may affect their business.
To invest or not to invest
Many of the businesses we speak with are taking a business-as-usual approach to their day-to-day operations, but looking further into the horizon, some are reconsidering their investment intentions based on the post-vote indicators and general mood music in the markets.
Our survey found that one fifth (21%) are actively planning to decrease investment over the year ahead, whilst 56% remain unchanged in their investment decisions.
Priorities for government
When asked about what areas the new government should prioritise to support business growth post-referendum, the most popular response was full access to the Single Market (67%). Over half (52%) wanted to see continued EU recognition of equivalence of UK regulations and standards, including 'passporting'.
Much has been made about the UK's exit from the European Union allowing us to develop new global trading relationships, exactly half of respondents thought this should be a priority.
No enacting of Article 50 without a plan
Asked when new Prime Minister, Theresa May, should enact Article 50 and begin the formal negotiation process, respondents were split on the timing. Nearly a third thought she should act in the next quarter, over a third (35%) thought within a year and nearly a quarter (23%) wanted her to wait at least a year.
Despite this apparent lack of consensus on the timing for Article 50 to be triggered, the general sentiment is that there is a desire for the government to have a clear vision before beginning the negotiations.
Businesses are encouraging the government not to rush the process, but acknowledge that delaying it increases uncertainty, which is equally bad for business.
More information
For more information on the firm's post-referendum work please visit our dedicated online hub.