Our ambition is to create the 'gold standard' measurement for the UK economy which benefits all parts of society. The methodology is transparent and we welcome constructive comments on how to improve it.
The Vibrant Economy Index ranks the local authority areas according to their average score across six different categories (baskets) that we believe are required to create a vibrant economy.
Each basket is effectively an index in its own right, based on a set of specifically selected economic, social or environment data sets (indicators) that are nationally available and aims to answer a specific question:
Prosperity

– Are we producing wealth and creating jobs?

Dynamism and opportunity

– Are we developing an entrepreneurial and innovative culture to drive future growth?

Inclusion and equality

– Are individuals benefiting from economic growth?

Health, wellbeing and happiness

– Are our people living healthy, active and fulfilling lifestyles?

Resilience and sustainability

– Are we creating places that people want to live in and are not damaging our natural environment?

Community, trust and belonging

– Are people engaged with their community and living lively and creative cultural lives?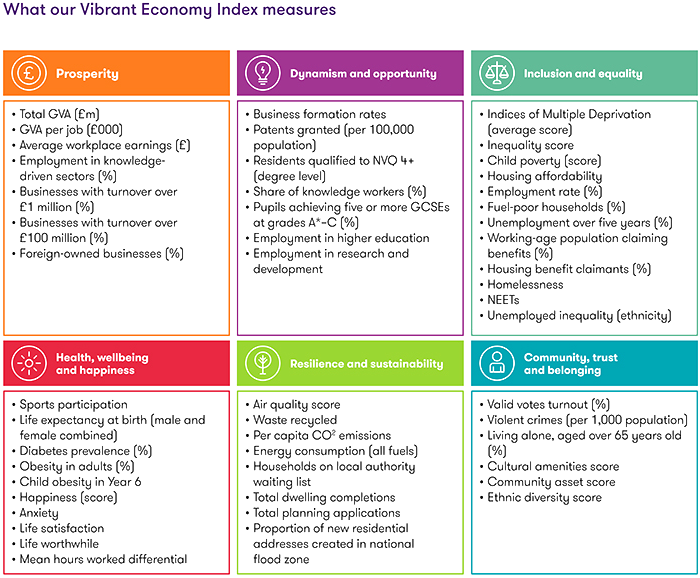 1We have replicated the index approach as closely as possible for England, Wales and Scotland. The table shows England. The variations for each can be seen in the technical methodology. [ 835 kb ]
Selecting the indicators
The indicators, drawn from nationally available data sets, were proposed by our Place Analytics analysts and refined following discussions with the Vibrant Economy Commission, Grant Thornton UK people and feedback from the businesses, public and third sector organisations and the general public.
In some cases proxies have been created. For example, there is no measure for entrepreneurialism, so we've included 'business formation rates' and likewise for innovation so we have included 'patents granted' as the nearest closest measure.
In a few cases we've used proprietary tools and algorithms to combine data sets to provide a proxy. An example would be our 'inequality score', which measures the range in overall deprivation between all Super Outputs Areas within a local authority area and then indexes this to the national average to create a score.
There are things that we would like to measure, but can't, because either the data sets are not collected (for example local volunteering levels), or they're not collected consistently across all local authorities (for example community engagement).
A note on boundaries
Owing to data limitations between English, Welsh and Scottish sources, we have produced three separate indices. Where possible we have kept the same indicator, but found a different source. In some cases a data set was unavailable and it has been necessary to include a different indicator. For Scotland, for example, we have had to remove the indicators for diabetes and adult obesity and have replaced it with one on long-term sickness and disability. As a result, the English, Welsh and Scottish indices are independent of each other and the resulting authority area rankings cannot be directly compared.
In England, due to data limitations, we have not included the City of London or Isles of Scilly in the analysis, hence we analyse 324 areas instead of 326.
Normalising the data
Once selected, each indicator value was normalised to adjust the values to a notionally common scale. Indicators that would have a negative impact on an area – such as unemployment rate, mortality rate, or air pollution – were given an inverse score.
As is usual in index building, a benchmarking principle was used. For each basket of indicators, a scaled score was developed to benchmark itself against a national average of 100 and standard deviation of five.
A mean score for each basket was created.
Calculating the Vibrant Economy Index
The Vibrant Economy Index is calculated as the arithmetic average of all six scaled basket scores.
Developing the index
Since launching the Index across England in November 2016, we have invited on-going comment and reflection on the indicators. Based on this feedback we have amended two indicators:
The age of those living alone has been increased from those aged 50+ to 65+
Cultural amenities per square hectare has been changed to square kilometre
Indicators have been updated where there have been new data releases in 2017 and we have also updated the data set with newly released national statistics data for:
GVA total
GVA per job
House affordability score
We have 'washed' these small changes through the previous year's data to ensure like-for-like comparisons. This means there are some changes in an area's ranking in 2016 between the first and second release of the Index.
We have also developed trend data, looking back over the past five years to give an indication of 'direction of travel' for an area. Where the data was not available for a particular year, we have followed the standard economic approach of flat-lining it.
In order to provide a sense of scale, the average relative increase between 2013 and 2017 of the top 20 most improved areas in England was 61 places. For Scotland, the average change in rank for the 5 most improved regions was 6 places. For Wales, the average change for the top 5 most improved regions moved 4 places.
Get involved
Our ambition is to create a 'gold standard' measurement for the UK economy which benefits all parts of society. As part of this, we continue to seek contributions from individuals, academics and public, private and third sector organisations and would be pleased to hear your comments.
The technical methodology