NAVIGATING BREXIT
Need practical advice on navigating Brexit?
Discover our practical steps for business leaders
Improving mental health is not just the purview of those organisations and services that provide specialist support and care. Everyone, from business to communities and schools to GPs, can play their part.
However, by trying to ensure mental health is everyone's business it can often become no-one's business. So how do we really get all sectors of society to play an active role and step up to the challenge of improving mental health?
We hosted a round table event for Birmingham and the West Midlands and identified a number of areas where mental health care could be strengthened. These provide a good snapshot of the issues that local leaders need to resolve as they work to improve mental health.
Meeting young people's needs
According to the Mental Health Foundation, 10% of children and young people are affected by mental health problems. Yet 70% of children and young people with such issues have not had appropriate interventions. Too little attention is being given to building children's resilience and their own ability to support themselves. And with 23% of the city's population under 15, these statistics are particularly relevant to Birmingham.
While many mental health services are in place across Birmingham and the West Midlands, there are still gaps in the provision of care. Areas for action include:
More mental health provision in schools, including greater collaboration between schools and GPs and healthcare services
More mental health services for students coming to the city to study, especially for those not registered with a GP
Better policy co-ordination and avoidance of policies that impact negatively on children, such as housing evictions.
The challenge for local leaders is to better coordinate services to support mental health services for young people.
Creating a supportive workplace
According to the Institute of Directors, the UK loses 15.8 million work hours each year because of mental health issues including stress, depression and anxiety, as well as more serious conditions. The costs to employers and the individual are considerable.
There is little doubt that there are many exemplary local employers working closely with their people. A number have already taken steps to create a positive mental health culture, with wellbeing coffee mornings, mindfulness training and diverse role models. Others have gone beyond this with schemes such as Individual Placement Support (IPS), which is integrated within community mental health services for those experiencing severe mental health conditions.
But help is needed to ensure all employers can support good mental health. Guidance on the employers' role in mental health is inconsistent. And employment schemes to help those with poor mental health back into work are limited. The challenge for local leaders is to determine policies that will support employers in creating supportive work environments.
Supporting and supportive communities
Birmingham has some of the best mental health services in the country. But, despite the success of its healthcare and social care services, demand continues to grow, often beyond the capacity of the services available.
Supportive and supported communities are needed to help prevent mental ill health and help people with their care and recovery. Moving towards a culture where our communities and the resources within them are the bedrock of prevention and recovery is key. To grow these communities local leaders must now invest in joint programmes between communities, care services, education and the third sector.
Getting services in the right place
Across the UK there is a drive for care agencies to move towards place-based working, meeting the needs of the individual where they are. This is helping to remove duplication of services, improve user experience, better communication and build stronger relationships across professional communities. Ultimately this is helping people to get the right help at the right time from the right services.
Part of the solution must therefore be to ensure services are people focused rather than organisationally focused. Local leaders need to ensure that the person is at the centre of provision. Establishing community teams across the public, private and voluntary sectors, which have access to shared mental health data, will enable them to support those in most need
Maximising funding
Discussions about mental health provision always come back to the need for more money. But, regardless of the funding available, it is equally important to ensure that money is well spent.
This needs to start with a joint understanding from all those involved about where investment is needed and how they can work together to achieve results. The focus for local leaders should be on developments where they can invest early, invest together and share costs
Creating joint leadership
The challenges with mental health will only be overcome if leaders make it clear that they want it to happen and are prepared to support the difficult work that is needed to get the shared approaches, facilities, funding and culture in place.
Joint leadership is being put into practice across Birmingham and the West Midlands. These partnerships are in turn working with community, housing and third sector organisations to develop new solutions. The challenge for Birmingham leaders is to set aside politics and organisational silos to make the changes that will drive better mental health across the region.
To discuss this further, please contact Mark Stocks.
Download the report
Download PDF [2876 kb]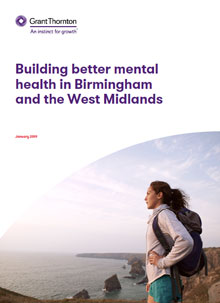 Get the latest insights, events and guidance about the public sector and local government, straight to your inbox.
Subscribe here