NAVIGATING BREXIT
Need practical advice on navigating Brexit?
Discover our practical steps for business leaders
Local government is evolving as it looks for ways to protect front-line services. These changes are picking up pace as more councils introduce alternative delivery models to generate additional income and savings.
While these new delivery models are not a solution by themselves, they do add to the wider solutions being explored by local government, such as devolution, collaboration and integration. Joint ventures (JVs) have been in use for many years in local government and remain a common means of delivering services differently.
We have researched a range of JVs for this report to provide inspiring ideas – from those that have been a success as well as lessons learnt from those that have encountered challenges. The report also provides advice and information about the key areas to consider when deciding on a JV, setting it up and making it successful.
Key findings from the report:
JVs continue to be a viable option with successful ones supporting councils to improve service delivery, reduce costs, bring investment and expertise, and generate income.
Reasons to be cautious remain – a number of JVs between public and private bodies have had mixed success in achieving outcomes for councils.
There is a growing breed of JVs in which councils partner with local authority trading companies (LATCs). These provide both the commercialisation required and the understanding of the public sector culture.
Read the report
Download PDF [2399 kb]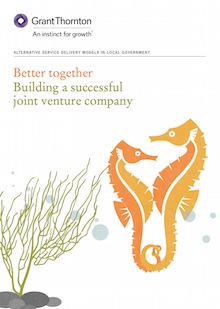 Get the latest insights, events and guidance about the public sector and local government, straight to your inbox.
Subscribe here