The potential impact of 'Brexit' on Employment Rights and Employee Benefits
The European Union has had a wide impact on UK employment rights. While 'Vote Leave' argue that leaving the EU will free employers from the burden of incessant red-tape, the 'In' campaign focus on the dangers to worker's rights. It is clear therefore that both sides believe the impact could be significant.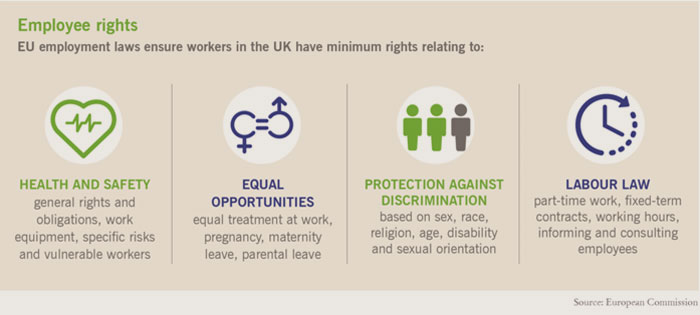 How might government use any new-found freedom?
While the government's official position is to maintain our membership of the European Union, the Prime Minister has previously made it clear that he wanted to obtain opt-outs from EU legislation covering employment rights.
Specifically, the Conservatives have made clear their opposition to the EU's working-time directive. A Federation of Small Business (FSB) survey found this directive as amongst the most burdensome piece of EU-legislation. A 2010 ICM survey of FSB members found that the Working Time Directive sick leave rules were preventing almost three-quarters of small businesses from employing new staff, with:
38% more cautious about taking on new staff with health problems
21% less likely to take on new staff entirely
17% more likely to dismiss staff on long-term sick leave.
Failure to win any ground on this during the renegotiation of Britain's EU membership led to David Cameron abandoning this issue. However, if the government doesn't get the referendum outcome it wants, it would still want to make capital out of the situation. David Cameron would be free to return to his objective of eliminating the working-time provisions, along with other areas deemed a constraint on business growth.
In a bid to drive growth, the government has already made changes to the UK employment rights, for example increasing the qualifying time for unfair dismissal claims, along with introducing 'rights for shares' employee-owner employment contracts. The government's preferred direction is to reduce the red tape burden facing firms. Employers could therefore expect to be freed from at least some employment rights. This could result in companies gaining the confidence to take on additional people.
Is there scope for radical change?
The impact of the EU shouldn't however be overstated. Many UK employment rights go above and beyond what is required under EU rules. A notable example being the improvements made to shared parental leave in the UK. Other changes have already been made to employment rights unhindered by any EU directive. Various protections that exist due to EU legislation enjoy public support (enhanced maternity rights, for example) and changes here would be unpopular.
Perhaps the biggest uncertainty stems from the lack of clarity over what a vote to leave will mean. With no similar precedent, and with no clear plan in place, it is unknown what would be agreed.
If the UK wanted to remain part of the single market, it is likely that it would have to continue to be bound by EU Directives covering employment and social issues. While many would be against this, it is reasonable to expect that compromise would be needed in order to retain access to the single market and protect the jobs dependant on it. The remaining EU states would have little incentive for compromise here, given the fear of further EU break-up.
A question of benefits as well as rights
Linked to the question of employment rights is the impact that Brexit would have on employee benefits. Here employers could also face several challenges in the event of Brexit, especially – and unsurprisingly – those with employees that regularly travel throughout the EU. One example is that of insurance. Assuming the loss of the reciprocal healthcare arrangements that currently exist between EU member states, the cost of private medical and travel insurance plans would likely rise.
Brexit would also likely usher in a period of short term stock market volatility, along with potentially a significant drop in the value of the pound, with HBSC predicting a drop of 15-20% against the dollar. This could see pension investments fall significantly and lead to employees having to postpone their retirement plans. Employers are now unable to require employees to retire, causing potential issues with career progression at lower levels.
Is 'Brexit' a threat?
The EU does currently provide UK employees with a number of protections that could be removed should the UK vote to leave. The question is to what extent the government would take advantage of these new powers, or if they would immediately be sacrificed in favour of the benefits of the single market?
Someone's political persuasion will inform whether they see any rolling back of employment rights as a beneficial reduction in red-tape, freeing businesses to grow, or as an attack on workers' hard-earned protections. Whatever your view, it is worth restating that despite the EU's influence, the UK still has a lot of freedom around employment rights, being able to increase or diminish many of these as it sees fit. This ensures that no matter which way the UK votes, there is still the potential for change.
What should employers do?
Employers need to consider how their employees are affected in the event of a vote to leave. The exact impact will only become apparent as details over our new relationship with Europe are agreed upon. Our Employee Benefits Consultancy team will be able to help guide you through any changes and help explain what they mean for your business. We can also look at ways of mitigating any of the impact of Brexit on your employee benefits.
Regardless of the outcome, employers should always consider a regular review of how they engage and motivate their employees, both with regards to the employment terms and conditions, and the benefits provided to their people.
Read our guidance on Brexit and explore how we can help
Exploring potential changes to trade and supply chains
Retaining and recruiting the skills you need through Brexit
Exploring the key issues around finance and business infrastructure