NAVIGATING BREXIT
Need practical advice on navigating Brexit?
Discover our practical steps for business leaders
Brexit is a catalyst for change.
The triggering of Article 50 represents the first major step towards the UK's departure from the European Union (EU) and begins a two-year period of negotiation. During this time, the UK remains a full member of the EU, enjoying continued participation in the Single Market and remaining bound by the rules and obligations of membership.
Preparing for uncertainty
What shape the UK's relationship with Europe will take beyond March 2019 is unknown and the impact will be different for every organisation. To ensure that you are able to react quickly to upcoming changes, minimise any potential risks and seize the opportunities that are presented, it is vital that you utilise this two-year period to prepare.
There are three key actions we advise business leaders take mapped out against key dates below.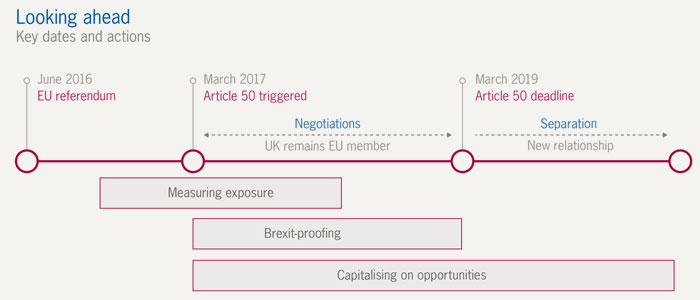 1. Measure your exposure
This means understanding and mapping how your company interacts with the EU, and evaluating the impact of leaving the EU will have.
For instance, this means assessing the touch-points your business has with the EU through things like your people, supply chain and the regulatory influences and conducting scenario planning around them to determine the likely impacts leaving the EU might have.
2. Brexit-proof your business
Once you have determined where and how your business is likely to be impacted the most, you can develop a transition plan to prepare, protect and eventually reap the benefits of Brexit. This will allow you to minimise any current inefficiencies and explore alternative solutions.
Finally, communication is critical when managing your business through transition. Doing this effectively will help avoid your employees and stakeholders fearing the worst and offer reassurance.
3. Capitalise on opportunities
To achieve growth during and after the UK's departure from the EU, now is the ideal time to identify and capitalise on the opportunities it could present. This means re-imagining business models, optimising processes and controls, exploring new international markets and trade deals, and capitalising on new domestic opportunities.
Looking in more detail
To help you think about the challenges and opportunities presented by Brexit in more detail, we explore possible implications, actions businesses should be considering and highlight potential opportunities across the key themes of trade, people and talent, and finance and operations.