Grant Thornton uses cookies to monitor the performance of this website and improve user experience
To find out more about cookies, what they are and how we use them, please see our privacy notice, which also provides information on how to delete cookies from your hard drive.
While many are suffering 'Brexit fatigue', our clients are increasingly identifying political volatility as a major business issue.
European Parliament election results and the Brexit implosion of the UK government demonstrate some of the political risk faced by business: polarisation and unpredictable results. What is the nature of these challenges, what do they mean for your organisation and what can you do about them?
Polarisation
Across Europe, the elections saw the traditional centre right and centre left parties squeezed, losing their collective majority in the European Parliament, with increased numbers of Green Party and Eurosceptic MEPs.
In the UK, views on Brexit have polarised (see figure 1). Earlier this year it looked like parliament was edging towards agreement on a softer Brexit. MPs are now less willing to compromise and the European parliament elections have reinforced this.
Voters swung to parties that were unequivocally in favour of either a no-deal Brexit (a 'hard Brexit', leaving on World Trade Organisation terms) or remaining in the EU.
With Teresa May's resignation, leading candidates to succeed her as Conservative party leader and Prime Minister have been supportive of a no-deal Brexit. Polls suggest that most Conservative party members, who will vote for the next leader, would favour a no-deal exit. The outcome of Brexit increasingly looks like a choice between no deal and no Brexit.
Figure 1: Parties split on how to resolve Brexit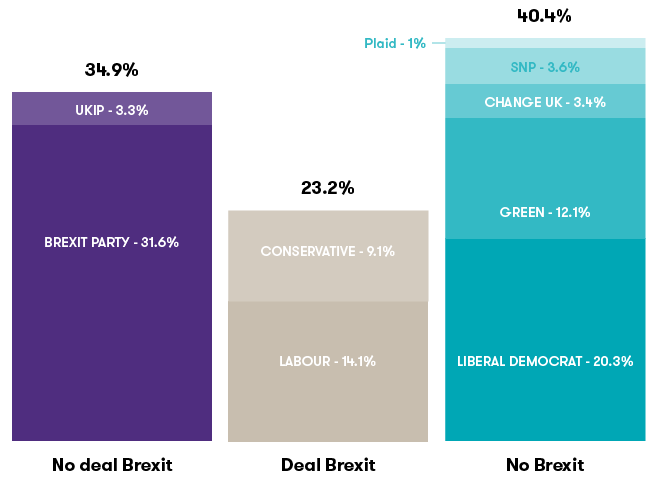 Source: 2019 European Parliament election in the United Kingdom
Unpredictable results
The one constant in politics over the last five years has been unpredictability and the vulnerability of established parties and policies: whether in the US elections, the Brexit referendum or the triumph of 'start-up' political parties in Europe.
Macron's En Marche party in France and the Five Star Movement in Italy have been totally new parties that are now governing. The same could happen in the UK, where the success of the Brexit Party may be more than a blip. The combined UK vote share for the Labour and Conservative parties in the European elections was 23.2%, the lowest in history. Voters decided to support challenger parties instead (see figure 2).
Over the last 40 years, business has grown accustomed to a broad consensus in favour of a market-led economy across most political parties. This is no longer the case. National and cultural identity and political ideology are increasingly more influential than 'rational economics'.
Figure 2: Challenger parties making gains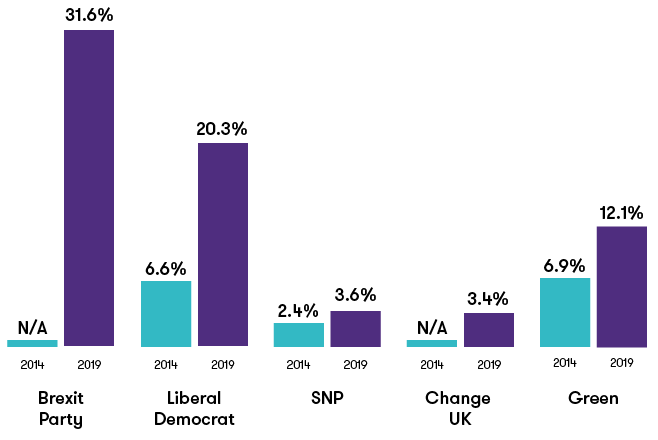 Source: 2019 European Parliament election in the United Kingdom
Organisations are therefore faced with greater uncertainty and volatility than ever before.
Businesses respond to market conditions quickly, but they can be slower to appreciate the scale of political change. Faced by political volatility, many businesses tend to delay investment and decisions: it can all seem too uncertain and too complex.
Potential outcomes of the current political volatility in the UK could be highly disruptive and are, or should be, now flashing on risk registers, including:
A no-deal Brexit on 31 October – this now looks more likely. No deal is gaining legitimacy, with 34.9% of voters in EU elections choosing a No Deal option. A recent

assessment

also shows that while MPs have previously voted to say they don't want it to happen, they may not be able to prevent it.
A general election – this could usher in a very different government to ones we have been accustomed to, with changes to the business environment in tax, public spending, regulation and trade.
Business can't wait any more. And they can't trust politicians to make sure that 'it's all right on the night'. This means a more proactive approach to managing political risk. Modelling potential political, regulatory and economic scenarios. Examining the business impact of each and building contingency plans, plotting the future steps to take and the events that might trigger them.
You might be tired of it – but it isn't going away
Organisations are suffering from Brexit fatigue.
Regardless of industry, sector, size and location, the ongoing uncertainty over the UK's future relationship with Europe and the rest of the world is turning from concern into frustration. Brexit is the last thing many clients want to discuss.
It may be helpful to approach this as an operational and strategic review of your business. Use political and economic scenario planning as an opportunity to take a step back from your business and look under the hood of your operations or across your investments. Are there any weak links or changes you could make to be more resilient? Or opportunities you are not exploiting?
Scenario planning is a tried and tested approach to navigating uncertain futures. When we bring people together to do this we see how it creates confidence and enables business to move forward. It often reduces the risk list by testing assumptions, draws out group wide risks people had not thought of and identifies 'no regrets' decisions that build resilience for all eventualities. And, as with any disruptive change to markets, there are always opportunities for business growth.
For more information, get in touch with Adam Jackson, or follow him on Twitter @Adam_E_Jackson.
Consider the potential impacts and opportunities it will create for your organisation