NAVIGATING BREXIT
Need practical advice on navigating Brexit?
Discover our practical steps for business leaders
2017 was a milestone year for Indian corporate transactions, with more than 1,100 deals valued at over USD60 billion, the highest yearly value ever recorded. Deal momentum was largely driven by big ticket consolidation as companies divested distressed assets in an effort to reduce debt. At the same time, corporates with strong balance sheets drove acquisitions to capture market share and increase competitiveness.
Table 1. Deal summary 2017
Deal Summary
Volume
Value US$ Mn
Year
2014
2015
2016
2017
2014
2015
2016
2017
Domestic
254
321
309
227
15,341
8,426
13,397
5,638
Cross border
278
238
187
161
16,344
17,292
27,046
8,139
Internal mergers and restructuring
36
11
17
23
3,984
2,030
3,475
26,451
Total M&A
568
570
513
411
35,669
27,748
43,918
40,229
Private equity
588
1048
972
736
12,234
15,759
13,933
20,310
Grand total
1156
1618
1485
1147
47,903
43,507
57,851
60,539
Cross border includes
Inbound
162
118
88
86
10,368
11,329
20,750
5,962
Outbound
116
120
99
75
5,976
5,963
6,296
2,177
Source: Grant Thornton India LLP, Grant Thornton Dealtracker, 2017
Domestic deals behind robust M&A market
A resilient Indian economy and stable capital markets delivered robust M&A activity through 2017, with deal value broadly in line with 2016 (see Table 1).
The year saw 411 M&A deals, a shortfall of 20% compared to 2016. The total deal value was buoyed by big-ticket transactions to reach over USD40 billion, compared to a very strong total in 2016 of just under USD44 billion.
Domestic activity remained the key contributor to M&A activity in India, with 250 transactions amounting to USD32 billion and accounting for 80% of total M&A value. While deal value soared to a new high, deal volume declined by 23% from its 2016 levels. This surge in deal value was largely on account of the Vodafone-Idea merger valued at USD23 billion.
Cross-border deals in 2017 were at their lowest level since 2009, recording 161 transactions with a cumulative value of just USD8 billion. This was a fall of 70% compared to 2016 when deal value soared as a result of the USD13-billion Rosneft-Essar deal. Cross-border deal volumes were also dampened in 2017, declining 14% year-on-year.
Indian companies' investments abroad dropped to their lowest level since 2010, with only USD2 billion in outbound investments. On the inbound front, 2017 saw 86 deals valued at a total of USD6 billion, a marginal decrease in terms of volume, while values declined by a significant 70% owing to the absence of big ticket transactions compared to 2016.
Table 2. Top M&A deals in 2017
Top M&A deals
Acquirer
Target
Sector
Disclosed values USD million
Vodafone India Limited
Idea Cellular Ltd
Telecom
23,000.00
IndusInd Bank Ltd
Bharat Financial Inclusion Ltd
Banking & Financial Services
2,419.69
Oil and Natural Gas Corporation Ltd
Gujarat State Petroleum Corporation Ltd - Krishna- Godavari basin
Energy & Natural Resources
1,209.06
Fortis Healthcare Ltd
RHT Health Trust - Indian asset portfolio
Pharma, Healthcare & Biotech
715.38
Tencent Holding
Flipkart Online Services Pvt Ltd
E commerce
700.00
American Tower Corporation
Idea Cellular Ltd
Telecom
615.38
American Tower Corporation
Vodafone India Limited
Telecom
592.31
Torrent Pharmaceuticals Ltd
Unichem Laboratories Ltd - India and Nepal Business
Pharma, Healthcare & Biotech
553.85
eBay Inc
Flipkart Online Services Pvt Ltd
E commerce
500.00
Bharti Airtel Ltd
Tata Teleservices Limited and Tata Teleservices Maharashtra (consumer telecom business)
Telecom
312.50
Source: Grant Thornton India LLP, Grant Thornton Dealtracker, 2017
Table 2 reflects the telecom sector led M&A deal activity in terms of total deal value, with six deals in the USD100 million club, cumulatively contributing USD25 billion and capturing 60% of total M&A deal values. Other key sectors like banking and pharma also garnered big ticket deals, combined contributing 14% to deal values. The tech sectors, including start-ups, witnessed the highest number of consolidations during the year, capturing 40% of deal volume.
Big increase in private equity investment activity
Buoyed by big-ticket investments, Indian PE activity was at a record level in 2017, with deal values clocking more than USD20 billion, an increase of over 45% compared to 2016. A key reason for this growth was PE funds being able to achieve healthy performances in their portfolio companies and cashing-in on high return exit opportunities. This has also given them a high degree of confidence in pursing larger-sized buyout opportunities in India.
Table 3. Top PE/VC investments in 2017
Top PE deals
Investor
Investee
Sector
Disclosed values US$ mn
SoftBank Vision Fund
Flipkart Online Services Pvt Ltd
E Commerce
2,500.00
Bain Capital and its affiliate firms, American asset manager Capital Group and Life Insurance Corporation of India
Axis Bank Ltd
Banking & Financial Services
1,780.00
GIC
DLF Cyber City Developers Ltd
Real Estate
1,390.00
Tencent Holdings Ltd and SoftBank Group Corp.
Olacabs.com - ANI Technologies Pvt Ltd
E commerce
1,100.00
Kohlberg Kravis & Roberts and Canada Pension Plan Investment Board
Bharti Infratel Ltd
Telecom
951.60
Devonshire Capital
Ruchi Soya Industries Ltd
Retail & Consumer
615.38
Warburg Pincus, Tamarind Capital Pte and IIFL Special Opportunities Fund
ICICI Lombard General Insurance
Banking & Financial Services
383.00
Warburg Pincus
Tata Technologies Ltd
Infrastructure Management
360.00
The Xander Group Inc.
Shriram Properties Private Limited - Shriram Gateway IT SEZ
Real Estate
350.00
Multiples PE, CDC, Steadview Capital, ABG Capital, Global IVY Ventures, HDFC Standard Life Insurance Co. Ltd, ICICI Lombard General Insurance Co. Ltd, LTR Focus Fund, Plenty CI Fund I and Plenty Private Equity Fund.
RBL Bank Ltd
Banking & Financial Services
262.50
Source: Grant Thornton India LLP, Grant Thornton Dealtracker, 2017
The rebound in PE activity (see Table 3) in 2017 was largely down to some big ticket investments in a number of sectors such as banking, real estate, retail and telecom, together contributing 50% of PE deal values.
The start-up sector sustained its edge in terms of deal volume, with over 450 relatively low value transactions valued at a total of USD2.5 billion.
Slump in cross-border activity with Europe
Reflecting the lowest overall level of cross-border activity since 2009, deal activity with Europe dropped for the fourth year in a row in 2017. European deal value decline by 37% at USD1.4 billion and deal volumes were down 22% compared to 2016. This can be attributable to the lingering impact of demonetisation and destocking of inventory in advance of the implementation of the Goods and Services Tax (GST) in July.
The fall in cross-border deals with Europe was most pronounced in outbound activity, with 17 transactions worth just US$478 million – a 3.4-fold fall – in the absence of big ticket transactions and lack of clarity in the regulatory process.
Where Indian corporations continued to show interest in European deals, pharma companies were the most popular target. This sector captured 35% of total outbound deal volume and 64% of deal value, followed by the IT sector with 29% of deal volume and 9% of deal value. The UK and Switzerland attracted most attention from Indian companies, with five and three deals respectively.
Top outbound deals included:
Aurobindo Pharma Ltd's acquisition of Portugal's Generis Farmaceutica SA (USD143 million)
Jindal Poly Films Ltd's acquisition of Dutch company Apeldoorn Flexible Packaging Holding BV (USD93 million), and
Serum Institute of India Ltd's acquisition of Czech company Nanotherapeutics Inc. (USD78 million).
More promising picture on inbound investment from Europe
Despite the overall fall in India-Europe cross-border activity, European investors' continued interest saw inbound transactions recording a 15% increase in volumes and a 57% increase in deal values compared to 2016. In 2017 there were 23 inbound deals valued at USD944 million compared to 20 deals valued at USD602 million in 2016. Inbound transactions were mostly focused on the IT sector (30%) followed by the manufacturing sector, while the infrastructure and media sectors also witnessed some big ticket transactions of over USD100 million.
The UK dominated inbound activity with seven transactions valued at USD453 million, followed by France with five transactions valued at USD303 million.
Top inbound deals included:
Abertis Infraestructuras SA's (Spain) acquisition of GMR Jadcherla Expressways Private Limited (74%) and Trichy Tollway Private Limited (100%) for USD133 million
Liberty House Group's (UK) acquisition of Tata Steel Ltd's UK specialty steels business for USD123 million, and
Dentsu Aegis Network Ltd's (UK) acquisition of Sokrati Technologies Pvt Ltd, estimated at USD109 million.
Graph 1. Cross-border activity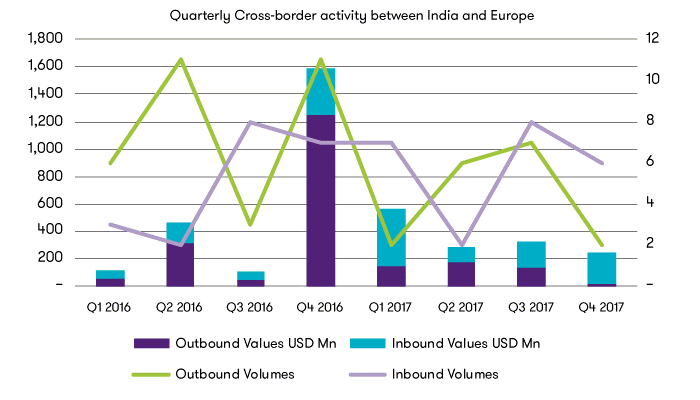 Source: Grant Thornton India LLP, Grant Thornton Dealtracker, 2017
Over the longer term it is expected that reforms such as GST will contribute to productivity gains and higher GDP growth by improving the ease of doing business in India. This will also unify the national market and enhance India's attractiveness as a foreign investment destination.
Deal outlook for 2018
The momentum behind India's M&A activity is expected to remain robust through 2018, with domestic deal activity impacting positively on transaction dynamics.
With respect to outbound investments, cash-rich Indian corporates will look for opportunistic buys to gain access to new technology and markets. With acquisition to achieve scale becoming a critical element of Indian corporates' strategy agenda, consolidation deals are likely to increase across a range of sectors. Foreign investments into India are also likely to remain healthy given the proposal to abolish the Foreign Investment Promotion Board that will further liberalise India's FDI policy.
The pipeline of reforms in the run-up to elections in the various States and the government's persistent efforts to attract foreign capital in core sectors is expected to keep deal activity high in the coming year. With continued political stability, economic reforms being implemented at a fast pace and macroeconomic factors looking positive, 2018 could be one of India's best years for M&A. It could even see transaction activity at an even higher level than in 2017.
Get the latest insights, events and guidance about Indian markets and businesses, straight to your inbox.