NAVIGATING BREXIT
Need practical advice on navigating Brexit?
Discover our practical steps for business leaders
Income generation with a social purpose is the best way for councils to commercialise.
The trend towards increased income generation
Findings from Grant Thornton's CFO Insights tool reveal English local authorities' income generation increased by over 4% between 2013/ 14 and 2015/16. The most notable increase being in the East Midlands (see figure 1).Though the East Midlands still produced the third lowest income of all the regions (see figure 2).
Figure 1:Country/Regional variance in income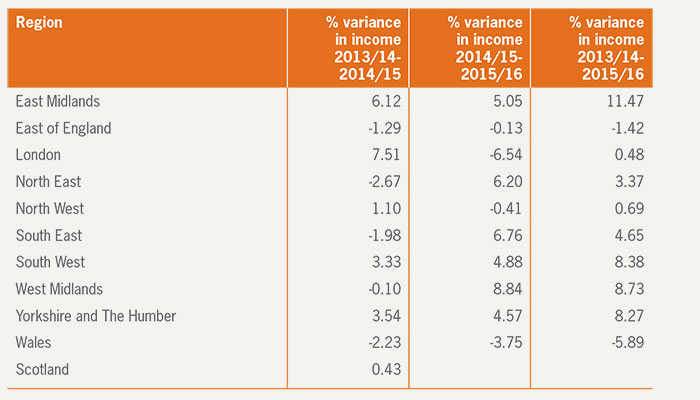 Source: CFO Insights, Grant Thornton
Figure 2:Council annual income generation by country/region

Source: CFO Insights, Grant Thornton
In 2015/16 metropolitan, unitary and county councils saw significant increases in income generation (see figure 3). Unitary authorities increased income by 6.5% between 2013/14 and 2015/16, followed by metropolitan authorities at 5.4%.
Figure 3: Income by council type (England only)

Source: CFO Insights, Grant Thornton
This indicates that income generation is becoming increasingly important to all council leaders regardless of the tier of government. So what is driving these numbers?
Today, increased transparency and scrutiny mean that savvy money management is taken as a given. Local voters demand delivery on 'close to home' priorities such as quality jobs and housing, safe and aspirational education, a healthy environment; as well as value for money.
Meeting increased demand in an era of budget shortfalls
Yet, despite the demands to deliver, local government is facing the "perfect storm" of budget shortfalls, with the current crisis facing adult social care underlining the increasing demand for essential services and the distinct lack of funding available to meet it. Driving up income generation to meet budget shortfalls is essential while simultaneously boosting growth, supporting vulnerable communities and protecting the environment. And some local authorities are commercialising in novel ways in order to earn both a financial and social return.
For example, Swindon Borough Council has launched a crowd-funding initiative with Individual Savings Accounts (ISAs). This is the UK's first ISA-eligible investment using new UK legislation that allows retail investors to hold bonds in an ISA portfolio. It is to support a £5.4 million scheme for a new solar energy farm, which will deliver an average 6% return to bond-holders and generate rent, business rates and green tariffs for the council as shareholder. Part of the revenue from generating green electricity will be set aside to fund local community projects and the offer to invest is also open to the public, including those from outside of the borough.
Commercialising to deliver financial and social return
When horizon scanning for the best available commercial opportunities, that deliver both a financial and social return, much depends on whether a council has a handle on the three major policy shifts that can affect their ability to do so: demand management, market trends and general powers to trade.
Local government's power to trade is evolving and the Localism Act 2011 gives councils a greater General Power of Competence to trade and charge, to borrow and to invest prudently. The Public Services (Social Value) Act 2012 also provides councils with commissioning obligations and the power to benefit from responsible procurement.
A council's ability to invest will also vary according to internal and external factors including: powers and delegations; strength of their balance sheet; amount of local physical, natural and brand assets which can be exploited; political appetite to accept new risk; their organisational culture and capacity to implement change.
To build its strength as a commercial council, taking into account its unique context, the eight basic questions councils should consider are:
Have all your options to maximise use of revenue and assets been explored?
Do you understand what your strengths and weaknesses are?
How does each department and service compare on net income and cost recovery against peers?
Have adequate gateway processes been established to identify and select new opportunities?
Is it clear how generating income delivers both a financial and social return?
Are you aware of the latest examples on innovative financing to fund your new income generation proposals?
Are governance processes robust enough to scrutinise business case proposals for new income generation?
Do you understand the pros and cons of different alternative development models for the establishment of trading companies, including tax, legal and HR aspects?
If councils can answer these questions with confidence, this is a good base from which to refresh or develop a commercial strategy to make these opportunities a reality.
Words: Philip Monaghan Senior Manager, Local Government Advisory, Grant Thornton. First published in The Municipal Journal. You can read more about CFO Insights data tool here.