Proper planning is needed to be sure of obtaining entrepreneurs' relief. Senior tax manager Rob Adams illustrates how to navigate the tax relief's stringent conditions – and maximise wealth – using a rather famous fictional family.
It is a truth universally acknowledged, that a successful entrepreneur selling his business must be in want of a 10% tax rate. The truth is so well fixed in the minds of some that they are apt to forget that entrepreneurs' relief, which enables the capital gain on the sale of a business to be taxed at 10% rather than 28%, is hedged around various conditions. Don't let pride in taking proper advice prejudice your chances of obtaining the relief – as we discover with the Bennet family and their family trading company, Longbourn Ltd.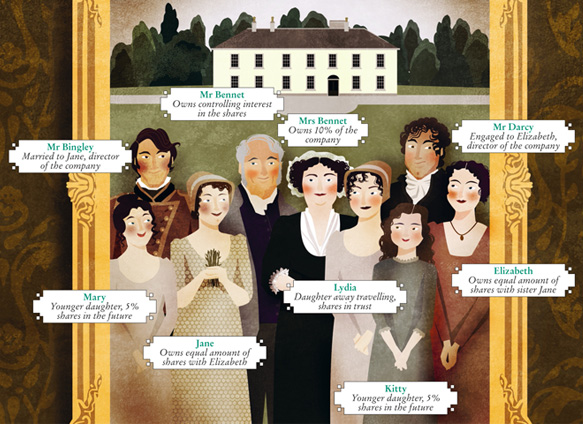 Act one: an exit strategy
The company was founded by Mr Bennet, who owns a controlling interest in the shares. He is now looking to take more of a back seat and since he has always regarded the business as his pension, hopefully cash in the value to fund his retirement.
His wife, Mrs Bennet, has been a mother and home-maker. She owns 10% of the company and, although she has never been employed by the company, she performs company administration on an informal basis.
The remainder of the shares are held by the two elder Bennet daughters: Jane (recently married to a successful businessman called Mr Bingley) and Elizabeth, who has now finally become engaged to wealthy landlord, Mr Darcy. Both Jane and Elizabeth play key roles in Longbourn and their father hopes to hand the business on to them. Mr Darcy has told Elizabeth that, when she has a say in running the company, Longbourn ought to diversify away from trading into property investment.
There are three further sisters, Mary and Kitty (who both live at home) and Lydia, who is away travelling with her soldier boyfriend, Mr Wickham. The whole family considers Wickham to be reckless and irresponsible and are very concerned that, if Lydia marries him, some Longbourn shares may fall into his hands. The family are therefore interested in placing Lydia's shares in trust for her.
If matters are arranged carefully, the whole family can benefit from entrepreneurs' relief.
Act two: Maximising entrepreneurs' relief
Provided it is accompanied by a sale of his shares, Mr Bennet can draw funds out of the company and pay only 10% tax on the funds withdrawn up to his lifetime limit of £10 million. A purchase by the company of its own shares is one obvious route, although he will need to structure this very carefully and he would be well advised to apply to HM Revenue & Customs for an advanced ruling on his plans.
Mrs Bennet can also potentially qualify in respect of her holding. To do so, she must also be an officer or employee of the company. Since she already does some administration, this could easily be achieved by formally appointing her to the office of company secretary. These conditions must be satisfied for at least 12 months before any transaction and so action is needed sooner rather than later.
For Jane and Elizabeth, provided they each have at least 5% of the shares and retain their roles in the company, they should also qualify for the 10% tax rate on any future sale. The relief is only available on the first £10 million of gains realised during one's lifetime, but they can increase the entitlement to relief by transferring at least a 5% holding of shares to their respective husbands. Transfers between spouses are generally tax-free. As we saw with Mrs Bennet, Mr Bingley and Mr Darcy must also become officers or employees of Longbourn.
With their business expertise, bringing them on to the board as directors may not only make commercial sense, but also save tax. That said, Mr Bingley's own business may also qualify for entrepreneurs' relief and he can never benefit in respect of more than the overall limit (currently £10 million) of total capital gains during his lifetime.
Entrepreneurs' relief is only available for trading businesses and property investment is not a trading business. Elizabeth must therefore treat Mr Darcy's suggestion of diversification with extreme care. A small amount of property investment may be acceptable, but too much could cause entrepreneurs' relief to be lost.
Mary, Kitty and Lydia could all be given Longbourn shares; it ought to be possible to do this tax-free by entering into what is known as a 'hold-over election'. They should have at least 5% each and also become employees or directors of Longbourn. Provided the jobs are real, there is no minimum number of hours they need to work.
Placing Lydia's shares in trust could jeopardise entrepreneurs' relief, unless it is done with great care. The family need to tell their solicitor to draw up a trust under which Lydia has a 'life interest' rather than a 'discretionary' trust. As well as facilitating an entrepreneurs' relief claim, this could also create income tax advantages if dividends are paid. Furthermore, they must also ensure that Lydia holds at least five per cent of the shares in her own right.
Act three: act sooner rather than later to secure 10% capital gains tax rate
Paying a 10% rate of tax is infinitely superior to paying 28% and advance action to obtain the lower rate must be at the core of any entrepreneurial family's planning. Since the conditions must be satisfied for a 12-month period and there is no certainty of obtaining that much notice of any sale, action should be taken now.
For further information on entrepreneurs' relief, contact senior tax manager Rob Adams on Robert.adams@uk.gt.com – or your usual Grant Thornton adviser.
Subscribe to Strategies for growth
This article first appeared in Strategies for growth, our magazine for CEOs that explores ways businesses can navigate the current economic climate and unlock growth. Read more articles on Strategies for growth. Or subscribe to our quarterly email by registering your details with us at strategiesforgrowth@uk.gt.com
Illustration © Dermot Flynn