NAVIGATING BREXIT
Need practical advice on navigating Brexit?
Discover our practical steps for business leaders
2017 saw a strong start to the year with Q1 new car registrations once again breaking records – but will this continue into Q2?
Alongside our quarter one updates on vehicle registrations and the trading performance of automotive PLCs, our latest edition of Automotive messenger includes a guest article with Aston Martin on a century of power, beauty, soul and an iconic brand.
Our 'Snippets' commentary on sector news gives our sector-perspective on the triggering of Article 50, how Uber is faring in quarter 1, the ongoing VW emission story, private equity activity and electric vehicles.
Download Automotive messenger or read on for the highlights.
Q1 2017 saw a record quarter for new vehicle registrations, but will this continue?
Passenger vehicle registrations dropped in April by 19.8% (YoY), however putting this in context, YTD 2017 new vehicle registrations were still up 1.1%. With rising vehicle prices and the introduction of the new VED road tax on 1 April, some forecasters believe there will be a drop of 5% in new vehicle registrations for 2017.
Aston Martin – Looking to the future
The outlook for Aston Martin is positive with over 100 years of vehicle production, and motor racing experience. Looking ahead, Aston Martin's strategy is to launch a number of new vehicles, broadening the reach of the brands to new customers and markets, increasing the group's geographic locations, and re-introducing the iconic Lagonda brand.
European vehicle registrations continue to grow
Looking ahead, it is likely that the weak Sterling and an improving European economy will enable automotive manufacturers to consider switching their focus from the UK to the 13 million-plus European vehicle market.
Read the report
Download PDF [1247 kb]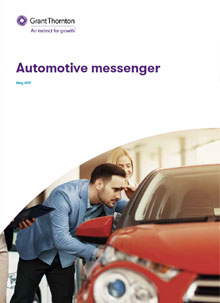 Get the latest insights, events and guidance about the automotive industry, straight to your inbox