NAVIGATING BREXIT
Need practical advice on navigating Brexit?
Discover our practical steps for business leaders
Many Financial Institutions (FIs) which have reporting obligations in respect of Foreign Account Tax Compliance Act (FATCA), UK Crown Dependencies and Overseas Territories (UK-CDOT) and Common Reporting Standard (CRS) (collectively known as the Automatic Exchange of Information (AEOI) regimes) will have by now encountered significant reporting challenges with FATCA and UK-CDOT.
Many entities have received multiple data error and rejection messages from various tax authority portals. CRS will require reporting on an exponentially larger scale, thereby magnifying the practical challenges already experienced by many in the reporting process. FIs need to ensure they have completed the relevant registration and due diligence requirements in advance of the reporting deadline of 31 May 2017 so as to ensure they have correctly identified which customer accounts are reportable in sufficient time.
Grant Thornton offers the following reporting solutions which can remove the heavy compliance burden when reporting to the relevant tax authority under the AEOI regimes.
Reporting solutions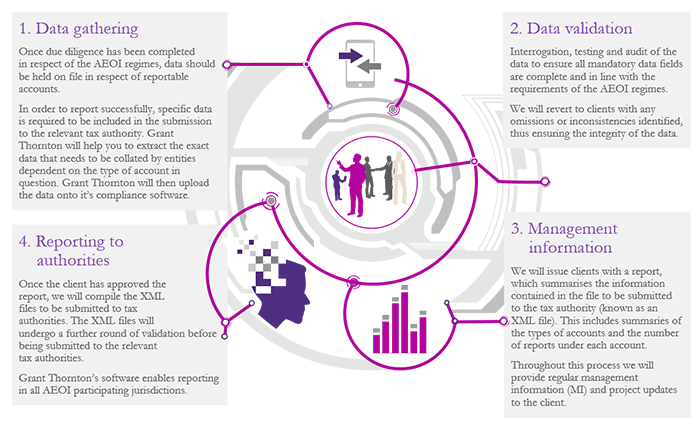 Download as a PDF
Download PDF [204 kb]