How do prosecutions under the new offences work?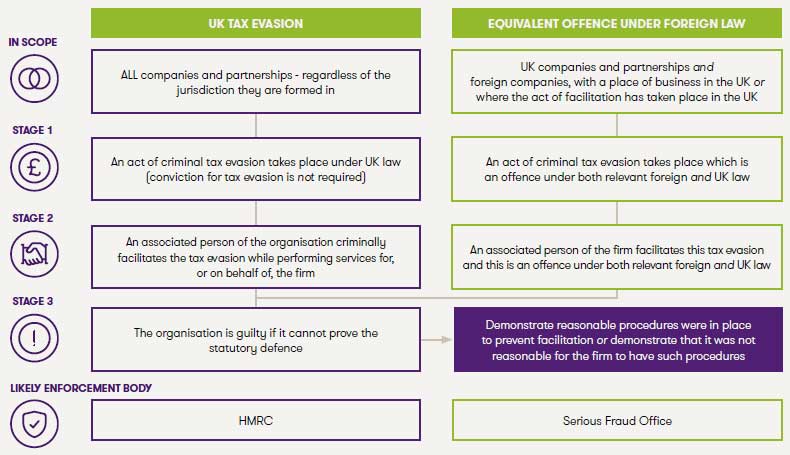 The rules came into effect on 30 September 2017 and affect all UK companies and partnerships and foreign companies and partnerships with a UK nexus. There is no de minimis, rather the government's guidance states that the reasonable procedures that are put in place will need to be proportionate to the corporate's risks.
Facilitation of tax evasion is already a crime, however the offences switch the burden of proof from the regulators to the corporates. Rather than having to prove that the board knew that there was facilitation by for example an employee, now if the facilitation of tax evasion has taken place the corporate will be liable, unless it has reasonable procedures in place.
Three immediate steps corporates should take to prepare for the Criminal Finances Act 2017:
1. Carry out a risk assessment to map out who your associated persons are
The definition of associated persons in the legislation is deliberately wide. It includes: employees, contractors, sub-contractors, sub-sub contractors, agents, suppliers, distributors, and anyone else who performs services for or on behalf of the company/partnership. Who an associated person is will differ from business to business and a thorough risk assessment should look at all types of business partners, taking into account the sensitivity of the functions they provide.
2. Engage senior management to obtain top level commitment
It is important that the senior leadership teams have a good understanding of the severity of the new offences and if possible communicate a message of zero tolerance of tax evasion and its facilitation. This message needs to come from the top.
3. Communicate and train your employees and other associated persons
Tax evasion can arise anywhere in the business and it is important that even the most junior employees understand that tax evasion and its facilitation is not tolerated. Associated persons need to uphold the processes and procedures that the business has put into place to prevent the facilitation of UK and offshore tax evasion. Training should be tailored to the recipient's risk profile, but communication throughout the business will need to be coherent in order to get everyone on the same page. It will be the associated persons who will need to effectively implement risk based procedures, carry out due diligence and monitor and review risks.
HMRC is very experienced in successfully investigating and prosecuting facilitators of tax evasion and have a large number of experienced and highly trained staff who can begin investigations immediately - whether your business is ready or not.
We expect fines to follow a similar pattern to those imposed under the Bribery Act 2010 (upon which this legislation was largely modelled). The largest fine imposed under that act was £497 million. This does not take into account the reputational damage that is also suffered.
Although the new corporate offences have already come into effect, we understand that many businesses are still in the process of conducting risk assessments and hope to have finished these by the end of the year.
Risk assessments should be proportionate to the scale and nature of your business and reasonable procedures to mitigate risks (e.g. through effective training, clear communications, due diligence and compliance monitoring across the business), should be put in place as soon as possible as that is the only defence to these new strict liability offences .
For more information on the Criminal Finances Act 2017 and its implications please contact Paula Ruffell or download 'The Criminal Finances Act 2017: Helping you to understand and mitigate the risks'.
Read more