NAVIGATING BREXIT
Need practical advice on navigating Brexit?
Discover our practical steps for business leaders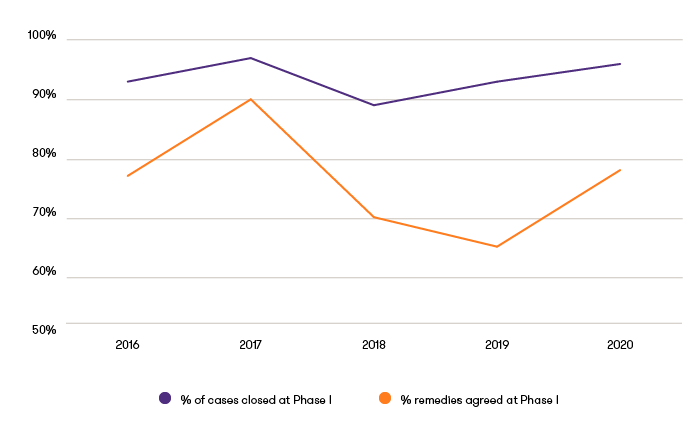 Information technology and energy sector cases rise
One trend we are continuing to see is the number of cases coming from the manufacturing sector. Over 50% (236) of the full-form filings in the five-year period were accounted for by this sector. 60 (25%) of those cases required remedies: 48 at phase one and 12 at phase two.
However, one new trend in 2020 saw an increase in the number of cases in both the information and communications sector and the energy sector. In both these sectors the number of cases increased to 19% and 10% of all full-form filings respectively, compared to 10% and 4% in the previous five years.
We also reported on statistics for sectors with relatively large numbers of filings and the use of remedies:
Sixty cases in the information and communications sector: 15 (25%) of which required remedies: nine at phase one, and six at phase two
Thirty five cases in the wholesale and retail sector, however only five (14%) required remedies (all at phase one)
Thirty four cases in the transport and storage sector, of which four (12%) required remedies (all at phase one)
Thirty one cases in the financial and insurance sector, with five (16%) requiring remedies
Twenty four cases in the energy and gas sector, none of which required remedies
The remaining 47 of the 467 full-form filings were split across 11 sectors: 11 (23%) requiring remedies; six at phase one, and five at phase two.
Divestment remains popular and upfront buyer requirements increase
It is very clear that throughout this five-year period divestment has remained the most popular remedy. This trend is in line with the EC viewpoint set out in its Merger Regulation. At the same time the requirement for an upfront buyer has also increased: reaching 57% divestment remedies in 2020, compared to 23% in the previous year.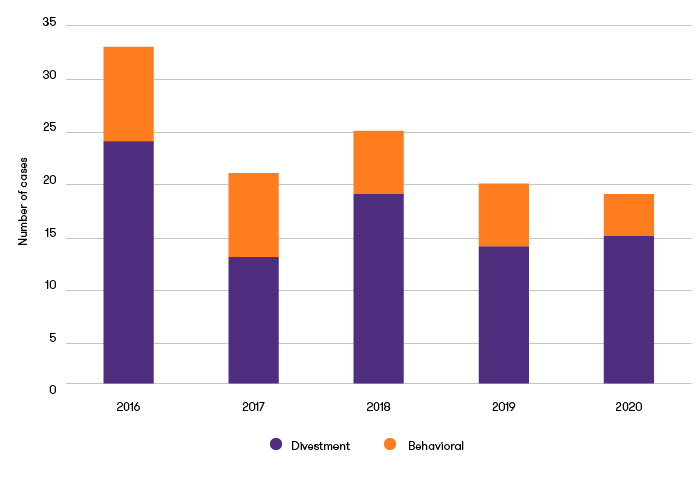 In addition to all this, we have also identified some trends in the use of non-traditional divestment remedies. In 2020 four merger cases involved behavioural remedies to both maintain existing competition, and facilitate new entries into specific areas of the market affected. These included:
A commitment to not use data for ad tracking: Google/Fitbit
Enabling open access to over-the-counter interest rate derivatives (OTC IRD) clearing services: London Stock Exchange (LSEG)/Refinitiv
Enabling access to telecommunications towers: Vodafone Italia/TIM/INWIT
Extending existing cooperation agreements with competitors: specifically, for the production of certain vehicles, amending repairs, and maintenance contracts to facilitate increased competition (FCA/PSA)
High number of multi-jurisdictional cases
The final trend we observed is the continued high number of multi-jurisdictional cases. Over the five-year period 30 (30%) cases have had remedies agreed by more than one merger control regulator: 20 were EC phase one cases, and ten were EC phase two cases.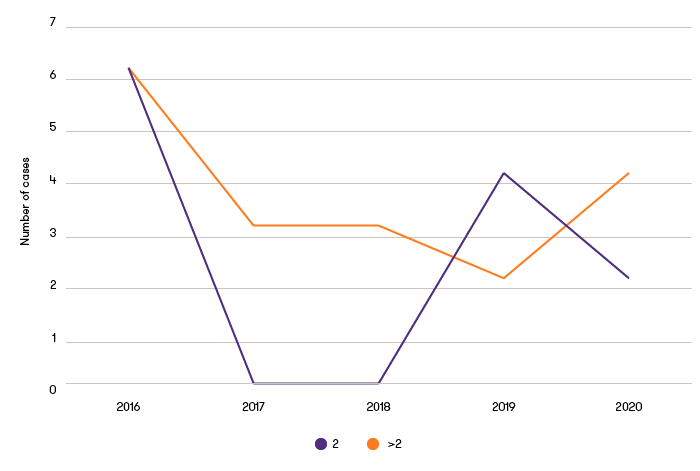 To balance the merger control process in multiple jurisdictions, there are several important developments that parties need to be aware of. Since 1 January 2021, the CMA reviews global mergers with UK angles which would have previously been dealt with by the EC under the 'one stop shop,' and parties will need to understand the potential implications or restrictions placed on the business during a CMA investigation which were not previously been imposed by the EC. The EC has also enacted Article 22, which reduces the threshold for scrutinising M&A activity. This new guidance is particularly aimed at 'killer acquisitions' in the tech and pharmaceutical sectors. Acquisitions by government-subsidised entities are also under greater scrutiny.
While 2020 has seen no significant trends from previous years other than the potential desire of parties to address concerns early, as we emerge from the current circumstances and M&A activity starts to pick up, we can perhaps expect 2021 to be a very different year.
If you would like to understand more about our annual review or our competition and monitoring services and other advisory services, please contact Craig Reed or Katy Mattingley.