NAVIGATING BREXIT
Need practical advice on navigating Brexit?
Discover our practical steps for business leaders
The benefits and challenges of outcomes based budgeting (OBB) is an increasingly common topic of discussion in local government finance circles.
Councils can utilise outcomes based budgeting (OBB) practices to better allocate and prioritise their resources. Here we discuss benefits and challenges to local government of OBB implementation.
What is outcome based budgeting?
There are a number of variations of OBB. The most common is a system of budget setting that specifically allocates scarce financial resources to achieve priority outcomes. This approach provides councils with a direct link between how forecast expenditure is prioritised and the outcomes realised by that spend.
How can councils implement outcome based budgeting?
The starting point when adopting an OBB approach is determining the outcomes a council wants to achieve. These outcomes are usually set out in the strategic priorities of the corporate plan, such as improving homelessness.
Benchmarking has a key role to play in helping to establish what good looks like. As with any change, engaging members from an early stage is vital and will aid in determining the priority outcome areas.
By identifying the specific service activities linked to an outcome, a council can analyse how they have prioritised their use of resources. It can then be easier to judge if resources need to be re-prioritised to help improve outcomes.
The advantages of outcome based budgeting
There are clear advantages to the OBB approach. It helps the council to reduce costs by identifying budgets that do not contribute enough to outcomes, simultaneously driving better outcomes by highlighting areas where investment can be more effective. It can also help provide a clear narrative for council members and the public, a narrative that conveys the council's intent to improve services in priority areas, whilst also driving value for money.
A growing number of councils are implementing OBB and some, while yet to fully move away from traditional financial planning approaches, have used a partial implementation in selected services where there is good data.
Process challenges identified by councils who have implemented OBB:
many councils do not have sophisticated enough processes and use proxy data, this can make obtaining accurate and relevant performance data difficult
national data that can be benchmarked on a consistent basis is also patchy, making it difficult to know 'what good looks like'
due to outcomes being driven by multiple internal and external factors, and single budgets driving multiple outcomes, it can be tricky to find a direct correlation between resources deployed and outcomes achieved
many services are rooted in statutory obligations which can inhibit resource re-prioritisation and also flexibility over some outcomes
the complex analysis will require an investment of resources, councils will need assurance and confidence about the cost to implement and the expected benefit
Our experience has shown that it is possible to access and analyse sufficient information across service areas to make OBB practical and deliverable. The following benchmarking analysis draws on nationally available data, collated using our CFO Insights tool (See Figures 1 and 2).
Figure 1 – Waste collection spend versus collected household waste per person (2015/16)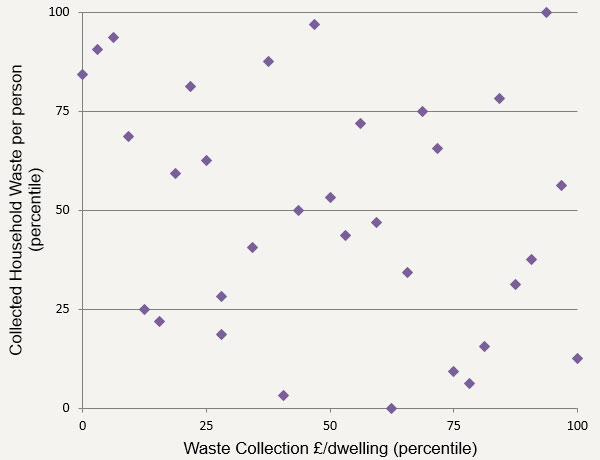 Source: CFO Insights

Figure 1 plots individual councils of a similar type using their relative cost of waste collection, against the volume of waste collected per head of the population. Councils in the bottom right quadrant have a high cost per head, but collect proportionally less waste per head. Those in the top left quadrant appear to be using their resources more efficiently. There could be many explanations, but knowing this information could help councils set a budget for the future that is more in proportion to their target outcome.
Figure 2 – Homelessness prevention spend versus homeless successful actions (2015/16)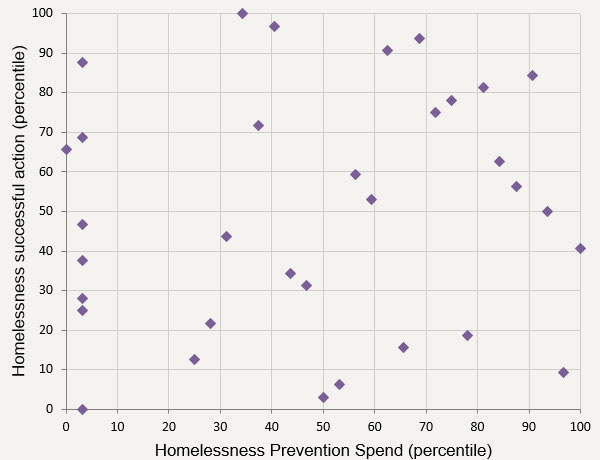 Source: CFO Insights

Figure 2 shows a group of similar councils and plots their spend on prevention of homelessness against the number of successful actions taken in homeless cases. Some councils in the top left quadrant are getting very positive outcomes for comparatively low spend – would adopting their approach allow other councils to reduce their budget while improving outcomes?
This analysis provides a starting point for asking the right questions, and councils should consider these questions through an OBB lens.
OBB pilot project implementation – establishing a proof of concept
While acknowledging some of the challenges in adopting OBB, there are ways for councils to benefit from the OBB approach. Through targeting their OBB implementation it is possible to achieve 'proof of concept', building confidence in the approach within the organisation.
These pilot projects can effectively demonstrate the potential value and iron out any remaining kinks. Some councils have chosen to embed OBB in some directorates but not others. We would advise councils to focus OBB on services with a rich source of outcomes data, such as waste, public health and economic development.
Once the value and the utility of the data is fully understood, councils can start to implement measures to improve the data's quality. This will benefit their own internal data and help to improve the quality and availability of national data.
Following the successful adoption of OBB, councils can continue to develop and refine performance indicators in the priority service areas. They will soon have a rich source of evidence supporting their investment and disinvestment decisions.
Outcomes based budgeting can provide real advantages by helping officers and members to focus their resources on the priority policies, and can also help validate their choices by demonstrating the effectiveness, or otherwise, of budget decisions.
Words: Thomas Foster, Senior Manager, Local Government Advisory, Grant Thornton. First published in The Municipal Journal. You can read more about CFO Insights data tool here.
Get the latest insights, events and guidance about the public sector and local government, straight to your inbox.
Subscribe here