NAVIGATING BREXIT
Need practical advice on navigating Brexit?
Discover our practical steps for business leaders
The inaccuracy of activity data at NHS trusts has serious financial implications, resulting in not only loss of revenue but clinical data that does not reflect the patient care being delivered.
Often the scale of the issues identified and how they are managed means that for many there is no easy solution. Watch Peter Saunders, director in healthcare assurance, outline some of the recommendations trusts should consider when ensuring their data capture processes are accurate.
Setting the tone from the top
Trusts need to ensure there is clear accountability and leadership at executive level. But this isn't just about finance – it's something the whole board needs to take responsibility for. Medical directors and chief operating officers need to work with the finance director to ensure that all the reasons data recording is failing are addressed.
Full clinical engagement
Full engagement from clinical leadership to validate data is needed, to make sure that it truly reflects the care being delivered. Conclusions can be drawn from walking through processes and pathways with senior clinicians, who are key in understanding how care is delivered.
Accurate patient documentation
Patient documentation needs to accurately capture all information about the hospital care. This includes regularly updating and recording on discharge summaries and identifying patient comorbidities in documentation. Having effective, integrated IT systems can help but if not implemented well, can cause problems.
Documenting models of care
Bad data masks inefficient, ineffective and historical care delivery. One example would be where there are inappropriate short stay emergency admissions and care is delivered as a day case, when it would be better for the patient, and more efficient for the hospital, to deliver this as an outpatient or in the community.
Pathways need to be documented and the right data captured so the system can determine the correct pathway for a patient rather than basing their care on historical practice.
Commissioner engagement
Trusts need to work as a system with their commissioners ensuring that their activity and cost data is accurate. And the data needs to be transparently shared to build trust in the local health economy's contracting arrangements.
Read our report 'Getting the data right first time [ 1316 kb ]' which explores the consistent issues and lessons from our reviews of coding and contracting income at NHS trusts. The briefing summarises our key findings and recommendations for trusts, to ensure their contract baseline is correct.
For further information on our work please contact Peter Saunders.
Download the report
Download PDF [1316 kb]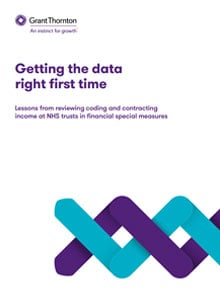 Get the latest insights, events and guidance about the public healthcare sector, straight to your inbox.