NAVIGATING BREXIT
Need practical advice on navigating Brexit?
Discover our practical steps for business leaders
With a total of 50 deals, 2017 was a record year for M&A activity in the waste sector, with the final quarter proving particularly active with 21 deals.
Within the sector, recycling saw the highest number of deals at 21, followed by waste management and hazardous waste where there were 13 and 12 deals respectively.
While the high level of activity over the past 12 months reflects the confidence of key investors, consolidations and acquisitions are business-as-usual for the sector. For example, waste giant Biffa spent £44.2 million on five acquisitions in 2017, reflecting a need to consolidate its position and increase its economies of scale across the UK.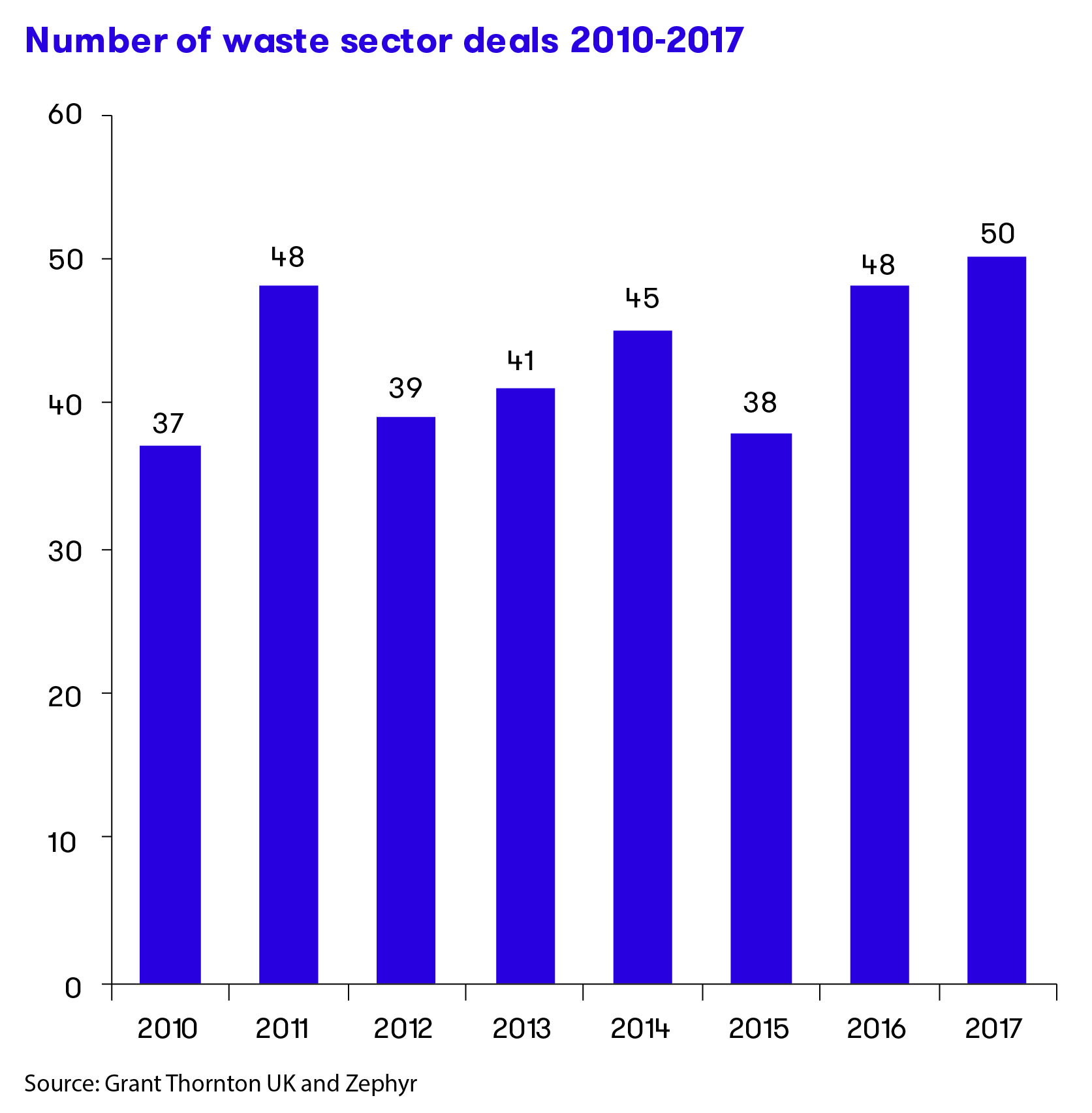 However, looking beyond these individual deals, it is possible to identify some developments and trends that will drive future activity. They include greater public interest in recycling initiatives as well as growing recognition of waste's potential to generate fuel. These sit alongside political and legislative challenges, such as the impact of Brexit, and greater pressure on waste targets1 from UK and EU governments. All of these provide an interesting context for the sector in coming years.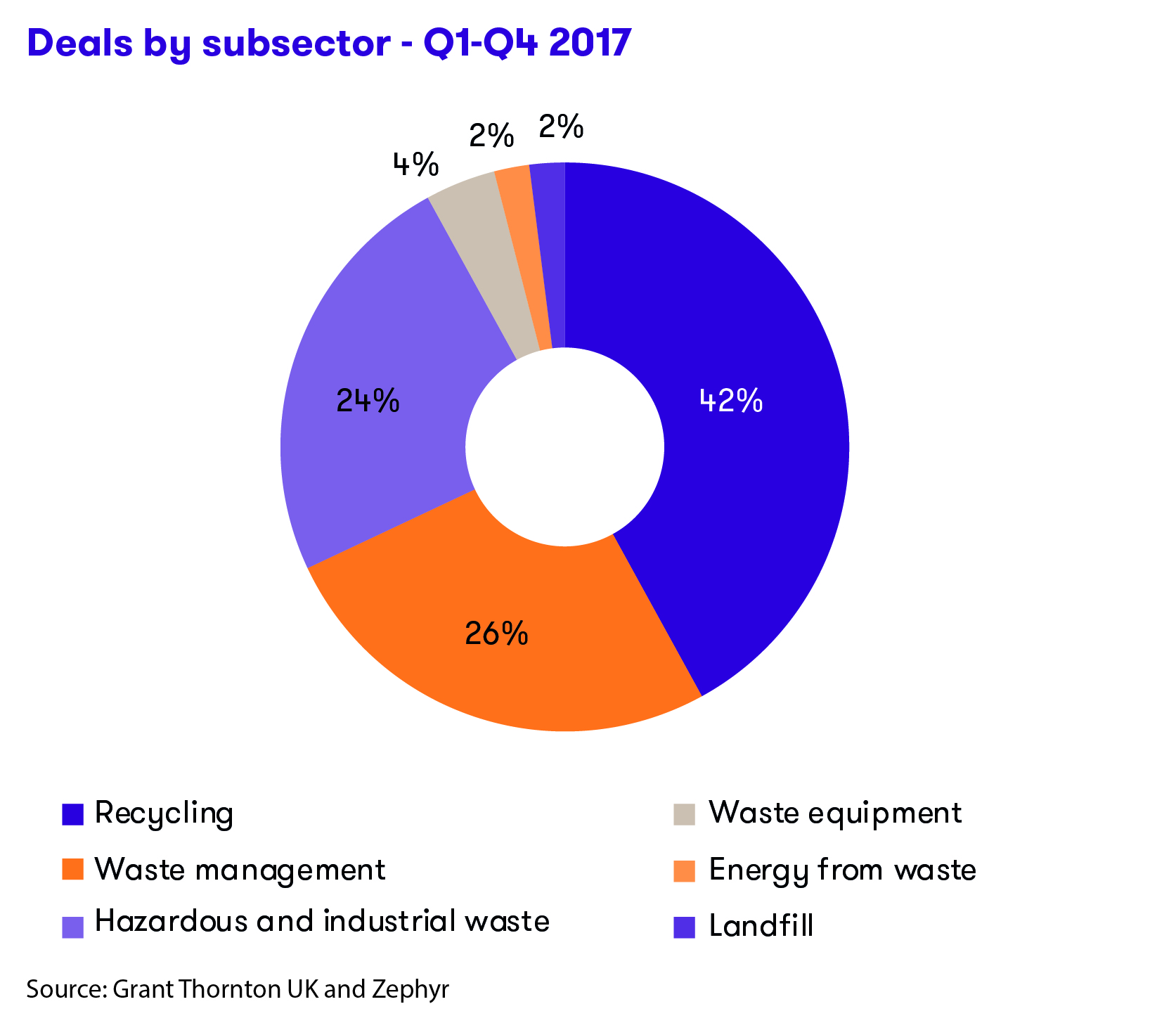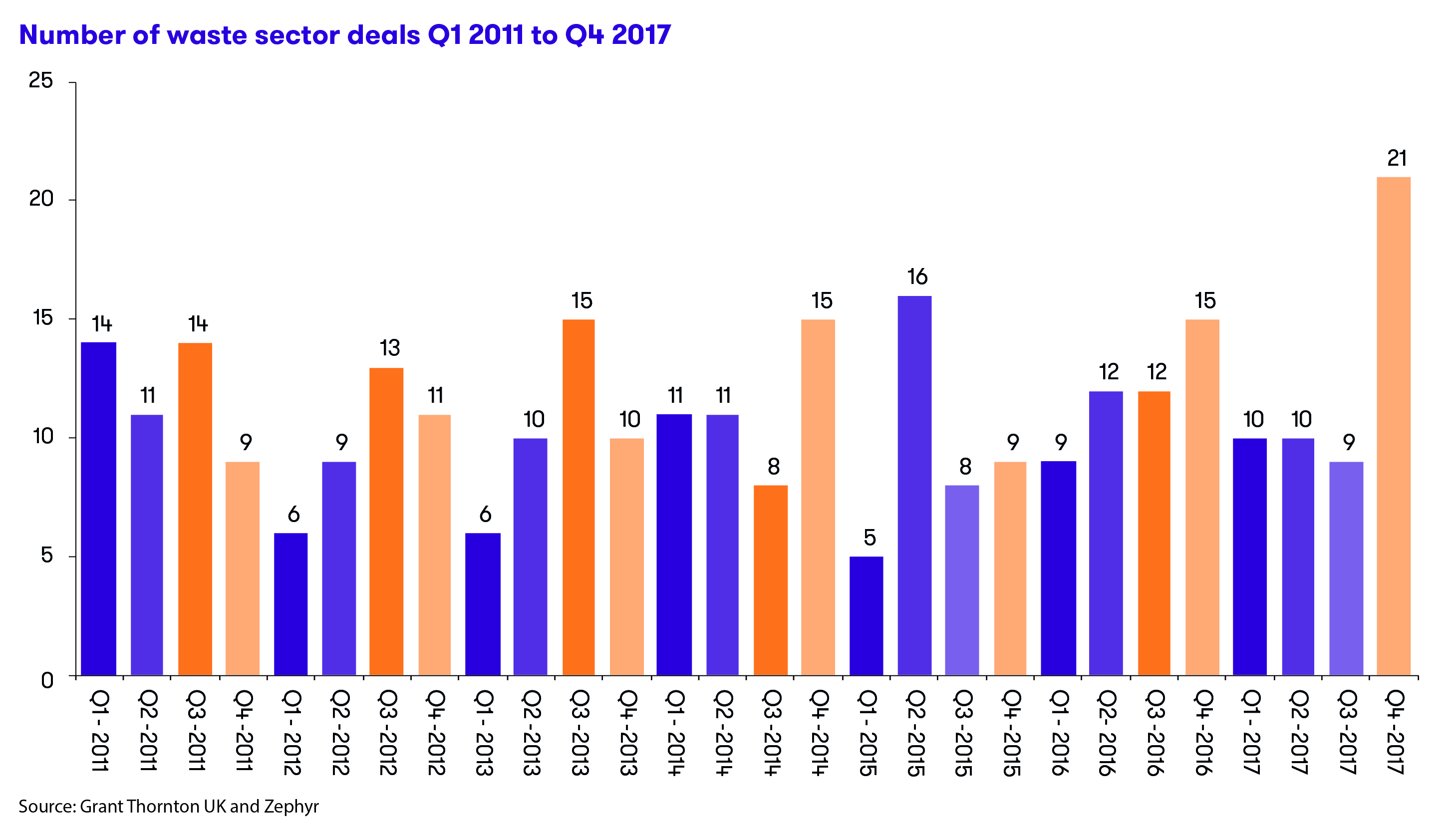 Recyclers are increasingly attractive targets
The volume of recycling deals increased by 50% compared with 2016, representing the largest rise in the sector. This suggests it is bouncing back from the slowing in the market three years ago when oil prices2 collapsed.
Paper and metal recycling firms contributed most to the activity, making up 62% of recycling deals. Deals included Macfarlane Group's acquisition of Nottingham Recycling Ltd and corrugated packaging manufacturer Greenwood Stock Boxes for £16.75 million, as well as Restore PLC's purchases of Baxter Confidential and Lombard Recycling. This growth in part, stems from a recognition that the UK has the scope, opportunity and incentive to develop its recycling capabilities.
"Key players are waking up to the knowledge that the UK doesn't have capacity to reprocess all the raw materials that are being collected." Lorna Pannett, Principal Consultant, Ricardo
Growing international interest
2017 also saw a marked rise in overseas interest, with a number of international investors acquiring UK businesses as part of multinational acquisitions.
Foreign investors are either financial (such as private equity houses looking for strong returns on their investment), or 'trade players'. Overseas companies with a strong base in their home nations and beyond, still see the UK market as a safe haven, and recognise it as an important part of their international operations.
This second camp of investors led some of the year's most significant deals, including the merger of Shanks and Van Gansewinkel for £479 million, creating a new entity, Renewi PLC.
Elsewhere, Irish waste business Pandagreen made its second UK acquisition with WSR Recycling, and Bermuda-based Armour Holdings bought Cory's landfill business for an undisclosed sum.
Private equity picks up the biggest deals
Private equity houses were involved in the largest deals in 2017 although they only contributed 10% of overall activity.
Apax Partners' acquisition of international hazardous waste company Safety-Kleen Europe was the largest deal in 2017, at £640 million. Apax Partners plans to develop the waste disposal arm of the business, leveraging its scale to grow in an increasingly complex market. Similarly, Exponent's purchase of DCC Environmental, which took many by surprise, was another big deal, worth £219 million.
To discuss how your business could take advantage of these opportunities, please contact Mike Read.
References