Grant Thornton uses cookies to monitor the performance of this website and improve user experience
To find out more about cookies, what they are and how we use them, please see our privacy notice, which also provides information on how to delete cookies from your hard drive.
2018 was a milestone year for deal activity in India, with the total deal value crossing the USD100 billion mark.
The level of corporate deal activity seen in India over the last year demonstrates the increasing depth and maturity of the Indian markets. Ongoing capital market and regulatory reforms and efforts to improve the ease of doing business in the country are clearly making India more attractive to investors.
Deal values across private equity and M&A transactions in 2018 reached a high of over USD110 billion from 1,258 transactions. The year also saw a record number of deals in the billion-dollar category, with a total of 18 such deals clocking up USD72.5 billion.
Table 1. Deal summary 2018
Deal summary

Volume

Value (USD million)

2016

2017

2018

2016

2017

2018

Domestic

306

228

269

12,706

5,834

34,215

Cross-border

189

162

189

27,046

8,140

38,523

Merger and internal restructuring

17

23

14

3,475

26,451

17,474

Total M&A

512

413

472

43,227

40,425

90,211

Private equity

972

736

786

13,930

20,495

20,450

Grand total

1,484

1,149

1,258

57,157

60,920

110,661

Cross-border includes

Inbound

90

86

100

20,754

5,962

25,741

Outbound

99

76

89

6,292

2,178

12,782
Source: Grant Thornton India LLP, Grant Thornton Dealtracker, 2018
Domestic consolidation and outbound activity drive M&A
M&A transactions involving Indian companies hit a record-breaking USD90 billion in 2018.
Domestic consolidation was a key driver of deals – primarily transactions in the energy sector – accounting for around 60% of overall M&A transaction value. This was more than 50% up on 2017.
Inbound deals accounted for around 30% of total 2018 M&A deal value. Walmart and Schneider were among the key global investors; this is expected to trigger further interest from overseas corporates and investors in 2019.
Outbound deal values totalled around USD13 billion, jumping six-fold compared to 2017. This increase was driven by three billion-dollar mega deals, accounting for 70% of total outbound values.
The surge in deal activity was mainly driven by companies seeking to buy technology, consolidate by expanding market share and diversify their market presence.
Table 2. Top M&A deals 2018
Acquirer

Target

Sector

Disclosed values (USD billion)

Deal type

Walmart Inc

Flipkart Online Services Pvt Ltd

E-commerce

16

Majority stake

Bharti Infratel Ltd

Indus Towers Ltd

Telecom

14.6

Merger

Oil and Natural Gas Corporation Ltd

Hindustan Petroleum Corporation Ltd

Energy & Natural Resources

5.8

Controlling stake

Tata Steel Ltd

Bhushan Steel Limited

Manufacturing

5.5

Controlling stake

Hindustan Unilever Ltd

GlaxoSmithKline Consumer Healthcare Limited

Retail & Consumer

4.5

Acquisition

UPL Ltd – UPL Corp

Arysta Lifescience Inc

Agriculture & Forestry

4.2

Acquisition

Reliance Jio Infocomm Ltd

Reliance Communications Ltd

Telecom

3.8

Acquisition

Adani Transmission Ltd

Reliance Infrastructure Ltd –

Mumbai power business

Energy & Natural Resources

2.9

Acquisition

Hindalco Industries Ltd – Novelis Inc

Aleris Corporation

Manufacturing

2.6

Acquisition

Schneider Electric SA

Larsen & Toubro Ltd –

electrical and automation business

Manufacturing

2.1

Acquisition
Source: Grant Thornton India LLP, Grant Thornton Dealtracker, 2018
Start-ups drive deal volume
The telecoms sector led the pack, with 21% of total M&A deal values. Rapid growth in this sector was driven by the Indian government's liberal and reformist policies as well as strong consumer demand.
E-commerce, manufacturing, energy, IT, agriculture, banking and pharma also attracted significant deal values, together capturing 73% of the total.
While these core sectors attracted the big-ticket deals during 2018, upcoming sectors and start-ups drove deal volume. The adoption of disruptive technologies across verticals spanning education, food, health, hospitality and transport has encouraged established players to absorb budding companies and this is driving deal activity.
India-Europe deal values reach four-year high
Cross-border deal activity with Europe surged during 2018, including both strategic deals and cross-border investments. A total of 43 deals, valued at USD4.4 billion were recorded – an 8% increase in volume and a whopping 212% increase in value compared to 2017.
On the inbound front, 18 deals were recorded with a cumulative value of USD3.6 billion. Outbound totalled 25 deals worth USD811 million.
Looking ahead, while the European Union (EU) referendum vote in the UK has shaken investor confidence and will continue to bring uncertainty to the market, the corporate mid-market M&A space remains robust, with deal makers considering incremental M&A opportunities post-Brexit.
The EU adopted a 'Joint Communication' in 2018, which sets out the EU's strategic vision to strengthen its partnership with India. This is likely to result in a potential surge in M&A deals between India and Europe over the coming months.
Table 3. Top M&A deals between India and Europe
Acquirer

Target

Sector

USD million

Cross-border activity

Schneider Electric SA

Larsen & Toubro Ltd –

electrical and automation business

Manufacturing

2,121.21

Inbound

Teleperformance

Intelenet Global Services Private Ltd

IT & ITES

1,000.00

Inbound

Ageas Insurance NV

Royal Sundaram General Insurance Ltd

Banking & Financial Services

205.41

Inbound

Motherson Sumi Systems Ltd

Reydel Automotive Group

Automotive

201.00

Outbound

HIL Ltd – HIL International GmbH

Parador Holdings GmbH

Manufacturing

100.00

Outbound
Source: Grant Thornton India LLP, Grant Thornton Dealtracker, 2018
Graph 1. Cross-border activity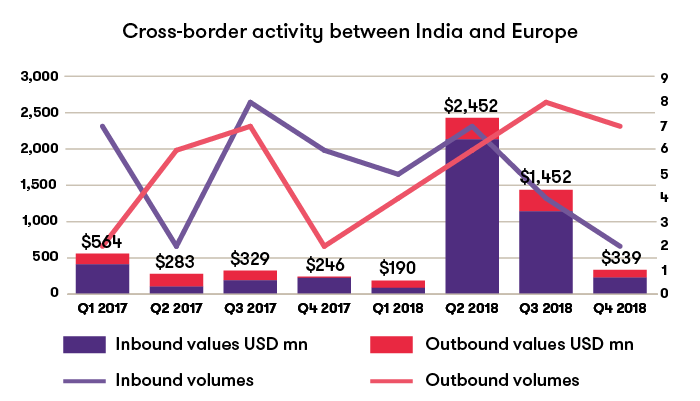 Source: Grant Thornton India LLP, Grant Thornton Dealtracker, 2018
Manufacturing sector dominates cross-border activity
Inbound deal activity recorded a 3.8x increase in values compared to 2017, while volumes declined by 22%. The surge in deal values was driven by four big-ticket transactions: two billion-dollar deals and two deals estimated at over USD100 million each. Overseas acquisition was dominated by acquirers from Germany and France, with five and four deals each, valued at USD89 million and USD3.1 billion respectively.
The manufacturing sector led deal activity both in terms of volume (five deals) and value (USD2.2 billion). Most of this activity was in the capital goods segment of the sector. The start-up, IT, energy and banking sectors also witnessed increased deal activity during the year.
Indian overseas acquisition experienced an upward trend both in terms of deal value (69%) and volume (47%). The highest number of deals were executed between India and Germany, with seven transactions valued at USD158 million, followed by the UK with four deals valued at USD177 million. France and Switzerland executed three deals each, valued at USD201 million and USD10 million respectively.
The manufacturing and automotive sectors dominated overseas transaction values, with USD248 million and USD215 million respectively. The IT sector dominated in terms of deal volume (seven transactions) followed by the manufacturing sector with six deals.
Private equity investment on par with 2017
Despite a tepid start to the year, private equity (PE) activity ended the year on par with 2017, with USD20 billion invested during 2018 clearly showing investors' confidence in India.
The Indian PE landscape was backed by a steady stream of investments and mounting levels of 'dry powder' in the form of pent up capital.
Apart from Indian private equity and venture capitalists, a number of global investors showed interest in the activities of home-grown start-ups. These investors pumped large sums into the system to further capitalise their activities – resulting in start-up deal value doubling compared to 2017.
2018 also witnessed an increased focus from global sovereign, pension funds and conglomerates in Indian assets, particularly in the consumer and infrastructure spaces.
NCR, Karnataka and Maharashtra received significant PE investment interest, with nearly 80% of total investments in 2018.
Table 4. Top PE deals 2018
Investor

Investee

Sector

% Stake

USD million

Abu Dhabi Investment Authority and TPG Capital Asia

UPL Ltd – UPL Corp

Agriculture & Forestry

22%

1,200

Naspers, Tencent Holdings, Hillhouse Capital, Wellington Management, DST Global, Meituan Dianping and Coatue Management

Bundl Technologies Pvt Ltd –

Swiggy.com

Start up

N/A

1,000

SoftBank Corp, Sequoia Capital, Lightspeed Venture Partners, Grab

Oravel Stays Pvt Ltd –

OYORooms.com

Start up

N/A

900

Blackstone Group Lp

Indiabulls Properties Pvt. Ltd and Indiabulls Real Estate Company

Real Estate

50%

742

Midlothian Capital Partners

Cox & Kings Ltd – HB Education Limited

Hospitality & Leisure

100%

609

KKR

Ramky Enviro Engineers Ltd

Infrastructure Management

60%

530

GIC, Greenko Ventures and Abu Dhabi Investment Authority

Greenko Energy Holdings Pvt. Ltd

Energy & Natural Resources

N/A

447

GIC

Exora Business Parks Limited

Real Estate

40%

406

SoftBank

Paytm E-commerce Private Limited – Paytm Mall

Start up

N/A

400

Lone Star Funds and RattanIndia Group

RattanIndia Finance Pvt. Ltd

Banking & Financial Services

50%

400

Naspers, Canada Pension Plan Investment Board, General Atlantic

Think & Learn Pvt Ltd – Byju's

Education

N/A

400
The start-up sector continued to be the PE investor and venture capitalist's favourite sector, increasing investment value by 2.4x and volume by 3%.
Banking and ecommerce took the biggest share of investment volumes, while reforms like the Real Estate (Regulation and Development) Act 2016 are helping the real estate sector to become one of the fastest growing sectors and attracting PE investors.
The banking, energy and pharma sectors also attracted big ticket investments, driving PE deal values. Agriculture, infrastructure, manufacturing and education also attracted significant investment compared to 2017.
For more information please contact Anuj Chande.
Article
Mixed outlook for world's fastest growing economy
Find out more