From the 1992 Cadbury Report to the present day, our animated video highlights the evolution of corporate governance over the past 21 years. We also review what 2014 has in store for boards…
Download report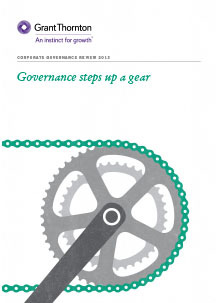 From the 1992 Cadbury Report to the present day, our animated video highlights the evolution of corporate governance over the past 21 years. We also review what 2014 has in store for boards… - See more at: http://www.grant-thornton.co.uk/en/Thinking/A-brief-history-of-UK-corporate-governance-animation/#sthash.rmjnIQf1.dpuf
Key stages in the evolution of UK governance
1998 – The Combined Code of Corporate Governance (renamed as the UK Corporate Governance Code, the latest version having been released in September 2012)
1999 – Turnbull Guidance on Internal control
2010 – Stewardship Code.
2013 – Companies Act 2006 (Strategic Report and Directors' Report Regulations)
What to consider in 2014
For 2014, we will see new guidance on Risk Management, Internal Control and Going Concern Basis of Accounting and the FRC will be undertaking a revision to the UK Corporate Governance Code (the Code). These revisions are made every two years but can often be very significant.
Wider concerns such as auditor rotation, executive remuneration and diversity – not only with regard to gender but also skills and experience – will continue to create challenges for the FTSE 350. It would be to the advantage of boards to view these not only as challenges but also as opportunities to really consider their strategy and future-proof their organisation for the ever-changing business environment.
We've highlighted four areas for boards to pay attention to in particular this year in our post: Four areas of UK Corporate Governance to address in 2014.