Unleashing purpose in business and financial markets
Trust and integrity are the heart of a vibrant economy - and trust in UK business is falling [see Figure 1]. Together, trust and integrity provide the basis for adoption of innovative products and services, higher productivity, investment and a 'licence to operate'.
Figure 1. Trust in UK business is falling

Source: Edelman Trust Barometer
We need a systemic approach to restoring trust. Corporate governance coupled with an essential reform of our tax system can help in the short term.
In the longer term, we need a shift in business models from:
the primacy of profits to a focus on achieving a wider purpose
regulatory compliance to a sustainable business culture
a focus on speculative investment to a financial system where UK savers invest in line with their values.
This will mean moving to a model where shareholder value is not just realised through profits but also the benefits business brings to the complex social, economic and environmental system in which it operates.
People want to use their savings to support this [see Figure 2]. The UK financial services sector has strengths in impact investing. Scaling up this approach could consolidate the UK as a global centre of excellence.
Figure 2. A growing role for purpose in UK business

Source: Big Society Capital/The Big Innovation Centre
Our recommendations to government
Government's aim should be for 'profits with purpose' to become the new normal, with the majority of businesses in the UK delivering wider social and environmental outcomes as well as profits. To support this requires impact investing becoming a mainstream retail product, allowing UK savers to decide what societal or environmental outcomes they want their savings to achieve, as well as providing a financial return. Recommendations include:
Fully utilising the Social Value Act so government contracts are with businesses that make a positive contribution to society
Promoting a full understanding and application of existing directors' duties under Section 172 of the Companies Act (to have regard to wider stakeholders)
Supporting continued development and adoption of integrated reporting
Scale up impact investing, so people can easily invest their savings in businesses with purpose.
Download Shaping a vibrant economy – A blueprint for the UK (PDF) [ 3438 kb ] for our recommendations
We will work with others to...
develop open-source tools, with not-for-profit organisations, to support businesses who want to adopt 'profits with purpose'
develop ways in which business can measure and report on impact: for example, we will work with fellow members of the Future-Fit Development Council (including Eileen Fisher, De Beers, Novo Nordisk and The Body Shop) to help develop the Future-Fit Business Benchmark.
Our experience
We advise over 56% of the FTSE 100 and for the last fifteen years, the Grant Thornton Governance Institute has conducted an annual, comprehensive analysis of FTSE 350 annual reporting.
In 2015 Grant Thornton UK adopted a clear purpose: to help shape a vibrant economy for the UK - explicitly recognising the role we have to play beyond simply achieving a profit.
We have also begun our journey to becoming a shared enterprise, where all our people have shared responsibility for the organisation and shared rewards.
Read our recommendations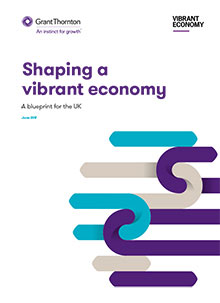 Consider the potential impacts and opportunities it will create for your organisation