Putting collaboration at the heart of the UK's industrial strategy
In the face of accelerating global and technological change, the government's industrial strategy should provide a long-term plan for domestic and international growth.
Strong evidence suggests innovation and exports deliver improved business performance, enabled by workforce skills, investment and 'openness' to working with external partners (see Enterprise Research Centre report on innovation, 2013).
While leaving the European Union creates challenges, particularly around customs and border management, it also offers an opportunity to reverse the UK's export performance [see Figure 1], create a strong trade culture and exploit new high-growth markets. From our conversations with clients, businesses see other businesses as their best allies to grasp this opportunity.
Figure 1. Snapshot of UK's exports

Source: Office of National Statistics
Our recommendations to government
The government's industrial strategy should incentivise collaboration to boost exports, develop a healthy pool of skills and talent for employers, and unlock innovation.Recommendations include:
Growing a new collaborative model of exporting that encourages smaller and larger firms to work together, supported by a new export tax credit
Incentivising collaboration between employers and education
Implementing a sustainable immigration policy, including post study work visas, connected to local and sectoral needs
Supporting 'collab-innovation' activities, including corporate venturing.
> Download Shaping a vibrant economy – A blueprint for the UK (PDF) [ 3438 kb ] for our recommendations in full
We will work with others to...
develop our centre of excellence in exporting, strategy, finance and operational delivery, connecting businesses to key trade destinations and global opportunities. By 2020, at least 20% of our people will have expertise in international trade
roll out our School Enterprise Programme across the UK, enabling year 7 and 8 students to run their own business and develop financial literacy and entrepreneurial skills
work with Touchpaper, a new not-for-profit network promoting collaboration between large corporates and start-ups, alongside other founding members: Bristows, Capgemini, Digital Catapult, Google, Multiple, Nesta and Tech City.
Our experience
At Grant Thornton UK we work with over 40,000 privately held businesses, public interest entities and individuals nationwide.
Grant Thornton member firms operate in over 130 countries, linking our clients to advisers around the world.
As part of the government's apprenticeship programme we have led the development of a business administration and customer management apprenticeship framework and we have recently launched a graduate level MBA apprenticeship with Cranfield University.
Read our blueprint for the UK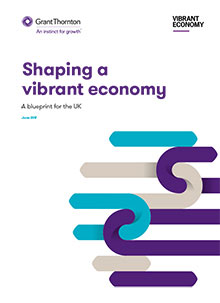 Consider the potential impacts and opportunities it will create for your organisation